Junichi Hayama
Jump to navigation
Jump to search
Junichi Hayama (羽山 淳一, Hayama Junichi) is a Japanese animator credited as the Character Designer and Chief Animation Director of the OVA adaptation of JoJo's Bizarre Adventure and the Phantom Blood movie by Studio A.P.P.P..[1]
Originating from Monsieur Onion (affiliates of Toei Animation), he now collaborates with various studios as a freelancer. He is well known for his work on the Fist of the North Star anime, where he developed his current style from his mentor, Masami Suda.[2]
History
In 1984, after graduating from high school, Hayama joined Monsieur Onion Productions,[a] an affiliate of Toei Animation, where he made his animation debut on the series Gu Gu Ganmo. He later debuted as a key animator for the anime Hai Step Jun in 1985.
In 1987, Hayama made his debut as an animation director for the TV series Fist of the North Star 2, becoming the favorite pupil of the show's character designer, Masami Suda, who would help him develop his style. Hayama had previously worked as a key animator for the Fist of the North Star movie and would go on to draw illustrations for various games relating to the series, including the PlayStation action game in 2000, and the arcade fighting game in 2005.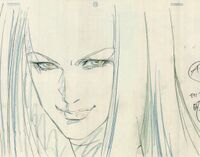 In 1989, Hayama made his debut as a character designer for the Be-Bop High School OVA series. And in 1990, Hayama left Monsieur Onion Productions to start working as a freelance artist. After leaving, Hayama continued working as a character designer and animation director, most notably on the JoJo's Bizarre Adventure OVA series and movie by A.P.P.P.. In 2011, Hayama worked as an animation director for the X-Men TV mini-series produced by Madhouse in collaboration with Marvel.
His wife Atsuko Ueno[b] is a manga artist, animator, and the author of Kotencotenco. His younger brother Kenji Hayama[c] is also a key animator, animation director, and character designer.[3] His cousin Yasunori Hayama[d] is an anime photographer and cinematographer.[4]
Credits
Gallery
Personal Art (Property of Junichi Hayama)
Photos
Videos
Notes
References