JoJo's Bizarre Adventure - Episode 15
Jump to navigation
Jump to search
"
These guys have already faced the Ripple―two thousand years ago!
(

こいつらと波紋は!二千年前に出逢っている!

)
"
A Hero's Proof (ヒーローの資格, Hīrō no Shikaku)[1] is the fifteenth episode of season one of JoJo's Bizarre Adventure: The Animation. It is also the sixth episode of Battle Tendency. It covers half of Chapter 66 through Chapter 70 of the manga.
The three Pillar Men Kars, Esidisi and Wamuu have awakened. Caesar and Joseph challenge the Pillar Men's champion Wamuu and quickly discover the gulf in their respective strength.
Summary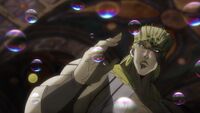 Caesar battles Wamuu for killing Mark, using his Bubble Launcher technique to surround the Pillar Man in Ripple infused bubbles. Once Wamuu realizes he is facing a Ripple user, he uses his mysterious headgear to unleash a gust of wind that bursts all of the bubbles. However, his attack is not yet over, as the movement created hundreds of small tornadoes that shred Caesar's skin, leaving him incapacitated and temporarily blinded in one eye. His boasts that he need not see to fight the Pillar Men amuses them, as Ripple users of two millennia past said the same things to them before they killed them. Kars and Esidisi head to the surface, allowing Wamuu to finish Caesar off as the only Ripple user left. However, Joseph makes himself known, proclaiming that he has developed his own special Ripple technique using a pair of clackers that he channels the Ripple through.
Wamuu allows Joseph to fight, slicing through his wrist to the artery to make the battle last only a minute. His first attack, the Ripple Clacker Volley, appears to miss its mark, embedding a steel ball into a pillar behind Wamuu. This is all part of a ploy to engage his other technique, Clacker Boomerang, where he has thrown another Ripple empowered pair of clackers behind Wamuu, catching onto the original clacker, and landing a blow on Wamuu. Angered, Wamuu allows Joseph to continue to strike him with the clackers while he prepares his counter, the Divine Sandstorm. Wamuu claims his attack has been hindered by his eyesight and a pillar blocking Joseph, but Joseph is left barely alive. Playing dead, Joseph tries to run away, seemingly stranding Caesar and Speedwagon, but it is all a ploy to lure Wamuu away before he can kill the others.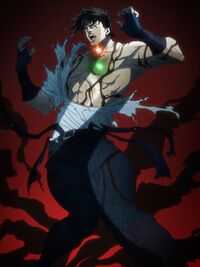 Joseph takes Wamuu on a minecart ride through the ruins, intending to use a stick of dynamite to destroy him and knock the cart off the tracks, but Wamuu anticipates these events and sends them flying, intending to kill Joseph for his insolence. However, Joseph proclaims that he could possibly be even stronger in a month's time for a rematch, intriguing Wamuu, who decides to let Joseph live to get stronger with the Ripple in only a month, implanting a "Wedding Ring" in Joseph's body around his aorta that will release a deadly poison in 33 days' time, unless Joseph can get the antidote held in his lip piercing by killing him in battle. Any attempt to forcefully remove the ring will also release the poison. Esidisi, who has come to see what has been holding Wamuu up, also decides to enter in on the wager (after consuming the stick of dynamite before it explodes), implanting another poison-filled ring around Joseph's windpipe, with the antidote in his own nose piercing. Kars, however, passes on the game, and the Pillar Men leave in search of the Red Stone of Aja. Joseph passes out from the strain of the battle. Caesar, who has been watching the whole time, realizes Joseph's resolve and promises to also get stronger with him.
Appearances
Credits
Staff
Animation Director Cooperation
(作画監督協力)
Masahiko Maruyama
Rumi Miyata
Kei Sakai
Takeshi Okada
Manabu Kurihara
Satoru Yamashita
Tamotsu Ikeda
Ryou Kodama
Hiroshi Matsumoto
丸山 匡彦
宮田 瑠美
酒井Kei
岡田 武士
栗原 学
山下 悟
池田 有
児玉 亮
松本 弘
White Line
---
Gachi Production
Sung San Production
GACHI prodction
星山企画
White Line
Kang Sul A
Kwan Hyun Ae
Sim Myung Ju
Kang Sul A
Kwan Hyun Ae
Sim Myung Ju
---
Gachi Production
Jumondo
MSJ Musashino Production
GACHI prodction
寿門堂
MSJ武蔵野制作所
In-between Animation
(動画)
Core
Jumondo
White Line
MSJ Musashino Production
コア
寿門堂
WHITE LINE
MSJ武蔵野制作所
david production
Design Cooperation
(デザイン協力)
David Production
亀井 隆広
工藤 かよ
Puavaranukroh Taweeporn
Music
Manga/Anime Differences
Joseph's mention of how his Ripple was repelled by Santana's skin is omitted.
Joseph's explanation of the advantage of his Clacker Volley technique is moved to when he plays around with his clackers instead of after throwing a first set of clackers at a pillar.
Joseph's internal monologue when Wamuu prepares to launch his attack is omitted.
Wamuu's discovery of Joseph's plans to hit the brakes of the cart and throw a dynamite stick at him are exposed in reverse order compared to the manga.
Caesar catches up to Joseph in time to witness his persuasion attempt on Wamuu in the anime, compared to the manga where Caesar only sees the end of the conversation.
In other languages
Language
Title
Translation
Japanese
ヒーローの資格
A Hero's Proof
Chinese
英雄的資格
A Hero's Proof
Chinese (Hong Kong)
主角的資格
A Protagonist's Proof
English
A Hero's Proof
Spanish
Prueba de heroísmo
Proof of heroism
Portuguese
Os Atributos de um Herói
The Attributes of a Hero
French
L'aptitude des héros
The aptitude of heroes
German
Die Prüfung eines Helden
The Trial of a Hero
Hebrew
מבחנו של גיבור
A Hero's Trial
Arabic
دليل البطولة
Hero's Proof
Italian
La prova di un eroe
Proof of a hero
Czech
Důkaz hrdiny
Proof of a hero
Danish
En helts værd
A hero's worth
Polish
Dowód bohaterstwa
Proof of heroism
Commentary
Gallery
References