Naokatsu Tsuda
Jump to navigation
Jump to search
Naokatsu Tsuda (津田 尚克, Tsuda Naokatsu) is the Chief Director for the TV adaptation of JoJo's Bizarre Adventure by David Production. Many of the series' episodes are supervised and storyboarded by him.
As an employee of David Production, he was approached by the company's vice president, Koji Kajita, after directing Inu x Boku SS and was subsequently asked to be the director for the JoJo TV series.[1]
Originally from Studio Hal Film Maker, Tsuda works primarily on series from David Production. Some of the other series he's directed include Tatakau Shisho, Planetarian and Squid Girl.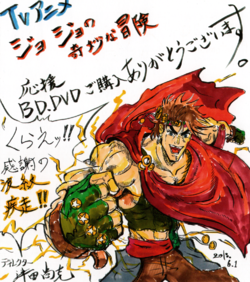 Credits
Gallery
Key Animation (原画)
Storyboards (絵コンテ)
Other
Trivia
References