Daisuke Niitsuma
Jump to navigation
Jump to search
Daisuke Niitsuma (新妻 大輔, Niitsuma Daisuke) is a Japanese animator credited as prop designer and animation director for JoJo's Bizarre Adventure: Stone Ocean by David Production, as well as being the solo animator for the Stone Ocean version of the Roundabout ending.
Niitsuma has been the accessory/prop designer and animator for numerous animated series such as Death Note, Deadman Wonderland, High School of the Dead and Fuuto PI. He was also the character designer for Katana Maidens: Toji No Miko.
His role in Stone Ocean was to design various objects and in some cases also keeping their appearance throughout the episode consistent as a special animation director.
Credits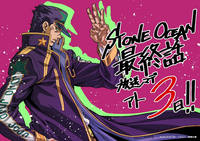 Gallery
Key Animation (原画)
Promotional Artwork (原画)
Eyecatch Illustrations
References