Toshiyuki Morikawa
Jump to navigation
Jump to search
Toshiyuki Morikawa (森川 智之, Morikawa Toshiyuki) is a Japanese voice actor who voices Yoshikage Kira in the third season of JoJo's Bizarre Adventure: The Animation, Diamond is Unbreakable. He also voiced Diavolo in All-Star Battle and Eyes of Heaven.
He is well known for his several other roles such as Naraku in Inuyasha, Sephiroth in the Final Fantasy and Kingdom Hearts series, Dante in the Devil May Cry series, Isshin Kurosaki in Bleach, Enel and Hatchan in One Piece, Minato Namikaze in Naruto, Griffith in the 1997 Berserk anime, Katsuya Jonouchi in Yu-Gi-Oh!, Boros in One-Punch Man, Julius Novachrono in Black Clover, Bondrewd in Made in Abyss, and Kagaya Ubuyashiki in Demon Slayer: Kimetsu no Yaiba.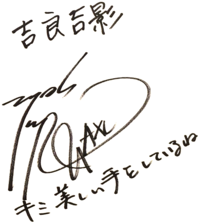 Biography
Toshiyuki Morikawa was born in Tokyo in 1967 but grew up in Kawasaki and Yokohama. Morikawa was initially interested in sports. He entered the Nittai University of Physical Education's Ebara High School in the hopes of becoming a professional physical education teacher and practiced American football. However, Morikawa was injured in the neck, which dashed his hopes of a career in sports.[2][3]
A friend recommended Morikawa to work with his voice instead because he was "talkative and loud". Morikawa thus found and entered the Katsuta Voice Actor Academy in which he trained alongside other future famous voice actors such as Wataru Takagi.[4] Morikawa was also notably appointed to be a teacher during his studies, training other students at vocalization, an activity he continued for five years alongside his main activity as a voice actor. He trained several other notable voice actors such as Tomokazu Seki, Katsuyuki Konishi, and Daisuke Hirakawa.
Morikawa debuted as a voice actor in 1987.[3] He first narrated Japanese language teaching lessons for foreigners. His first named role was that of Hayashi Kato in the TV anime Dash! Yonkuro.
On April 1, 2011, Morikawa stopped his affiliation with the Arts Vision talent agency and established his own agency named Axlone, of which he is the representative director.
In 2015, Morikawa won the award in the Supporting Actor category at the 9th Seiyu Awards. He also won a second award at the 13th Seiyu Awards in 2019.[5][6]
On January 9, 2017, Morikawa ranked 12th among a list of 200 popular voice actors presented by TV Asahi.
JoJo's Bizarre Adventure Roles
Role

Gallery
Trivia
During the 20th session of Morioh RADIO 4 GREAT, Morikawa mentions that he received an amulet from Hirohiko Araki himself at the recording site. Yuki Ono jokingly questions why he would meet Kira, but not the main protagonists.[7]
References