Rio Uchida
Jump to navigation
Jump to search
Rio Uchida (内田 理央, Uchida Rio) is a Japanese actress credited for playing Naoko Osato in the live-action Thus Spoke Kishibe Rohan TV drama.
Biography
Uchida was born in Tokyo, Japan. She made her debut in April 2010 on Nippon TV's Idol's Opening - Search for the Nittelegenic program, which was a survival audition where viewers voted for their favorite idols. In June of the same year, she was selected as one of the six candidates out of 21 for Nittelegenic 2010.[3][4]
In September 2010, Uchida became a member of "LPG" (LesPros Girls), an unofficial idol unit formed from the B.L. TRAVEL Fan Event Bus Tour planned by Beautiful Lady & Television magazine.[5] The group became inactive after March 2012.[6] However, on November 27, 2013, the unit was revived and became officially approved with Uchida as a member. Their first event, "LPG Event Vol.1", was held on January 25, 2014.[7]
On March 21, 2014, Uchida was selected as a regular member of the theater company Matsumoto Kazumi.[8] She graduated from Nihon University on March 25, 2014.[9]
Starting from October 2014, she debuted as an actress by starring in the TV Asahi tokusatsu series, Kamen Rider Drive as the main heroine, Kiriko Shijima. After gaining popularity from her role, she starred in the film Bloody Chainsaw Girl in 2016.
In 2019, Uchida won the 22nd Nikkan Sports Drama Grand Prix Supporting Actress Award for her performance in Ossan's Love.
JoJo's Bizarre Adventure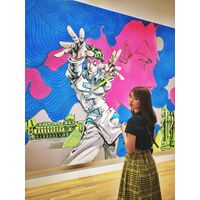 Uchida is a longtime fan of JoJo's Bizarre Adventure, owning several merchandise from the series, including figures, artbooks (such as JoJo6251 and JOJOVELLER), and a shelf full of manga volumes in her room.[10] She first started reading JoJo when she borrowed it from a boy sitting near her in her first year of college. At first, she was interested in the quotes, sound effects, art, and colors. However, she gradually became interested in the story the more she read and started buying a volume in the bookstore each day. She would quickly complete reading a whole volume on her way home.[11] Uchida has talked about the series since 2012 on Twitter, such as posting images of her doing JoJo poses. She also discussed the series in interviews with various websites and companies.
Her favorite parts are Diamond is Unbreakable and Stone Ocean.[12] Uchida's favorite JoJo characters are Rohan Kishibe and Jolyne Cujoh.[13] Jolyne's determination and mental strength encouraged her.[14] When asked what Stand ability she would like, Uchida replied that she would like Terunosuke Miyamoto's Stand from Part 4, because of its useful ability to store things in paper.[13] Her dream is to seal hot ramen and eat it whenever she wants.[11] When also asked which JoJo characters she would like to date, her number one choice was Rohan, number two was Narciso Anasui, and her third choice was Narancia Ghirga.[11]
Uchida liked JoJo so much that she practiced posing in the style of the characters. At one audition, she was asked what her special skill was. On impulse, she performed ten consecutive JoJo poses while vocalizing the articles of the Constitution at the same time, since she was in law school back then. Although she failed the audition, many people remembered her name.[13] When Uchida was a guest on the All Night Nippon radio program in July 2012, she stated that a character she would like to have as her friend's sister is Daiya Higashikata from JoJolion.[15] When All-Star Battle was released in August 2013, Uchida tweeted Joseph Joestar's "Happy Joy-py" quote.[16]
On March 19, 2016, Uchida appeared on the TBS program Saturday Night Chubaw!. Alongside other members on the show doing JoJo poses, Uchida did Jonathan Joestar's pose from Volume 4.[17] In September 2020, she created a video of her putting makeup on and styling her hair like Jolyne in September 2020.[18] In December 2021, Uchida selected JoJo as one of four manga that she wants to reread during the New Year holidays.[14]
Roles
Gallery
Other
Videos
Trivia
References