Diamond is Unbreakable - Episode 19
Jump to navigation
Jump to search
"
Inconceivable, inconceivable, inconceivable, inconceivable! That was five million yen!
(

理解不能 理解不能 理解不能 理解不能 500万円だどォーッ

)
"
Shigechi's Harvest, Part 2 (「重ちー」の収穫 その2, 'Shigechī' no Hāvesuto Sono 2)[1] is the nineteenth episode of Diamond is Unbreakable and the ninety-third episode of JoJo's Bizarre Adventure: The Animation. It covers Chapter 338 through Chapter 341 of the manga.
Josuke, Okuyasu and Shigechi's scheme to make quick money goes more or less smoothly, but soon enough, Shigechi decides to keep all the money for himself and a dispute erupts.
Summary

At Budogaoka Bank, Josuke, Okuyasu, and Shigechi eagerly listen to a bank employee confirming the validity of the lottery-winning ticket. The employee presents a money order for 5,000,000 yen, yet he senses that something is afoul, and unwilling to give the money to the trio, asks them where they bought the ticket, which takes them by surprise. Josuke is forced to construct more and more lies whose discrepancies are noted by the employee.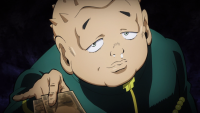 The bank employee reveals that the original buyer wrote his name and number at the back of the ticket, which Josuke, Okuyasu, and Shigechi forgot to check: "Ichiro Morishita", "1774-4281". The employee proceeds to call Morishita in order to confirm the fraud, but Josuke uses Crazy Diamond to change the name and number to "Ichiro Kinoshita", "1771-1281"; thus the original buyer's identity cannot be confirmed, and the employee is forced to give the promissory note to the trio. Outside, Shigechi claims that he is entitled to all of the money and "compensates" Josuke and Okuyasu with a mere 20,000 yen. Furious, Okuyasu punches Shigechi, insults him, and takes back the note. However Harvest appears near Okuyasu's ear and steals the note again, then Shigechi runs away, pursued by Josuke and Okuyasu.
The pursuit reveals itself difficult as Shigechi uses Harvest as treads to climb a building. Using their Stands to throw and catch each other, Josuke and Okuyasu manage to reach the roof as Shigechi crosses a gap between the building and a neighboring one on two pipes. Harvest breaks down the pipes as Josuke and Okuyasu cross, but Crazy Diamond manages to repair them, allowing the two to corner Shigechi. Yet, a sneak attack manages to make both collapse as Harvest had injected alcohol directly into their bloodstream. Unable to stand, Josuke and Okuyasu are ganged on by Harvest, forcing Okuyasu to apologize and offer money so that Shigechi lets them be, secretly planning to attack Shigechi when his guard is down.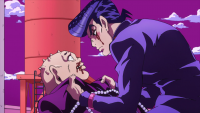 However, Shigechi manages to see through the ruse. Unfortunately for him, he's too late to realize that he's in The Hand's range. It cuts through space and teleports the note to them; Josuke then immediately tears the note into small pieces and throws them away. Shocked at the thought of losing 5,000,000 yen, Shigechi foolishly sends away Harvest, allowing Okuyasu to knock him down. Josuke then reminds Shigechi that everyone contributed to winning the money, thus everyone gets a third of the prize. Shigechi then repents over his greed. Three days later, the trio receives the 5,000,000 yen, but Shigechi starts another argument by claiming a bigger share. He is however quickly shut down by Josuke and Okuyasu's protests.
Appearances
Credits
Staff
Animation Director Cooperation
(作画監督協力)
Action Animation Director
(アクションディレクター)
DR. movie
Yoon Jung Hye
Cho Hye jung
Kim Moon Soo
Kim Sang Yeob
Kang Tae Sig
Woo Jin Woo
Yang Sung Won
YOON JUNG HYE
CHO HYE JUNG
KIM MOON SOO
KIM SANG YEOB
KANG TAE SIG
WOO JIN WOO
YANG SUNG WON
DR. movie
Kim Seok Young
Lee Byeong Seok
Im Su Gyeong
Jang Sang Mi
Jeon Hyeong Jun
KIM SEOK YOUNG
LEE BYEONG SEOK
IM SU GYEONG
JANG SANG MI
JEON HYEONG JUN
In-between Animation Inspection
(動画チェック)
DR.movie
Kim Bok Sim
Kim Seong Beom
Bae Yong O
KIM BOK SIM
KIM SEONG BEOM
BAE YONG O
In-between Animation
(動画)
Graphic Model Cooperation

株式会社バンダイナムコエンターテインメント
株式会社サイバーコネクトツー
Eyecatch Illustration
(アイキャッチ原画)
Music
Manga/Anime Differences
Removed the Bank clerk talking to the security beforehand and fused his first and his second talk with protagonists.
Added Josuke biting his lip from the fear of the clerk phoning the ticket buyer.
Added Josuke fixing Okuyasu's hearing.
Added the alcohol store near Shigechi when he falls down.
Added images of Harvest collecting alcohol now labelled "Josefly Daniel's", a parody of Jack Daniel's.
Added a scene with a cat licking itself and being surprised when it sees Shigechi floating away (being carried by Harvest).
In other languages
Language
Title
Translation
Japanese
「重ちー」の収穫 その2
Shigechi's Harvest, Part 2
English
Shigechi's Harvest, Part 2
Spanish
Harvest de Shigechi - Segunda Parte
Shigechi's Harvest - Part 2
Portuguese
O Harvest de Shigechi - Parte 2
Shigechi's Harvest - Part 2
French
Crunchyroll: Les récoltes de Shige, Partie 2
Netflix : La moisson de Shigechi - Partie 2

Shige's Harvest - Part 2
Shigechi's Harvest - Part 2

German
Shigechis Ernte (Harvest), Teil 2
Shigechi's Harvest, Part 2
Hebrew
שיגצ'י והרווסט, חלק 2
Shigechi and Harvest, Part 2
Arabic
حصاد شيغيتشي، الجزء 2
Shigechi's Harvest, Part 2
Italian
Il raccolto di Shigechi, Parte 2
Shigechi's Harvest, Part 2
Polish
Nagoda Shigechiego: część 2
Shigechi's Award: part 2
Commentary
"
There weren't any particularly notable color changes in Episode 18, but this one has two. The first one is the negotiation with the banker, where all the characters are colored gold. During this moment, everyone has one thing in mind: money. So, what's better than gold to symbolize their greed (laughs)? The other scheme happens in the second half during the fight against Shigechi.
Shigechi is strangely adorable when he's bubbling with joy, an amazed expression on his face. The banker was also remarkable at his role.
Once again, Harvest was difficult to animate as it, or rather they, swarm around everywhere and scatter in all directions. It was actually a recurring conversation topic in the studio where we told ourselves how the Stand was so fearsome that it could exhaust people in real life. Seriously though, I think Harvest is possibly very strong depending on how its user wields it.
Personally, I find it fascinating to see a main character like Josuke use his Stand power for little misdeeds. It was only an unusable lottery ticket at first glance, but he manages to make away with 5 million yen in the end.
"
Gallery
Trivia
This is the first episode in the series to feature the Narrator actually saying "To Be Continued".
References