JOJO-D
Jump to navigation
Jump to search
JOJO-D or JoJo's Bizarre Adventure DIGITAL (ジョジョの奇妙な冒険DIGITAL) is the licensed brand name for the digitally released edition of the JoJo's Bizarre Adventure manga. Distributed under Shueisha's Jump Comics DIGITAL (ジャンプコミックスDIGITAL) product line, the JOJO-D release allows readers to digitally purchase or read volumes through online outlets. Volumes can also be downloaded to mobile devices through Shueisha's own Jump Store app for iOS and Android.
JOJO-D offers two editions of the main JoJo's Bizarre Adventure series: the original monochrome edition and a Digital Colored Comics edition.[2] The Digital Colored Comics edition adapts the series into fully-colored panels. While the monochrome releases for Parts 1-6 are based on the bunkoban edition, the monochrome releases of Parts 7 and 8 and the Digital Colored Comics edition more closely resemble the original tankōbon format.
Several pages of the manga that were originally colored by the author are left intact in the colored edition. The consistent color choices for characters, objects, and locations (which are typically based on existing media) have not been confirmed as canon, as Hirohiko Araki is known for coloring based on aesthetic style rather than consistency.[3]
Colored Volumes


July 13, 2012
[4]
Chapter Titles

July 13, 2012
[5]
Chapter Titles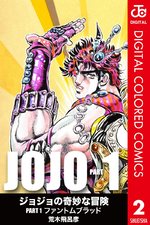 July 13, 2012
[6]
Chapter Titles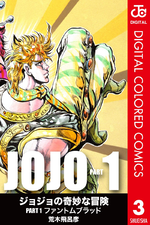 July 13, 2012
[7]
Chapter Titles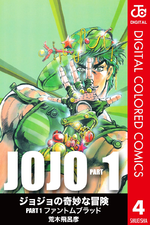 July 13, 2012
[8]
Chapter Titles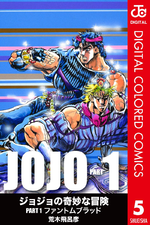 July 13, 2012
[9]
Chapter Titles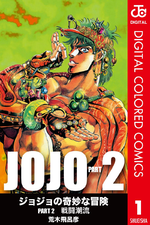 July 13, 2012
[10]
Chapter Titles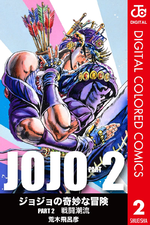 July 13, 2012
[11]
Chapter Titles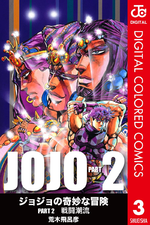 July 13, 2012
[12]
Chapter Titles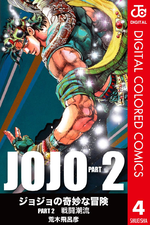 July 13, 2012
[13]
Chapter Titles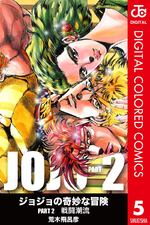 July 13, 2012
[14]
Chapter Titles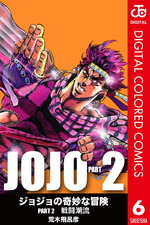 July 13, 2012
[15]
Chapter Titles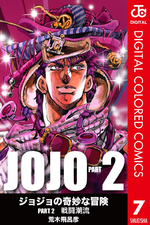 Gallery
Videos
References