Stardust Crusaders - Episode 16
Jump to navigation
Jump to search
Lovers, Part 1
(恋人 その1 Rabāzu Sono 1)
[1]
is the sixteenth episode of
Stardust Crusaders
and the forty-second episode of the
JoJo's Bizarre Adventure
anime
. It covers the second half of
Chapter 160
through the first few pages of
Chapter 163
of the
manga
.
The Joestar Group have defeated Enya the Hag and brought her with them to Karachi. However, the assassin Steely Dan shows himself and kills Enya. Worse, Steely Dan's microscopic Stand Lovers has entered Joseph's brain and is using the old man as a hostage.
Summary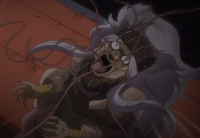 As the group stop by a kebab shop in Karachi, the store owner turns out to be Steely Dan, wielder of the Lovers Stand, who gloats as Enya is killed by some of DIO's flesh buds that Steely Dan had implanted in her body to keep her from revealing the truth. She dies, still believing in DIO rather than telling Joseph the truth about DIO's Stand. Jotaro has Star Platinum attack Steely Dan, only for Joseph to be simultaneously thrown back. Steely Dan reveals he has used his microscopic Stand the Lovers to enter Joseph's ear, where it causes any pain inflicted on himself to be amplified and sent to Joseph, even paying a child to hit him with a stick to prove he is not lying. He also reveals the Lovers will begin implanting a flesh bud which will kill Joseph in 10 minutes.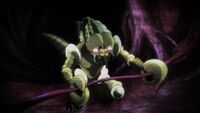 Jotaro, though angry, restrains himself as he caters to Steely Dan's whims to prevent him from hurting his grandfather. Meanwhile, Joseph, Kakyoin, and Polnareff seek out a television so Joseph can use Hermit Purple to make an image of the inside of his brain, allowing Kakyoin and Polnareff to shrink down their Stands to enter his body and locate the Lovers in order to save his life.

Appearances
Credits
Staff
Assistant Chief Animation Director
(総作画監督補)
Ryoko Kawamura
Hiroshi Ito
Shingo Nishiyama
Cha Myoung Jun
Takafumi Mitani
Masashi Yamada
Yoshiko Takemoto
Sho Hamada
Hitomi Shiroki
Miyuki Sano
Takeshi Moriyama
Masato Numazu
Shinya Ito
Shota Yoshida
Yui Kinoshita
Miho Tanaka
Masaya Sekizaki
Chihiro Tanaka
Mihiro Iida
Atsushi Usui
Takashi Hirabayashi
Mamiko Nakanishi
Miki Takemoto
Reiji Sakagami
Yuki Yabuta
Tsuyoshi Kanto
Yasutoshi Iwasaki
河村 涼子
伊藤 浩
西山 伸吾
Cha Myung Jun
三谷 高史
山田 まさし
竹本 佳子
濱田 翔
白木 仁美
佐野 みゆき
森山 剛史
沼津 雅人
伊藤 進也
吉田 翔太
木下 由衣
たなか みほ
関崎 昌也
田中 千皓
飯田 光尋
臼井 篤史
平林 孝
中西 麻美子
竹本 未希
坂上 怜司
薮田 裕貴
菅藤 剛
岩崎 安利
赤間 紗枝
大川 貴大
伊藤 公崇
福田 周平
木下 宏登
川端 新
Shin Hyung Woo
宝谷 幸稔
小田 真弓
光田 史亮
芦谷 耕平
糸井 恵
小美野 雅彦
WHITE LINE
エースカンパニー
寿門堂
office DCI
CLコーポレーション
FAI
サンシャインコーポレーション
スタジオワンパック
Big Owl
BEEP
動画工房
MSJ武蔵野制作所
旭プロダクション
Triple A
In-between Animation
(動画)
Digital In-Between AnimationDavid Production
Masato Ujibe
Makoto Yaguchi
宇治部 正人
矢口 真琴
---
David Production
Yusaku Nagahama
Rie Takahashi
Chie Nakagami
長濱 佑作
高橋 梨恵
中神 智絵
---
White LineA-lineTriple A
MSJ Musashino Production
Ace CompanyCL CorporationJumondoFAI
Sunshine Coporation
Asahi Production
WHITE LINE
A-line
Triple A
MSJ武蔵野制作所
エースカンパニー
CLコーポレーション
寿門堂
FAI
サンシャインコーポレーション
旭プロダクション
Design Cooperation
(デザイン協力)
David Production
Kenichi Higaki
Aiki Watanabe
檜垣 賢一
渡辺 藍希
David Production
工藤 かよ
Puavaranukroh Taweeporn
Eyecatch Illustration
(アイキャッチ原画)
Music
In other languages
Language
Title
Translation
Japanese
恋人 その1
Lovers, Part 1
English
The Lovers, Part 1
Spanish
Los Enamorados Primera Parte
Lovers Part 1
Portuguese
Os Amantes - Parte 1
The Lovers - Part 1
French
Lovers, Partie 1
Lovers, Part 1
German
Die Liebenden, Teil 1
The Lovers, Part 1
Hebrew
האוהבים, חלק 1
The Lovers, Part 1
Arabic
العشاق الجزء 1
The Lovers Part 1
Italian
The Lovers Parte 1
The Lovers Part 1
Danish
Elskerne, Del et
The Lovers, Part one
Commentary
Commentary
"
Thanks to Daisuke Kishio's astounding performance, Steely Dan becomes an exemplary hate sink. He's subtly introduced with the kebab haggling scene with Joseph, which constitutes a first battle, so to speak.
The action is taking place in Karachi, Pakistan. We put a pink sky, but this time this was the base color for every scene. The strength of this episode is to allow itself this pink sky without giving any impression of disharmony.
By the way, when Komino was praised for the Episode 9 sky, this episode was already done, so it's him trying to repeat this particular success (laughs).
Regarding the plot, Dan manages to split the group only with his words, with him and Jotaro on one side, Kakyoin, Polnareff and Joseph on the other side. Until then, the group had acted separately, but never with a direction alternating between the two parties so well.
"
Gallery
References