JoJo's Bizarre Adventure: Eyes of Heaven
Jump to navigation
Jump to search
JoJo's Bizarre Adventure: Eyes of Heaven (ジョジョの奇妙な冒険 アイズオブヘブン, JoJo no Kimyō na Bōken Aizu Obu Hebun) is a tag team fighting game based on the JoJo's Bizarre Adventure franchise, developed by CyberConnect2 and published by Bandai Namco Entertainment exclusively for the PlayStation 3 and PlayStation 4.
The game features 52 playable characters (53 with first print bonus), ranging from Phantom Blood to JoJolion. It was announced in the January 15, 2015 issue of Famitsu and was presented at Jump Festa 2015.
The game was released on December 17, 2015 in Japan, June 28, 2016 in North America, and July 1, 2016 in Europe.[2]
Gameplay
Overview
Eyes of Heaven is a 3D action brawler, described as Stylish Tag JoJo Action (スタイリッシュタッグジョジョアクション, Sutairisshu Taggu JoJo Akushon), set in relatively large arenas based on locations in the JoJo's Bizarre Adventure manga.
The format of the game involves four characters in a 2 vs 2 battle. Players may pick a single character to control as well as a second character that may be controlled by either a CPU or a second human player if playing online to fight the enemy team. While the game allows for four players to battle each other in teams online, there is no local multiplayer.
Basics
During a match, each team has to deplete the enemy team's health gauges first before the end of the round. Characters have three health gauges which are depleted in succession until the character is "Retired", and knocked out of the fight. Offensively, the characters have access to basic attacks and their own special skills. For basic attacks, all characters have Normal Attacks used to string basic combos, a Powerful Attack used to knock opponents away or deliver strong finishers to Normal Attack combos, and a slow but unblockable Takedown Attack unleashed when Powerful Attack is held, delivering a red-flashing strike that crumples targets and leaves them open to follow-up attacks.
Special skills usually take the form of unique, powerful abilities that can initiate larger scale attacks and inflict greater damage to opponents, but can also prepare/provide a number of advantages and bonuses when used. Each character usually has one skill they can occasionally perform that has notably more potent effects or damage compared to others, but also a greater cooldown. All special skills are subject to cooldowns during which a character cannot perform them again, though various buffs can increase cooldown speed. Certain skills have cooldown gauges that also serve to display secondary elements, such as how many times a skill can be used before being placed on cooldown, and the length of an effect or enhanced state.
Defensively speaking, a player can either put up a guard that blocks attacks to greatly reduce the damage taken and potentially counter, or dodge in any cardinal direction with a fast but short Quickstep. Aside from evasion, Quickstepping can also be used to cancel out of attacks or certain skills in order to extend ground combos, or interrupt an unsafe maneuver. Jumping can also be used to cancel out of combos in a similar manner. While putting up a guard is generally the fastest and safest defensive option and does not expend stamina, it has an innate durability indicated by the color of the guard gradually shifting from white to yellow to red. If too much guard damage is sustained in a short period of time, a Guard Break will occur, leaving the defender completely vulnerable for a few seconds and unable to act. Guards are also vulnerable to the aforementioned Takedown Attacks, which function as the game's equivalent to "throws".
All characters (except Alt. World Diego & N'Doul) possess the ability to Homing Dash, allowing them to charge forward or toward their lock-on targets in short bursts at the cost of stamina in order to quickly close distance. Upon making contact, the target will stagger as if hit by an attack, which combined with the ability to cancel out of Homing Dashes using Normal Attacks (known as "Homing Dash Attacks"), grant a relatively easy method of starting combos. Homing Dashes can also be used to create distance and escape danger.
Each time a health bar is depleted, it will "Break", and the character is temporarily knocked down before being able to resume fighting, permanently preventing them from restoring health past that point but also granting them temporary invincibility and therefore a chance to recover. For some characters, special effects may take place when they reach certain health levels.
Below the health gauge is a stamina gauge that displays how much a character can take action within a given period of time. Actions such as Quickstepping, Homing Dashing, jumping, and executing skills deplete stamina, and stamina is generally lost at a much faster rate than it is regenerated. Once empty, the stamina gauge will turn red and characters are unable to execute any actions aside from Normal and Powerful attacks, and guarding for a brief period until the gauge refills completely. Jump-canceling combos also depletes a very large portion of the stamina gauge, and holding a Homing Dash rapidly drains stamina beyond the initial cost in exchange for extending its distance. While stamina will slowly recover on its own, standing still also greatly increases the regeneration rate (though guarding will inversely slow it down). Certain passive skills on specific characters deplete stamina while active, and some even require a full gauge to even use. In all, the presence of stamina is both a deterrent for haphazard aggression and a means to limit a given character's ability to maintain an overbearing offensive, such as reckless Quickstepping or Homing Dashing.
Style Actions
All characters possess a Style Action, a singular special ability that predominantly acts as their main skill or unique gimmick, and is often representative of their Style and abilities as a fighter. For some characters, such as Rudol von Stroheim or Koichi Hirose, a Style Action takes the form of core abilities integral to their playstyle; for others such as Jotaro Kujo or Giorno Giovanna, their Style Actions may take the form of limited-use, tremendously powerful abilities that accessorize or augment their skill set without being necessary to function. While all Style Actions have little commonality, as their roles and utility differ between the playable characters, they ultimately share the trait of being important in how every fighter operates in combat when used to their full potential.
Advanced Mechanics
If a character is hit from behind, it is registered as a Backstab, increasing the damage dealt to them. Similarly, if a character is interrupted with an attack while they themselves are attacking or in the middle of a combo, a Combo Breaker will occur and grant an amount of Dual Heat Gauge to the offender.
Other abilities available to all characters are a Flash Burst and Flash Cancels, which are signified by a purple light and two smaller green lights by the player character's portrait, respectively. A Flash Burst will cause the character to pose with a 'burst' of light, breaking them out of enemy combos by granting them invincibility and sending attackers flying; Flash Cancels instantly cancel a character's attack, including special skills, in order to open up more opportunities to extend combos. When a Flash Burst or Cancel is used, there is a long cooldown before they can be used again.
Both teams have a Dual Heat Gauge with six different sections that fill when dealing or taking damage, using special skills and abilities, or performing other tasks such as destroying stage objects. When one section of the gauge is filled, a team can activate a Dual Combo (デュアルコンボ, Dyuaru Konbo), entering a timed state where all stats are given a boost (attack damage, defense, movement speed, cooldown speed, etc). During a Dual Combo, the team can fill a special gauge by landing attacks on the enemy team before the timer runs out in order to perform a special cinematic Dual Combo Finish, further damaging opponents whilst restoring some health as a bonus reward. When three sections are filled, a team can then perform Dual Heat Attacks (デュアルヒートアタック, Dyuaru Hīto Attaku), causing the characters to pose before charging forward, cloaked in a red aura. If the charging character successfully connects with an opponent, a special cinematic joint attack will initiate, dealing massive damage to the target. Each time the Dual Heat Gauge is filled completely, it will reset but become more difficult to fill each time. Certain match-ups contain special animations and dialogue between two characters, mostly between allies in the form of unique, fully animated and cinematic Dual Heat Attacks. However, these have no effect on gameplay aside from altering the angles and distance opponents are sent when struck by a DHA.
Moreover, the battle arena contains interactive items the characters can freely use for a number of goals. These include objects that can be thrown or trapped depending on the character, and stage-specific gimmicks such as knocking enemies down onto spikes to deal bonus damage and resting at a cafe to replenish health. Among the many stage objects are destructible red boxes containing temporary power-ups, such as attack and defense boosts, instantaneous cooldowns to all abilities, and even Dual Combo and DHA charges.
Soul Succession
When a member of a team is Retired, their partner will be powered up to balance the number disadvantage under a Soul Succession (also referred to as "Inherited Will" in some descriptions). Soul Successions grant the character in question an extra purple health bar that will slowly deplete over time, and incredible power-ups to movement speed, skill cooldown speed, and attack damage, as well as super armor when attacking. All unused Dual Combo charges are unavailable for the rest of the match, while charges of Dual Heat Attacks are converted into Soul Succession charges. However, in rare scenarios where both fighters are defeated at the exact same time, no Soul Succession will occur and the match will end immediately.
Exclusively in 2v2 online mode, when a player is Retired on either team, that character becomes a "Vision" who cannot receive or deal any further damage, and is only allowed access to one skill from their movelist and no other attacks. Whenever a Vision receives or lands an attack, the respective target is temporarily knocked down, allowing the Vision only to disrupt players on the other team.
Story Mode
The Story Mode includes a level system and ability tree for each character, and each playable character levels up using XP earned from Story Mode battles and missions, up to Lv. 50. Characters are originally available within the Story Mode with an incomplete set of techniques and lowered stats. These parameters can be unlocked by fighting with them and using the point rewards gained from levels to unlock a technique or improve the character's various stats in the tree. Stats such as health and attack strength automatically grow upon a character leveling up, and require no points.
Aside from recovering skills and abilities that were otherwise already available to the character as part of their core moveset, the ability tree also features upgrades granting exclusive enhancements not available in the standard Free Battle. Among these upgrades are reducing stamina consumption, reducing the cooldown on Flash Bursts and Flash Cancels, and increasing the effectiveness and duration of abilities beyond their normal limit. As a result, playable characters are functionally inferior to their Free Battle counterparts at Lv. 1, but eventually grow to surpass them in all areas when the tree is complete.
Battle Styles
Like in JoJo's Bizarre Adventure: All-Star Battle, characters are categorized by Battle Styles which change how each character plays in the game, as well as their different strengths and weaknesses. "Ripple User" (波紋使い, Hamon-tsukai), "Vampire" (吸血鬼, Kyūketsuki), "Mode" (流法, Mōdo), "Stand User" (スタンド使い, Sutando-tsukai), and "Mounted" (騎乗, Kijō) return from All-Star Battle (with slightly different names), while Eyes of Heaven adds "Ogre Street" (食屍鬼街, Ōgā Sutorīto) and "The Prime Example of Superior German Science" (ゲルマン民族の最高知能の結晶, Geruman Minzoku no Saikō Chinō no Kesshō, literally "The Greatest Crystallized Intelligence of the German People") to the game. Vampires and the Mode-using Pillar Men still recover damage over time, unless the damage was dealt by a Ripple-enhanced attack, and also they can be paralyzed by ultraviolet lamps made from Superior German Science.
Also new in Eyes of Heaven is that characters that were previously classified in All-Star Battle as having one Battle Style but displayed abilities of another are now classified as having two Battle Styles. For example, Old Joseph Joestar is now classed as both a Ripple User and a Stand User, while in the previous game he was only classified as a Stand User who happened to have Ripple-based abilities and attacks as well.
Story Mode
The game features an original storyline supervised by Hirohiko Araki[3] and centers around a major timeline and universal interference within the JoJo universe affecting characters across all arcs, as well as the Saint's Corpse Parts.
Expand/Collapse All

Dual Heat Attacks
Dual Heat Attacks (デュアルヒートアタック, Dyuaru Hīto Attaku, DHA) are cinematic team combo specials that can be activated once the Dual Heat Gauge is filled in a match. Its activation sound effect is similar to the Time Stop sound effect from All-Star Battle.
Most DHA's consist of the secondary player attacking briefly, followed by the player who initiated the attack performing a cinematic move reminiscent of an HHA or GHA from All-Star Battle.
Normal Dual Heat Attacks
Here's a list describing the cinematic moves performed by the player who initiated the attack after the secondary player briefly making their move.
Josuke Higashikata 8 has Soft & Wet's soap bubble steal the friction from his opponent's body, then after a barrage of attacks, Soft & Wet hits them one final time, sending him spinning out and colliding with the stage wall.
Joshu Higashikata has Nut King Call dismantle the opponent as Joshu comments over his surprise in being able to do just that.
Special Dual Heat Attacks
Some specific character combinations, however, have Special Dual Heat Attacks, with their own unique name and cinematic animations, usually recreating scenes from the manga or completely new scenarios. Teams with Special DHA's are listed below:
"Here comes my Ripple!" (

例の波紋でいくか

Rei no Hamon de Iku ka, lit. Let Us Use That Aforementioned Ripple) Jonathan Joestar & Will Anthonio Zeppeli: The two of them attack the opponent's head, sequentially with a Ripple-charged Zoom Punch from Jonathan and a Sendo Wave Kick from Zeppeli, before they charge up and run up to the opponent and unleash a double Sendo Ripple Overdrive-enhanced Zoom Punch into them, the two reciting the phrase commonly associated with Overdrives.
"Dual Ripple!" (

ふたつの波紋

Futatsu no Hamon, lit. Double Ripple) Joseph Joestar & Caesar Anthonio Zeppeli: The two start off by attacking the opponent from opposite sides with a series of Ripple-charged punches and kicks from Joseph and an array of Ripple-infused bubbles from Caesar, before Joseph invites Caesar to initiate the Positive/Negative Overdrive they used on Suzi Q to save her from from Esidisi's control, attacking the enemy from both sides with said move and shocking them with extreme power.
"This master and student's beat will cut you deep!" (

刻むぜ師弟のビート

Kizamu ze Shitei no Bīto, lit. Etch With the Beat of the Teacher and Student) Joseph Joestar & Lisa Lisa: Running up to the opponent, Lisa Lisa strikes with multiple Ripple-powered kicks and scarf swing, before Joseph ties up the opponent with a rope he had laid during her assault. They then channel a Ripple surge into the Red Stone of Aja, causing it to launch a deadly beam at the helpless opponent.
"Use the edge of the ring—just like sumo." (

土俵際のかけひき

Dohyōgiwa no Kakehiki, lit. Sumo Tactics) Jotaro Kujo & Noriaki Kakyoin: Kakyoin holds the opponent in place with Hierophant Green, allowing Jotaro and Star Platinum to pull them in by Hierophant Green's tail and unleash a barrage of punches that sends them flying. Kakyoin appears once more behind the enemy mid-air to deliver an Emerald Splash. Throughout the whole attack, Jotaro and Kakyoin converse about Sumo, referencing the events in the Wheel of Fortune chapters.
"Let's put the final nail in the coffin." (

いくぜダメ押し

Iku ze Dameoshi, lit. Let's Finish It) Jotaro Kujo & Jean Pierre Polnareff: Jotaro and Polnareff summon Star Platinum and Silver Chariot to take turns attacking the opponent. Star Platinum follows with an uppercut, and the two of them begin yelling out their Stand Cries ("ORAORAORA!" and "HORAHORAHORA!") while pummeling and stabbing the opponent, respectively. This attack references how they defeat Alessi in Chapter 209.
"It's not cheating if the secret doesn't get out!" (

バレなきゃイカサマじゃあない

Barenakya Ikasama jaa Nai, lit. It's Not Cheating If You Don't Get Caught) Jotaro Kujo & Old Joseph Joestar: Joseph jumps into the air and tries to snare the opponent with Hermit Purple, only to miss. Briefly shocked and emoting his iconic "OH MY GOD!" as Jotaro expresses disappointment, he drops the facade to reveal that he had tied the opponent with a rope during his previous attack, subsequently sending a Ripple current through the rope to shock them as Jotaro and Star Platinum move in to barrage them into submission. The name of this attack is a reference to a line said by Jotaro against Telence T. D'Arby.
"Double Bind!" (

ダブルバインド

Daburu Baindo, Old Joseph Joestar & Muhammad Avdol): Avdol fires an attack from Magician's Red that surrounds the opponent before Joseph strikes them with a Ripple-empowered Hermit Purple over his wrist throwing them into the air; they both capture the opponent with their respective abilities, before coming together and firing their Stands at the opponent overhead as they're burnt using a combination of the Ripple and Magician's Red's fire.
"Flame Rapier" (

炎のレイピア

Honō no Reipia, Jean Pierre Polnareff & Muhammad Avdol): Avdol binds the opponent with Red Bind, then Magician's Red sets fire to Silver Chariot's rapier. Polnareff thanks him as Silver Chariot assaults the trapped enemy with its red-hot blade and activates an explosion when the rush ends.
"Mad Dance of Sand and Swords" (

剣と砂の乱舞

Ken to Suna no Ranbu, Jean Pierre Polnareff & Iggy): Polnareff calls for Iggy's assistance only to turn around and see him taking a nap; Angry, Polnareff furiously attacks the opponent with Silver Chariot and jumps into the air, before Iggy ultimately joins him as the two deliver a finishing blow with their Stands diving through.
"Hey, are we gonna do this, or what?" (

おい、やんのかよ

Oi, Yanno ka yo, lit. Hey, Do You Wanna Fight?) Josuke Higashikata & Okuyasu Nijimura: Okuyasu has The Hand bring their opponent closer by eliminating a wide space in front of them, leaving them staggered. After Josuke and Okuyasu briefly and excitedly share comments, The Hand and Crazy Diamond pummel their target with a dual Stand barrage followed by a joint uppercut that sends them high into the air.
"Dorara Rush ×2" (

ドララのラッシユ×2

Dorara no Rasshu Kakeru Ni, Josuke Higashikata 4 & Koichi Hirose): Koichi has Echoes ACT2 place SFX of Crazy Diamond's Stand Cry ("DORARARA!!") directly under the opponent's feet. He then prompts Josuke to attack, watching as he jumps high into the air until he is directly above the opponent. The SFX then activates, creating artificially-made fists to attack from below as Crazy Diamond punches the opponent from above, hitting them from both sides.
"I really hate this guy…" (

スゲー嫌いだよ、こいつ…

Sugē Kirai dayo Koitsu…, Josuke Higashikata 4 & Rohan Kishibe): Rohan uses Heaven's Door to write within the opponent "My body will fly forwards at 70 km/hr." as he begins to tell Josuke something; revealing soon after that he hates him. The opponent is sent flying at Josuke in an attempt to cause a collision, forcing him to use Crazy Diamond to pummel them away.
"We're best friends!" (

僕たちは親友

Boku-tachi wa Shin'yū, Koichi Hirose & Rohan Kishibe): Koichi uses Echoes 3 Freeze to make the opponent heavier, before Rohan uses Heaven's Door to write in the opponent "My weight will increase 10-fold.", combining the effects and multiplying their weight to such a degree that it causes them to slam face-first and sink into the ground with enough force to generate a crater.
"Invincible Heroine" (

無敵のヒロイン

Muteki no Hiroin, Koichi Hirose & Yukako Yamagishi): Koichi uses 3 Freeze to make the opponent heavier, then Yukako wraps them in her hair before attempting to fling them around. Despite struggling with the increased weight of the opponent, she successfully slams them into the ground four times before raising them extremely high up into the air and launching them into the ground one more time hard enough to generate a shockwave.
"We're gonna beat your ass!" (

あたしたちがぶちのめす

Atashi-tachi ga Buchinomesu, Jolyne Cujoh & Ermes Costello): Ermes uses Kiss' stickers to create multiple arms for Jolyne and Stone Free. Having done so without warning, Ermes is reprimanded by Jolyne who knows that the stickers' removal will cause her pain. Ermes reminds Jolyne that they are in the middle of a fight, forcing Stone Free to angrily pummel the opponent with an extra set of fists and blowing them back as Ermes laughs.
"The momentum's on our side!" (

風はこちらへ吹いているわ!

Kaze wa Kochira e Fuiteiru wa, lit. The Wind Is Blowing Here!) Jolyne Cujoh & Weather Report: Stone Free assaults the opponent as Weather Report creates an opposing gale that keeps the opponent in place. Stone Free's fists ultimately overpower the gale and the enemy is sent flying into Weather Report, setting them on fire via friction.
"GO! GO! GO!" (

GOッ!GO!!GO!

Gō! Gō!! Gō!) Johnny Joestar & Gyro Zeppeli: The two riding on their horses, Gyro throws a Steel Ball while Johnny shoots a Nail Bullet, both infused with the Golden Spin. As a result, Ball Breaker and Tusk ACT4 fly side-by-side towards the opponent. After Tusk briefly pummels the target, both Stands fly through their midsection as the power of the two Golden Spins generate a massive energy explosion.
"We're friends, right?" (

俺たちは仲間だよな…?

Ore-tachi wa Nakama da yo na...?) Josuke Higashikata 8 & Joshu Higashikata: Josuke and Joshu discuss their "friendship" status as Soft & Wet delivers a punch that downs the opponent. Joshu and Nut King Call hastily move in to finish them off, but fails to notice a bubble by Soft & Wet that steals the ground's friction, making him slip and spin out of control. Accelerating to high-speeds, Joshu is only stopped when he inevitably crashes into the downed opponent as Josuke humorously looks on.
"The Sickest and the Strongest" (

最凶と最強

Saikyō to Saikyō, lit. The Fiercest and the Strongest) Dio Brando & DIO: Dio freezes the opponent and attempts to unleash Space Ripper Stingy Eyes, quickly interrupted by DIO stopping time and pummeling them with The World into the air. DIO resumes time as to allow Dio to fire off the attack, tilting his head to the side to avoid getting hit and watches as the beams obliterate the frozen opponent.
"Gotta be cool, at my age." (

カッコつけたいお年頃

Kakko-tsuketai Otoshigoro, Josuke Higashikata 4 & Old Joseph Joestar): Josuke & Crazy Diamond pummel the target, with the final punch sending them high into the air. Old Joseph then comes from behind Josuke and uses Hermit Purple to bind the airborne opponent. Yanking on his Stand and pulling them in, Old Joseph then charges and delivers a forceful Ripple-infused downward chop to blast the target away once more, leaving Josuke impressed.
"Surpassing Existence!" (

越えるべき存在

Koerubeki Sonzai, lit. There Should Be More Than This) Giorno Giovanna & DIO: DIO summons The World to batter the opponent, before being joined by Giorno and Gold Experience. After exchanging looks, both of them yell out their shared Stand Cry in unison and attack their target with steadily increasing power, before delivering a combined powerful strike that sends the opponent reeling.
"The Perfect Angle" (

ちょっといい角度

Chotto Ii Kakudo, lit. The Best Angle) Jolyne Cujoh & Jotaro Kujo: Star Platinum and Stone Free send the opponent into the air with a dual uppercut, before Jolyne wraps them in a cocoon made of Stone Free's string. After Jotaro confirms the best angle to hit, they pummel it with both of their Stands.
"Rulers of Time and Gravity" (

時と重力の支配者

Toki to Jūryoku no Shihaisha, lit. The Rulers of Time and Gravity) New Moon Pucci & DIO: This DHA is only available with Pucci using Made in Heaven. DIO stops time and throws a barrage of knives. As time resumes, Pucci speeds up the knives' flight using Made in Heaven to make them hit their target with more power. Pucci then uses MiH's power to allow DIO the ability to get close to the enemy with extreme haste and deliver a singular punch that launches them off.
Characters
Miscellaneous Characters
Characters that appear in menus, Stage Gimmicks, special abilities, or in story mode cutscenes.
Heaven Ascension DIO (CV: Takehito Koyasu) - The main antagonist and final boss of the game's Story Mode. As Heaven Ascension DIO is said to be able to overwrite reality itself, he is the only nonplayable fighter in the game.
Stages
Stages are designed as large, dynamic 3D environments with varying altitudes. Much like All-Star Battle, most contain gimmicks, hazards, and situation finishes. When a certain Situation Finish is performed on the correct character on the corresponding stage, a colored manga panel is displayed.
Phantom Blood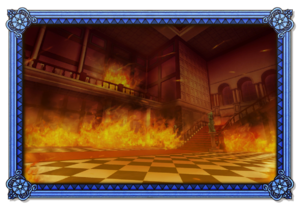 Joestar Mansion (ジョースター邸, Jōsutā-tei)
Stage Gimmick 1: Zombies may grab any combatant near a broken window, inflicting damage and leaving the victim open to attacks.
Stage Gimmick 2: Throughout the match, fire will slowly break out within the mansion, inflicting gradual damage on those caught in the blaze.
Situation Finish: The defeated combatant is thrown onto the statue of the goddess of love, recreating Dio's first defeat.
Battle Tendency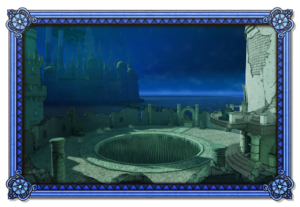 Air Supplena Island (エア・サプレーナ島, Ea Sapurēna-tō)
Stage Gimmick: The spikes on the stage inflict gradual damage to all combatants except Ripple users (while they have Ripple Gauge remaining) and immortal characters (vampires and Pillar Men). If a combatant is knocked onto the spikes, they will take considerable damage.
Stardust Crusaders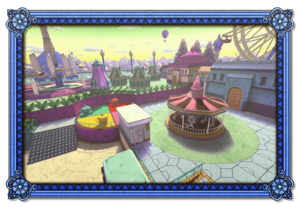 Nightmare World (悪夢世界, Naitomea Wārudo)
Stage Gimmick: Death Thirteen occasionally appears and attacks the players. The Stand has a health bar of its own, and can thus be attacked and temporarily banished by combatants.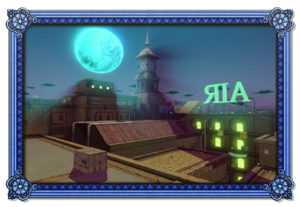 Cairo Rooftops (カイロ市街屋上, Kairo Shigai Okujō): Cairo
Stage Gimmick: If a combatant is knocked into the neon "AIR" sign, each letter of the sign will independently malfunction and fall forward, dealing additional damage to the victim and anybody underneath.
Situation Finish: The defeated combatant is sent crashing into a water tower, recreating Kakyoin's death scene. If Kakyoin himself is the combatant in question, the manga panel showing his death appears, and his body remains for the rest of the match.
Diamond is Unbreakable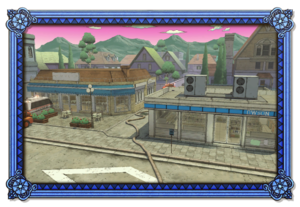 Morioh (杜王町, Moriō-cho)
Stage Gimmick 1: Certain characters may ride Rohan's motorcycle and perform offensive maneuvers on it, allowing for surprise attacks and quick traversal of the map. The bike can otherwise be picked up and thrown as an explosive, inflicting heavy damage and setting the target area on fire.
Stage Gimmick 2: Café Deux Magots serves an espresso or other refreshment to any combatant who stops by at the glowing table, restoring their health.
Situation Finish: The last defeated combatant finds themselves in Ghost Girl's Alley, where the hands of the dead drag them off into the unknown, recreating Yoshikage Kira's final defeat.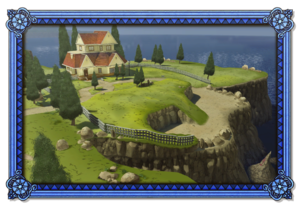 Boyoyoing Cape (ボヨヨン岬, Boyoyon Misaki): Morioh
Stage Gimmick 1: Combatants that fall off the cliff are bounced across the stage to safety by Echoes ACT2's onomatopoeia, similarly to how Koichi saved Yukako.
Stage Gimmick 2: Bouncing onomatopoeia created by Echoes ACT2 can bounce combatants to various locations around the stage.
Stage Gimmick 3: Sizzling onomatopoeia created by Echoes ACT2 can damage and knock back combatants who touch it, potentially into other onomatopoeia. They will also attract Kira's Sheer Heart Attack if it strays too close.
Vento Aureo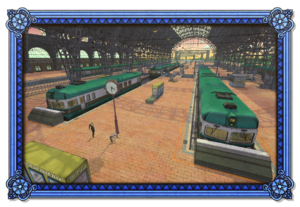 Naples Station (ネアポリス駅, Neaporisu Eki): Naples
Stage Gimmick 1: Prosciutto will occasionally patrol the area, attacking anyone who comes near him with The Grateful Dead. Prosciutto's presence also slows all mortal combatants down to a walk due to his Stand's aging ability. Ice trays found scattered around the stage can nullify the aging effect. Prosciutto has a health bar of his own, and can be attacked and defeated by combatants.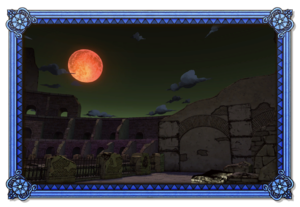 Colosseum (コロッセオ, Korosseo): Rome
Stage Gimmick 1: Mr.President's key can be found somewhere within the stage. Any combatant who picks it up can enter the wandering Coco Jumbo, restoring their health and healing any status ailments.
Stage Gimmick 2: Chariot Requiem occasionally appears and causes any who enter its range to fall asleep, leaving them vulnerable to attacks. Requiem's accompanying light source will linger behind a random combatant, frequently switching between combatants. Destroying the light source will temporarily banish Requiem.
Stone Ocean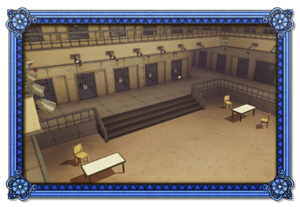 Green Dolphin Street Prison (G.D.st 刑務所, Gurīn Dorufin Sutorīto Keimusho)
Stage Gimmick 1: Money can be found scattered across the stage. If a combatant gathers enough money, they can pay Gwess to have Goo Goo Dolls shrink their opponents. Shrunken characters take more damage, move slower, and are unable to attack or guard, but are able to enter grates throughout the map in order to teleport and escape attackers.
Stage Gimmick 2: Emporio frequently appears in various trash cans around the stage and offers his hand, allowing combatants to teleport between trash cans via Burning Down the House.
Stage Gimmick 3: Limp Bizkit occasionally summons an invisible zombie alligator onto the stage, attacking anyone in its way. The alligator has its own health bar and can be defeated.