About Us - JoJo Wiki
Jump to navigation
Jump to search
Welcome to the JoJo's Bizarre Adventure Wiki
JoJo's Bizarre Encyclopedia is a wiki dedicated to JoJo's Bizarre Adventure written and illustrated by Hirohiko Araki.
JoJo's Bizarre Adventure, often shortened to JoJo or JJBA, is a shōnen and seinen manga series, following the journeys of the Joestar family members across generations.
Our goal is to create a comprehensive encyclopedia for all official material related to this ongoing series. Edits from new editors are reviewed first, but any help we can get is greatly appreciated!
Number of articles: 5,706
Number of files: 80,530
Number of active users: 177
Number of edits: 667,795
This wiki includes spoilers of an unpredictable spread throughout articles – Please proceed with caution!
About Us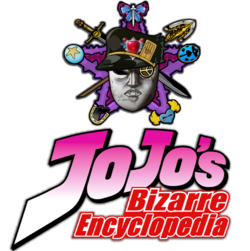 JoJo's Bizarre Encyclopedia (ジョジョの奇妙な百科事典, JoJo no Kimyō na Hakkajiten) is a website dedicated to the works of the manga artist Hirohiko Araki and related media. It is primarily focused on his biggest series, JoJo's Bizarre Adventure.
The site was founded on October 14, 2019, and officially launched to the public on November 23, 2019. However, the site has 11 years of history prior to this on a former wiki owned by a company. As JoJo fans throughout the world, we united to work on that site for free to spread our enjoyment of the franchise and archive whatever we could. Throughout the years, that site started going downhill due to events beyond our control, so our small community editing there contemplated moving to our own site. Although we initially believed it to be an impossible task, we persevered and were capable of moving the content that we wrote for over eight years there onto our new site here.
Since moving, we've had the freedom to follow our own rules and implement new features and extensions as much as we want. The advertisements and donations we receive serve to help us pay for hosting the site each month. Our work on this site is a hobby to provide the fans of the series with the most accurate, cited, and up-to-date information. We have interviewed several notable people related to the franchise, including Reki Taki, Satoshi Kurusu, Yuki Kikuchi, Kira Buckland, and more.
While anyone is free to edit with an account, we moderate the content to ensure the information is factual and legitimate. Nonetheless, it's possible that things may slip by us, so we hope that our readers would either fix it themselves should they come across an error, or report the error to us on either our message walls, Twitter, or Discord server.
We're grateful for all the support we've received since creating this site, and glad to see both old and new fans of the series working together to make the site great. Thank you!
Staff
Bureaucrats/Administrators (Owners)
Wiki Debut:
December 2009
(First Edit)
Specialties:
Content Writing, Japanese Translator, Image Scanning, Animation Production Documentation

I started reading JoJo's Bizarre Adventure during the whole "road roller" craze back in 2006 and have never stopped since then. However, it wasn't until a few years later that I would discover the wiki, which at the time was relatively barren. I took it upon myself to help beef it up and maintain the site until I was eventually given the role of head admin in 2012 (around the time the anime was announced). The past decade has been a non-stop roller coaster of adding new content to the wiki, but I'm not planning on stopping anytime soon.
Wiki Debut:
August 2015
(First Edit)
Specialties:
Content Writing, Website Development/Maintenance/Design, Template Creation


I first learned of
JoJo's Bizarre Adventure
in 2006 due to
Jump Super Stars
, the road roller meme, and
DIO
being added to
M.U.G.E.N
at that time. However, it wasn't until 2012 that I started reading JoJo after being convinced to by a friend.
All-Star Battle
being announced also motivated me, as I was making anime gaming videos at the time. Since then, most of my videos have been various content and compilations for ASB and
Eyes of Heaven
. Soon I discovered the wiki and began editing it in 2015, eventually becoming an admin. After
Fandom
started making changes for the worse, I thought it would be a good idea to move all our content from their site onto our own individual site. In 2019, we were finally able to do so after purchasing our own server and domain. While it's been stressful, it's also been a fun learning experience and I'm glad to see all the support from the community.
Wiki Debut:
January 2016
(First Edit)
Specialties:
Content Writing, French Translator, Categorization
I discovered Jojo before, or at the same time as the anime first aired in 2012. I read the manga though. I got completely hooked to this series, its colorful characters, the captivating action, how the series manages to be so funny and yet so sad at some point. The series' strongest is however, its storytelling. JoJo is not perfect by any means, but it reaches heights that no other series can reach, and has managed to stay fresh in over 30 years of publication. This is something to respect.
As an editor, I am the "workhorse" type. I do simple types of edits but I edit a lot, I do a bit of maintenance too. Currently translating articles into French. Main weakness is my English grammar.
Wiki Debut:
May 2017
(First Edit)
Specialties:
Website Design, Template Creation, Translations, Media Documentation


Hello, I'm Morgan. I started reading the series in 2014 after
All-Star Battle
and the
Stardust Crusaders
TV anime were announced. Before that I was a moderate fan of the arcade fighting game,
Heritage for the Future
, and the original
1993 OVA
series. Eventually I caught up with the series in 2016 during the
Milagro Man
story arc and have been diligently waiting for each new release since. I joined the wiki in May 2017 because I wanted to document and archive old JoJo-related media and I've been a moderator on the site since October 7, 2017. My favourite part is
Stone Ocean
and my favourite characters are the femme fatale,
Mariah
, and the Passione leader,
Bruno Bucciarati
.
Wiki Debut:
March 2020
(First Edit)
Specialties:
Archiving Media, Image Scanning, Providing Content for pages


I first got into JoJo's when the
Diamond is Unbreakable
anime was on
Ep. 38
. I originally found it through the "memes" but I eventually grew past that stage and loved the series for what it's worth. The series hugely appeals to me as I grew up a lot with Music & Fashion as a boy. I love seeing all of
Hirohiko Araki
's artwork for the series because I love the rapid and random colors he uses, Part 3 is probably my favorite Era for his work as it feels very rustic, relaxing & easy to follow. I can't really say I have a favorite part because they're all diverse Parts with their own special fire to them. Out of all the multiple characters there are to like my favourites are
Will Anthonio Zeppeli
,
Noriaki Kakyoin
,
Okuyasu Nijimura
&
Bruno Bucciarati
. I tend to avoid the bad sides of the fandom and focus on surrounding myself with good people that I can have civil conversations with. I am currently up-to-date with the ongoing
Manga
and whatever Merchandise releases.
I joined the wiki in March 2020 as suggested from MetallicaKaiser where I was always keeping in touch with him about findings I had, he told me I can go to his and Vish's JoJoWiki (here) to edit and post whatever pages needed additions.
In early August 2019 I started my journey on archiving and scanning anything related to the lost 2007 Phantom Blood Movie, and I couldn't be happier knowing that others can see what I'm archiving. With it having come to a dead-end for days and months, I decided to divert my attention onto archiving anything for the 1993 & 2000 OVA 's and once again I managed to find a lot of art & advertisements unique to certain magazines. Asides from JoJo I am a huge lover for the 1989 series Berserk and I'm always scanning rare artwork as there's barely any good quality images online.
I'm Frizzle. I'm fairly new to the
JoJo's Bizarre Adventure
fandom in particular and the
Golden Wind
anime memes were my first exposure to it. I had only fully caught up to
JoJolion
around the release of Chapters
97
-
98
, but hopefully it's not too late to join the JoJo community.
Narciso Anasui
and
Gyro Zeppeli
both tie for my top favorite JoJo characters with
Hato Higashikata
in second.
I joined the Wiki by chance after finding the Discord server link while I was looking at Steel Ball Run pages, and I haven't stopped editing since. I like to type anything in general with my handy six-year-old laptop so I spend time editing here. I simply help update pages and/or add images, which are the least I could do. Right now I'm doing my best to expand and clean up the Wiki as much as I can with my current knowledge of the franchise.