Hiroshi Matsuyama
Jump to navigation
Jump to search
Hiroshi Matsuyama (松山 洋, Matsuyama Hiroshi) is a Japanese game developer and CEO of CyberConnect2. He is primarily known for his key involvement in the development of the .hack and Naruto: Ultimate Ninja Storm video game franchises. Matsuyama was the lead director for All-Star Battle and supervised its follow up game, Eyes of Heaven.
Biography
Matsuyama was born in 1970 in the Fukuoka Prefecture of Japan. As a child, he had a strong interest in anime & manga and dreamed of becoming a mangaka for Weekly Shonen Jump.[2] After graduating from Kyushu Sangyo University, Matsuyama joined the "Friends of Manga Research Club" and became an employee for a cement company.[3] He would eventually join a friend from college at Taito in Tokyo, and from there decided to become a video game developer. On February 16, 1996, Matsuyama co-founded his own videogame company titled "CyberConnect", later renamed to "CyberConnect2" and became its President and CEO in 2001.
Matsuyama would go on to spearhead the successful Project .hack and expand the company's development into the fighting game genre. He is notably the production head director for the Naruto: Ultimate Ninja Storm series and has supervised games like Asura's Wrath and Dragon Ball Z: Kakarot.
JoJo's Bizarre Adventure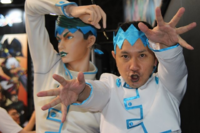 All-Star Battle was announced on July 5, 2012 to coincide with the 25th anniversary of the JoJo's Bizarre Adventure series. Matsuyama played a key role in the game's development as its production director and marketing representative. As the CEO of CyberConnect2, he is well-known for cosplaying characters when promoting the company's video games and was frequently seen at interviews and events dressed as Rohan Kishibe. Matsuyama notes having wanted to develop the game seven years prior to its conceptualization due to his exposure to the 2006 Phantom Blood PS2 Game.[4]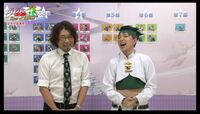 To promote All-Star Battle's release, a NPC-based tournament titled All-Star Battle League was hosted by Matsuyama, Bandai Namco producer Noriaki Niino, and comedian Kendo Kobayashi. The three would go on to host a similar competition for the game's follow up, Eyes of Heaven. Matsuyama continues to act as the "face" of the company and has done several interviews relating to both of the JoJo games developed by CyberConnect2. He has stated that the future of JoJo games produced by the company will ultimately depend on Bandai Namco' decision. He encourages fans to send their requests to the publisher if they wish for more.[5]
Gallery
Photos
Personal Artwork
Videos
Trivia
References