Toshikazu Hazamada
Jump to navigation
Jump to search
"
I finally got this so-called 'Stand' ability... not everyone gets to have one, you know? Kinda makes you want to live a more dangerous and successful life than the average guy, don't you think?
"
Toshikazu Hazamada (間田 敏和, Hazamada Toshikazu) is a tertiary antagonist featured in the fourth part of JoJo's Bizarre Adventure, Diamond is Unbreakable. He is introduced as an antagonist in the "Toshikazu Hazamada (Surface) story arc and reappears in a supporting role in the "Let's Go to the Manga Artist's House" arc.
Hazamada is initially a malevolent Stand user given power by Keicho Nijimura before being neutralized by Josuke Higashikata and Koichi Hirose. He subsequently becomes lawful and befriends Koichi. His Stand is the manipulating doll, Surface.
Appearance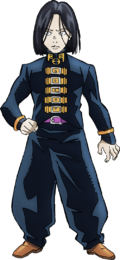 A teenage male, Hazamada is initially tall, but later in the story, like Tamami, he shrinks to Koichi's height. In the anime, he is simply depicted as already being short in stature.
He has long, straight dark hair and wears a school uniform with the character "間" along the collar and several belts spread vertically down the chest- mirroring a straitjacket.
He has dark color upper eyelids.
Color Schemes
The series is known for alternating colors between media, the information presented below may or may not be canon.
Hair
(Black with purple highlights)
Outfit
(Purple uniform with brown belts and white shoes.)
Outfit
(Teal uniform with yellow belts and brown shoes.)
Personality
"
I've... never had a girl say bye to me, my whole life... Heh! There's only ugly bitches in this school anyway...
"
Toshikazu Hazamada is a Stand User with a vile personality.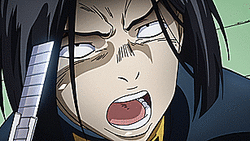 Hazamada has a number of pathetic and despicable traits, akin to that of a psychopath. It is stated by Rohan that Hazamada enjoys subjugating those weaker than himself, notably kittens and small animals. When he hears a biker mock him, Hazamada's reaction is to try to slash apart his cheek with a cutter. As a Stand User, he also misuses his ability. After getting into an argument with a classmate over a petty subject (a TV show or an idol), Hazamada had him gouge his eye out with Surface. When he hears about other Stand Users who would stop him, he also tries to attack them so that he can drive them away and keep abusing his power. In a fit of jealousy, Hazamada also punched Surface, then disguised as Josuke, because he witnessed how much Josuke's good looks made him popular. When he was cornered, Hazamada went as far as trying to kill Jotaro.
His violent tendencies are also coupled with a lot of arrogance. Not only does he think that having a Stand gives him an inherent right to abuse his ability, he also never acknowledges his flaws and thinks that everyone is stupid. As he witnesses Surface being mistaken for Josuke and how popular Josuke is with other girls thanks to his good looks, he feels extremely jealous (to the point that he wants to beat up Surface just for being the target of other girls' affection) and tries to console himself by claiming that all girls in his school are ugly. Even when he tries to assassinate Jotaro, Hazamada decides to blame Josuke for daring to investigate him and pushing him this far.
Hazamada is also a pervert. He lusts after a classmate named Junko and wants to rape her; the only thing preventing him from doing so is his own cowardice, not any morals. He also tried to turn Surface into Junko to have his way with her once. He also feels excited when he must adjust his scrotum during class and thinks that a classmate may catch him during the act.
After being beaten up, Hazamada stops abusing his powers and tries to be nicer with Koichi. He reveals that he's a great fan of Rohan Kishibe and tries to visit his house together with Koichi. While Rohan develops some respect for Koichi, the mangaka judges that Hazamada is so despicable that no one would want to read a story about such a character and thus doesn't use him as material.[3] The presence of tennis gear in his school locker suggests that he practices tennis.
Abilities
Main article: Surface
Hazamada's Stand is Surface, able to copy any individual's appearance almost exactly, and in certain circumstances to dictate their movement.
Surface
(
サーフィス(うわっ面)
)


Ability
Mimicry & Forced Synchronization
History
Background

Hazamada is a third-year student in class 3-C of Budogaoka private high school. He is given Stand abilities by Keicho Nijimura using the Bow and Arrow. In March, he had been rumored to have had an argument with his friend the night before his friend dug out his own eyeball with a ballpoint pen. The friend's motive for doing this was unknown as he said he already had the eyeball in his hand before realizing what he was doing. Apparently, the friend had been taken control of by Hazamada's Stand Surface, spurring Tamami Kobayashi to investigate.
Knowing that Koichi Hirose and Josuke Higashikata were searching for Stand users, Tamami told them about Hazamada's incident with his friend, suspecting it to be caused by a Stand.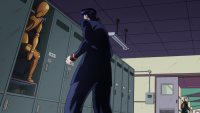 After searching the school, Josuke decides to break open Hazamada's locker. Inside he finds a strange wooden doll, who turns out to be Hazamada's Stand, Surface. After the Stand copies Josuke's image and renders him unable to move, Hazamada appears from behind some lockers and explains that he wishes for Jotaro to leave town. Josuke tries to attack Surface but is unable to do so with his Stand range. Surface forces Josuke to elbow Koichi and then stab himself in the eye with a pen. Assuming he had knocked Josuke unconscious, Hazamada and Surface, still disguised as Josuke, make their way to meet up with Jotaro. They meet Tamami and Surface fools him, making Tamami think it is actually Josuke and knocks him out with a brick.
After calling Jotaro to meet up with them at the train station, the disguised Surface is greeted by many school girls, which angers Hazamada. He attempts to punch his own Stand but realizes that it is made of wood, and ends up hurting himself. Surface rebukes Hazamada for his actions since he has seemed to have taken Josuke's personality.
Hazamada wipes the blood from his hand upon a nearby motorcycle. The owner of the motorcycle finds the smudge however and begins to insult Hazamada. Surface comes from behind and knocks out the Motorcycle owner's friend and then grabs the owner from behind. Hazamada pulls out a scalpel and attempts to cut the man from the inside of his mouth, but is stopped when broken glass is thrown at him. Surface catches the glass and realizes that it was thrown by Josuke. Josuke is able to reform the broken glass back into a bottle, breaking off Surface's right hand in the process. This allows Josuke and Koichi to run up ahead to meet Jotaro.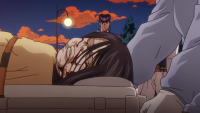 Josuke and Koichi arrive at Jotaro first, but Surface manages to take control of Josuke again. However, before he is able to attack Jotaro, the motorcycle owner and his friend from before appear, healed and instructed by Josuke to where Hazamada was. They drag Hazamada off, beating him to the point of hospitalization. Josuke, having broken free of Surface's ability, destroys the wooden doll.
In the hospital, Josuke and Jotaro question him about Akira Otoishi, but Hazamada denies knowing anything. He then remarks that he believes they will surely encounter him, as Hazamada believes that every Stand user is destined to meet one another by a thin line of fate.
Hazamada reappears later after Akira Otoishi is neutralized. Having got out of the hospital and his violent side abated, Hazamada apologizes for their earlier fight and tries to befriend Koichi when they meet on the way back from school. Hazamada mentions Rohan Kishibe's Dark Pink Boy and the two bond over their mutual love for Rohan's work. Hazamada mentions that he knows that Rohan is currently living in Morioh and that he even overheard his address. Thus, he proposes that they go together pay him a visit.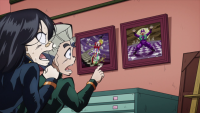 On Rohan's doorstep, Hazamada lets Koichi ring the bell. When Rohan opens the door, they clear the misunderstanding and present themselves as fans. Surprised, Rohan allows the two boys to visit his office. Hazamada and Koichi are in awe at Rohan's art and are impressed that he can draw a full chapter alone and in less than a week. However, they are also disturbed by Rohan's morbid commitment to his research and when he cuts open a spider's abdomen to lick its inside, Hazamada throws up. Rohan tries to take inspiration from the vomiting too but Hazamada then consciously oversells it, disappointing Rohan. Rohan then leaves under the pretense of preparing them tea. Koichi is suspicious of Rohan but Hazamada then reminds him that the next week's chapter is in a folder right on Rohan's desk. The two cannot resist the temptation of taking a look and when they do, they are awed by Rohan's art.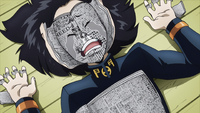 However, in doing so, Hazamada and Koichi fall under the influence of Rohan's Heaven's Door. They turn into books, allowing Rohan to read their bios. Rohan reads Koichi and becomes extremely passionate about Koichi's colorful life and likeable personality and decides to make him his prime source of material. He also installs a "safety lock" and commands Koichi to never bring harm to him by writing the order on Koichi's pages. That way, Koichi cannot attack him with Echoes. When Rohan examines Hazamada, he is utterly disgusted and refuses to use him as material, making Hazamada cry. After exposing his way of life and ripping some pages off Koichi's face, Rohan eventually lets the two return home with a doodle each. Hazamada disappears for the remainder of the story arc.
Hazamada appears again after Shigekiyo Yangu's death, being warned about Yoshikage Kira.
Unlike the others, Hazamada privately hopes never to encounter Kira instead of offering his vigilance.
At the end of the series, Hazamada comes to say goodbye to Reimi Sugimoto. In the anime adaptation, Hazamada is seen arguing with Tamami Kobayashi because Tamami spilled a drink on his comic book.
Chapters / Episodes

Manga Appearances
Chapters in order of appearance

Anime Appearances
Episodes in order of appearance
Quotes

Quotes
"

I finally got this so-called Stand ability... not everyone gets to have one, you know? Kinda makes you want to live a more dangerous and successful life than the average guy, don't you think?

"

"

People who think differently from us only have two choices. The first option is to think "Fuck this, I'm not living here anymore" and leave this town... And the other one is to give in to the guys who have more power!

"

"

Stand Users are bound to meet each other.

"

"

I'm the kind of copy doll that people don't want to have. Once I become a copy of you, you have to pose the same way that I do... In short, I'm a doll that manipulates!

"

"

You okay stupid? I'm made out of wood, remember?

"
Video Games

Hazamada

Doll that Copies Faces ver.
Rarity:

Max Power: 1080 (Lvl 50) / 2280 (Lvl 80)
Favorite Gift and Voiced Gift Reactions:

Skill: Surface

Replaces panels in a circle shape with partner panels




































Skill Lv 1
# of Replaced Panels:
8
Cooldown:
85




































Skill Lv 2
# of Replaced Panels:
10
Cooldown:
85




































Skill Lv 3
# of Replaced Panels:
10
Cooldown:
80




































Skill Lv 4
# of Replaced Panels:
12
Cooldown:
80




































Skill Lv 5
# of Replaced Panels:
12
Cooldown:
75
Gallery
References