JoJo Wiki
:
Privacy policy
Jump to navigation
Jump to search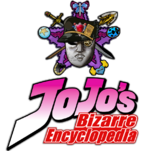 JoJo's Bizarre Encyclopedia takes the privacy of its users seriously. However, limited information may be collected from you in the following cases:
Operational Information: This information is very limited and only stored for wiki operations. All edits are logged in the database with your username, which can be seen in page histories. Information collected is limited to usernames, e-mail addresses, and the IP address used when editing the site. Only the owners of the site are capable of checking IP addresses, but will only do so in cases of vandalism or security.
Analytical Information: Google Analytics may anonymously collect information from you, such as screen resolution, operating system, web browser, pages viewed, and general location for demographic purposes. These cannot be used to identify you individually.
JoJo's Bizarre Encyclopedia also displays advertisements through Google. Google may collect information as what's outlined in their privacy policy.
The JoJo Wiki will not under any circumstances share details about its individual members with any third parties. Please note that if you decide to post personal information on your user page (age, address, etc.), you are doing so at your own risk. JoJo's Bizarre Encyclopedia is not responsible for anything that occurs as a result of this information being posted, and recommends that you not reveal too much personal information.
JoJo's Bizarre Encyclopedia may not be held responsible for, or under any circumstances be associated with the opinions expressed by, the content of all editable pages (such as user pages or forums), as these are community endeavors and their directions sometimes make unexpected, and inappropriate, detours from their original intent. The staff, however, pledges to moderate these pages to the best of their abilities and ensure inappropriate content and opinions are not displayed on the website, as our intentions are to be a web site suitable for people of all ages.
In a similar fashion, we cannot be held responsible or directly associated with the advertisements shown at our site, as they are served through a third party network. We will, however, do everything in our power to limit these ads to those which are suitable for people of all ages and, in the event that JoJo's Bizarre Encyclopedia is informed of inappropriate advertising, certainly bring such an issue up with the advertising companies that sponsor it.
All content posted to the wiki, excluding the data collected for the purposes described above, is licensed under the CC-BY-SA Creative Commons license. By posting or uploading information to our site, you are agreeing to release that information under this license.