Kei Sanbe
Jump to navigation
Jump to search
"
"JoJo involves drawing a ton of different backgrounds and objects. It's much more varied than other manga, and because of that I drew everything from bicycles to submarines."
"
Kei Sanbe (三部 敬, Sanbe Kei) is a Japanese manga artist best-known for his manga series, Erased.
Sanbe was one of Hirohiko Araki's chief assistants from Stardust Crusaders to Vento Aureo. He joined Lucky Land Communications during Battle Tendency's serialization.[2]
History
Sanbe was born in the city of Tomakomai in the Iburi Subprefecture of Hokkaido, Japan. After graduating from high school, he moved to Tokyo to study background art production at the Tokyo Designer Gakuin vocational college. Sanbe cites Lupin the Third's The Castle of Cagliostro as the driving force behind his enrollment and overall interest in drawing background art.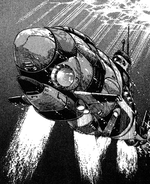 During his time in school, Sanbe came across a job listing in Weekly Shonen Jump from Hirohiko Araki, requesting for new assistants. While not particularly a fan of the JoJo's Bizarre Adventure series, its variety of backgrounds and foreign settings enticed him to submit an application. After applying twice, Sanbe was accepted into Araki's team around the time of Battle Tendency's serialization and was eventually promoted to chief assistant. He would go on to work for Araki for a total of eight years before leaving halfway through Vento Aureo to pursue his own career as a manga artist.[2]

Works
Title
Magazine
Release Date
Medium
Black Rod
ブラックロッド
Media Works
1997 to 1998
Manga
Nanako-san Teki na Nichijō
菜々子さん的な日常
Manga Hot Milk
Aug 3, 1998 to Apr 10, 2002
Manga
Comic Dragon
Jun 9, 2000 to Oct 9, 2002
Manga
Nanako-san Teki na Nichijō Re
菜々子さん的な日常RE
Comic Megastore
Dec 5, 2002 to Sep 17, 2008
Manga
Shonen Ace
Jul 26, 2003 to Jan 26, 2006
Manga
Puzzle
パズル
Shonen Ace
Jan 26, 2007 to Aug 25, 2007
Manga
Young Gangan
Dec 21, 2007 to Jul 3, 2009
Manga
Ace Assault
Nov 14, 2007 to Sep 25, 2010
Manga
Young Gangan
Apr 16, 2010 to Aug 17, 2012
Manga
Nanako-san Teki na Nichijō Dash!!
菜々子さん的な日常 DASH!!
Mobile Man
Dec 2, 2011 to Dec 20, 2013
Manga
Erased
Boku Dake ga Inai Machi
(僕だけがいない街)
Shonen Ace
Jun 4, 2012 to Nov 4, 2016
Manga
STEAL AND DEAD
スティールアンドデッド
Big Gangan
Sep 25, 2013 to Sep 25, 2014
Manga
Echoes
夢で見たあの子のために (Yume de mita anoko no tameni)
Young Ace
Jul 4, 2017 to ?
Manga
Kodansha
Nov 26, 2019 to September 13 2021
Manga
Gallery
Trivia
References