Naoki Yoshibe
Jump to navigation
Jump to search
Naoki Yoshibe (吉邉 尚希, Yoshibe Naoki) is a Japanese freelance animator credited for his work on the openings for JoJo's Bizarre Adventure: The Animation and JoJo's Bizarre Adventure: Stardust Crusaders.
Graduating from Tokyo Polytechnic University

in 2007, Yoshibe became a freelance animator specializing in 2DFX animation. Yoshibe joined Kamikaze Douga in 2011, working as an animation director, storyboard artist and key animator. He was the animation director for "JoJo ~Sono Chi no Sadame~", the animation director and key animator for "BLOODY STREAM", and the director for both "STAND PROUD" and "JoJo Sono Chi no Kioku ~end of THE WORLD~". Yoshibe left the company in 2016 and returned to being a freelance animator.
Credits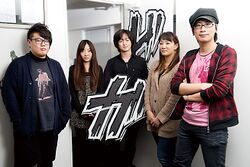 Ultra Jump CM

Key Animation (Part 4, Part 5)
Storyboard (Part 5)
Director (Part 5, Part 6)
Gallery
Key Animation (原画)[1]
Personal Artwork[2]
References