Stardust Crusaders - Episode 38
Jump to navigation
Jump to search
The Gatekeeper of Hell, Pet Shop, Part 1
(

地獄の門番 ペット・ショップ その1

Jigoku no Monban Petto Shoppu Sono 1)
[1]
is the thirty-eighth episode of
Stardust Crusaders
, the fourteenth episode of the Egypt Arc, and the sixty-fourth episode of the
JoJo's Bizarre Adventure
anime
. It covers
Chapter 222
through most of
Chapter 225
of the
manga
.
While the Joestar Group seek DIO's Mansion, Iggy stumbles upon the building by pure luck. However, he now has to contend with Pet Shop, the ruthless falcon guardian of the mansion gifted with ice powers.
Summary
Holy now only has a couple of days until she dies, but the group still hasn't found DIO's lair.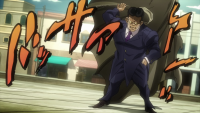 It is a particularly hot day in Cairo and Polnareff tries to rest in the shadows with a rag on his head but the Frenchman ends up fighting with a beggar. Indeed, Cairo's beggar population is particularly organized when it comes to begging and Polnareff unwittingly intruded in the beggar's territory looking like a foreigner in need of money. Incidentally, the beggar had an appointment with Avdol and the fortune teller pays the beggar to find DIO's hideout. Funnily, the beggar take off his rags, revealing that he had a suit but also a luxurious car parked nearby. The man subsequently leaves to search the city. Afterward, Polnareff notices that Iggy has disappeared again.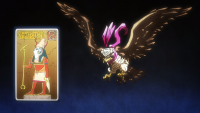 Meanwhile, Iggy wanders in the streets of Cairo and fatefully comes across the building itself. When two dogs come snarling, Iggy intimidates them and the dogs decide to go for a weaker prey. Spotting the shadow of a bird from under a door, the dogs crawl inside the property, only for Iggy to see their heads flying, impaled on an ice spike while their bodies are forcibly dragged inside. A falcon then appears, watching Iggy suspiciously. However, the falcon then spots the beggar and creates an icicle large enough to crush the beggar. As the falcon flies around, Iggy realizes the falcon is a Stand user protecting the mansion and that it may come for him next. Indeed, the falcon Pet Shop is the wielder of the Stand Horus.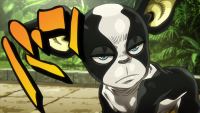 Pet Shop sets his attention again on Iggy, who tries to play dumb as he doesn't want to get involved in the disputes of humans he doesn't care about. However, a young boy comes looking for his dogs. Seeing his dogs' collars, he tries to crawl under the gate of the mansion too and gets attacked by Pet Shop too. However, Iggy comes to the rescue, not having the heart to let a dog-loving kid be killed.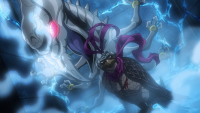 After helping the kid escape, Iggy confronts Pet Shop but is taken by surprise when Pet Shop freezes the ground and shoots icicles at him. Iggy is forced to flee but the eagle-eyed falcon easily spots him and pursues him down to a sewer. However, when Pet Shop shoots Iggy, it turns out Iggy was a clone made of sand. Iggy comes out of the shadows and has The Fool claw at the bird. Injured, Pet Shop decides to deploy the full strength of his Horus, turning the whole sewer into an icy world. In the humid environment, Iggy finds himself at a huge disadvantage. When Iggy's paw is frozen in place, the dog now cannot avoid Pet Shop's next shot.
Appearances
Credits
Staff
Animation Director Cooperation
(作画監督協力)
Assistant Animation Director
(作画監督補)
土屋 友次
(Key)
Ko Seoung Woon
河村 涼子
丸山 沙也香
小谷 杏子
千葉山 夏恵
田頭 沙織
田中 亜優
山田 将司
小島 えり
桑原 寿弥
Shin Hyung Woo
Jung Ho Won
赤間 紗枝
山田 まさし
大川 貴大
西谷 駿
大竹 晃裕
津熊 健徳
横山 謙次
関崎 高明
Falcon Illustration
白木 仁美
矢口 真琴
福田 周平
長濱 佑作
松尾 優
内田 陽子
山村 有理
金子 優司
合田 真さ美
濱田 翔
今木 宏明
石本 峻一
糸井 恵
小美野 雅彦
WHITE LINE
遊歩道
In-between Animation
(動画)
Digital In-Between AnimationDavid Production
Yusaku Nagahama
Mai Oshima
Rie Takahashi
長濱 佑作
大島 舞
高橋 梨恵
---
White Line
Triple A
Eslite Animation
Jumondo
Ace Company
CL Corporation
UFG
WHITE LINE
Triple A
誠品動画
寿門堂
エースカンパニー
CLコーポレーション
UFG
Design Cooperation
(デザイン協力)
Production AIEgyptian Arabic Dialect
David ProductionGraphic Model Cooperation
株式会社バンダイナムコエンターテインメント
株式会社サイバーコネクトツー
Eyecatch Illustration
(アイキャッチ原画)
Music
Manga/Anime Differences
When Iggy protects himself from Pet Shop's first icicle attack, The Fool takes the form of a dome instead of just using its normal body.
In other languages
Language
Title
Translation
Japanese
地獄の門番 ペット・ショップ その1
The Gatekeeper of Hell, Pet Shop, Part 1
English
The Gatekeeper of Hell, Pet Shop, Part 1
Spanish
El guardián del Infierno, Pet Shop - Primera parte
The Gatekeeper of Hell, Pet Shop - Part 1
Portuguese
Pet Shop, o Sentinela do Portão do Inferno - Parte 1
Pet Shop, the Guard at the Gate of Hell - Part 1
French
Pet Shop, le gardien des enfers, Partie 1
Pet Shop, the Guardian of the Underworld, Part 1
German
Der Wächter der Hölle, Pet Shop, Teil 1
The Guardian of Hell, Pet Shop, Part 1
Hebrew
שומר הגיהנום, פט שופ, חלק 1
The Guardian of Hell, Pet Shop, Part 1
Arabic
حارسُ الجحيم، بيت شوب، الجزء 1
The Guardian of Hell, Pet Shop, Part 1
Italian
Il Guardiano degli Inferi, Pet Shop, Parte 1
The Guardian of the Underworld, Pet Shop, Part 1
Polish
Strażnik piekła, Pet Shop: część 1
Guardian of Hell, Pet Shop: part 1
Commentary
"
First, I must say that Pet Shop is bloody terrifying. He has no lines, but I find that it only reinforces the terror he inspires. And all the chase scenes with Iggy only show us how merciless he is. Surely because he's a bird of prey.
Mr. Suzuki was in charge of the storyboard, on which he had shown a lot of ease conveying his intentions to the animators. The exposition frames, usually numerous in a classical storyboard, were so much rarer in this episode. (laughs)
Horus, Pet Shop's Stand, allows him to manipulate ice. It's really pretty once colored onscreen.
It's interesting to note that
Kenta Mimuro
, our action animation director, went to a zoo in order to gather data and study the movement of falcons and eagles. It's thanks to this that we'd managed to create a high-quality Pet Shop, who immediately looks menacing. Because he had no voice, we had to use sound effects. These computer-generated screams fit the animal very well and only increase the terror he exudes.
"
Trivia
The yellow car under which Pet Shop flies has been modeled after a Ruf CTR Porsche car, also named a "Yellowbird". It is Kenichi Suzuki, who was in charge of the storyboard for the episode, who speculated that the same car in the manga might have been a "Yellowbird" and as such, he decided to fully model the car in the episode after the real-life model.[2]
Gallery
References