Interview Archive
Jump to navigation
Jump to search

A comprehensive list of interviews, Q&As, and miscellaneous comments related to Hirohiko Araki and JoJo's Bizarre Adventure. Sources range from magazine Q&As to transcripts of live-talks, with the goal of providing an accurate and reliable resource for all materials regarding the series.[1]
Interviews are organized in chronological order according to their publication dates, with a filter to search by entering the year, name, or source the entry comes from. Interview may also be filtered by which specific parts are discussed, including Araki's other works. To provide proper attribution, English translations taken from other online sources are accompanied by citations, while untranslated sources are also appropriately tagged. For more thoughts from Araki not found on this page, see Author's Note.
Last Updated: 30 days ago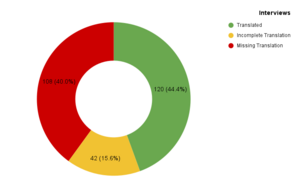 Interviews
Filter Interviews
Loading interview filters...
References