Takuya Sato
Jump to navigation
Jump to search
Takuya Sato (佐藤 拓也, Satō Takuya) is a Japanese voice actor and singer. He is credited for his work as the voice actor for the character Caesar Anthonio Zeppeli in JoJo's Bizarre Adventure: The Animation.
He is also well known for his roles as Toshiki Kai in Cardfight!! Vanguard, Yu Kanda in D.Gray-man Hallow, Bill Weasley in the Japanese dub of Harry Potter and the superhero Kick-Ass in Kick-Ass's Japanese dub.
Biography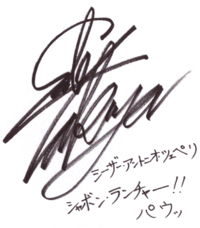 Sato was born on May 19, 1984, in Miyagi Prefecture, Japan. He graduated from the voice actor vocal department of Tokyo Seiyu Academy and is currently a 7th generation member of the Japanese talent agency, Ken Production.[4] He announced on his blog in January 2013 that he was married.[5]
JoJo's Bizarre Adventure Roles
Gallery
Videos
Trivia
References