Daisuke Ono
Jump to navigation
Jump to search
Daisuke Ono (小野 大輔, Ono Daisuke) is a Japanese voice actor and singer notable for voicing the character Jotaro Kujo in the TV Anime adaptation of JoJo's Bizarre Adventure.
He is also well known for his roles as Itsuki Koizumi in The Melancholy of Haruhi Suzumiya

, Erwin Smith in Attack on Titan

, Shintaro Midorima in Kuroko's Basketball

, Shizuo Heiwajima in Durarara!!

, Sebastian Michaelis in Black Butler

, William Vangeance in Black Clover

, Sinbad in Magi: The Labyrinth of Magic

, and Riki Nendou in The Disastrous Life of Saiki K.

.
Biography
Daisuke Ono was born in Kōchi Prefecture

, Japan

on May 4, 1978. Graduating from the College of Art at Nihon University

,[1] he began his voice acting career in 2001 after joining Mausu Promotion

talent agency. Ono has left Mausu as of February 2016 and is currently working freelance.
Ono's music career began with the release of his first mini-album, Hinemosu through King Records

. He would later form a rock band with Hiroshi Kamiya

called the "MASOCHISTIC ONO BAND" and has lead several music projects such as "D.A.T". He is also the host of Japan's annual OrePara live alongside other well-known voice actors. In 2015, he won the voice actor category at the Tokyo Anime Awards

.[2]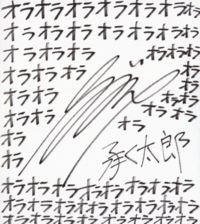 JoJo's Bizarre Adventure Roles
Gallery
Videos
Trivia
Ono's favorite manga are JoJo's Bizarre Adventure and Oishinbo.[3] He spent most of his college days reading JoJo and would use what little money he had left on the series. He also cites JoJo as part of the reason for him entering the broadcasting world and eventually voice acting.[4]
As the audition process for the TV Anime series and All Star Battle were completely different, Ono recalls having to re-audtion for Jotaro "all the way from square one."[4] He is one of the few voice actors that was kept from All Star Battle to voice their TV Anime counterpart. 
When asked which JoJo character he would like to travel the world with, Ono said Holy Kujo as it almost feels like a filial duty.[5]
When asked what the hardest part of voicing Jotaro was, Ono stated that the character would sometimes go from being calm to hot-blooded or fierce during specific scenes and he would have to adjust accordingly.[6]
References