Perfume
Jump to navigation
Jump to search
Perfume
is a Japanese techno-pop girl group originally from Hiroshima Prefecture, its members being
Yuka Kashino
(a.k.a. KASHIYUKA),
Ayaka Nishiwaki
(a.k.a. a~chan), and
Ayano Omoto
(a.k.a. NOCCHi). Kashino is open about her adoration for
JoJo's Bizarre Adventure
, incorporating iconic scenes from the manga in the group's performances and openly speaking of her fandom on Japanese television. Additionally, the band holds the distinction of being the only Japanese musical act which has a song used as the namesake of a
Stand
, namely
Chocolate Disco
.
[a]
History
The group was formed in 2000 by Nishiwaki, Kashino, and former member Yuka Kawashima (河島 佑香, Kawashima Yuka) in the youth talent academy Actor's School Hiroshima. Because the three of them had the kanji for "fragrance" (香, ka / kaori) in their names, they decided to name themselves after "perfume" (香水, kōsui). Although Kawashima left the group and was replaced by Omoto before they released any music, they kept the name "Perfume". They originally named themselves "Perfume" (ぱふゅ〜む, Pafyūmu) in hiragana as an homage to Okinawa-based girl group SPEED as both names contained 13 strokes when written.
In 2002 the group released their first two singles "OMAJINAI * Perori" and "Kareshi Boshūchū" locally in Hiroshima, and they began their work with their choreographer MIKIKO. After graduating from Actor's School Hiroshima in 2013, the three moved to Tokyo and were signed to the indie label Bee-Hive Records as "Perfume" written in English. At Bee-Hive they met Yasutaka Nakata of Capsule who became their producer, and with him they released 3 more singles: "Sweet Donuts", "Monochrome Effect", and "Vitamin Drop". After setting up shop in Tokyo's Akihabara neighborhood, the group recorded a song with Haruko Momoi as "Perfume × DJ momo-i" titled "Akihabalove". In September 2005, Perfume were signed to the major label Tokuma Japan Communications and released their next 3 singles with Nakata: "Linear Motor Girl" in 2005 followed by "Computer City" and "Electro World" in 2006. This was followed by their first album Perfume ~Complete Best~.
After releasing Complete Best, Perfume had planned on releasing one last single before leaving the music industry. In February 14, 2007, they released "Fan Service [sweet]" which included "Chocolate Disco" as its first track. Although the single did not do well commercially, it attracted the attention of J-pop singer Kaela Kimura who played "Chocolate Disco" repeatedly on her J-WAVE radio show OH! MY RADIO.[1] This then attracted the attention of television commercial producer Akira Tomotsugi who hired Perfume to appear in and perform a new song for what would be Japan's national public broadcaster NHK's national recycling campaign in July 2007.[2] The song "Polyrhythm" was released that year in September and became their first top 10 hit on the Oricon Charts, peaking at #4 on the Daily Charts and #7 on the Weekly Charts. They followed this up with the double A-side "Baby cruising Love"/"Macaroni" in January 2008 which reached #3 on the Oricon Weekly Charts. In April 2008, they released their first studio album GAME which debuted on the Oricon at #1, making them the second ever electronic music group in Japan to reach that feat since Yellow Magic Orchestra in 1983. GAME would eventually sell over 450 thousand copies and was certified double platinum by the Recording Industry Association of Japan.
Since reaching commercial success, Perfume have continued to release music up through 2022. GAME was followed by subsequent studio albums ⊿ (Triangle) in 2009 and JPN in 2011 through Tokuma and a second compilation album Perfume Global Compilation "LOVE THE WORLD" in 2012 to accompany their first international tour. The year 2012 also saw their move from Tokuma to Universal Music Japan under their own Perfume Records imprint to support their increasing international fame. With Universal, Perfume released LEVEL3 in 2013, COSMIC EXPLORER in 2016, and Future Pop in 2018, which all accompanied additional international tours including appearances at SXSW 2015 and the 2019 Coachella Valley Music and Arts Festival. In 2019 they released their second compilation album Perfume The Best "P Cubed" to commemorate the 15th anniversary of their major label debut,[3] featuring 50 remastered tracks and 2 brand new songs:[4] "Challenger", which the band challenged their fans to come up with a concept for a new music video,[5] and "Nananananairo" which was used for a beauty product campaign and had a commercial and music video filmed in Taiwan.[6][7] The year 2020 saw the release of the film Reframe THEATER EXPERIENCE with you, a recording of their 2019 Reframe live show, and the single "Time Warp" which was promoted internationally by Amazon Music including billboard space in New York City's Times Square.[8]
In 2021, both Reframe THEATER EXPERIENCE with you and the new film Perfume Imaginary Museum "Time Warp" were released internationally on Netflix[9] and the group released their first extended play Polygon Wave EP in July;[10] "Polygon Wave" was used as the theme song for The Masked Singer Japan on which Perfume served as panelists.[11] They also embarked a short Perfume LIVE 2021 [polygon wave] tour which continued in early 2022 as an extended Perfume LIVE 2022 [polygon wave] tour. March 2022 saw the release of their 27th single "Flow" and in July of that year they released their 7th studio album PLASMA, their first new album in over 4 years.[12] in June 2023, Perfume will perform at the Spanish Primavera Sound festival in Barcelona and Madrid;[13] they had initially planned to appear at the 2022 festival[14] but later had to cancel their plans due to the ongoing COVID-19 pandemic and "unstable world conditions".[15]
KASHIYUKA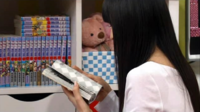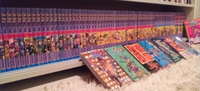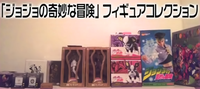 Yuka Kashino (樫野 有香, Kashino Yuka) is known by her stage name KASHIYUKA.
Out of all of Perfume, KASHIYUKA is the biggest fan of JoJo's Bizarre Adventure. Her favorite part is currently Vento Aureo and her favorite character is Giorno Giovanna; she also likes Bruno Bucciarati and Jotaro Kujo. When Perfume appeared on the TV show Music Fighter in April 2009, KASHIYUKA revealed that JoJo's Bizarre Adventure was something she was extremely interested in at the time. She said she initially disliked the series because of its "crude" art style but began reading it after a JoJo fan passionately recommended it to her.[16] KASHIYUKA also revealed that JoJo was the manga series that she was recently addicted to in an interview with Perfume in the music magazine What's In from March 2009.[17]
While on stage during the Perfume Second Tour in October 2009, KASHIYUKA talked about the appearance of Chocolate Disco in Steel Ball Run, saying that she was happy to hear that one of her songs made it into her favorite manga.[18]
Perfume made a guest appearance on the show Happy Music hosted by TV personality, Becky, on April 16, 2010. During the show, Becky asked KASHIYUKA to show something that made her happy, to which she then held volumes of Steel Ball Run to the camera to discuss JoJo. She also presented photos revealing various figures in her room, including a copy of JOJO A-GO!GO!. KASHIYUKA also showed her bookshelf containing over a hundred volumes of JoJo lined up side by side. At the end of the show, Becky and the members of Perfume re-enacted the cover of SBR Volume 14.[19]
On March 1, 2010, KASHIYUKA got invited to Araki's house for an interview. Details on the interview are lost as it was only posted on a since deleted "Members Only" blog. The blog also featured a JoJo style picture of the members of Perfume. In 2012, Kashino was also invited by Araki to the JoJo's Bizarre Adventure's 25th Anniversary commemorative party in Tokyo.[20]
KASHIYUKA has incorporated JoJo poses into the group's choreography, notably in the cover art of the "Fushizen na Girl"/"Natural ni Koishite" double A-side single and in the "Natural ni Koishite" music video.[21]
a~chan
Ayaka Nishiwaki (西脇 綾香, Nishiwaki Ayaka) is known by her stage name a~chan.
In an author's comment from Ultra Jump in March 2010, Araki describes coincidentally meeting a~chan while out shopping.[b]
Ayano Omoto
Ayano Omoto (大本 彩乃, Ōmoto Ayano) is known by her stage name NOCCHi. She joined Perfume in 2001 after it was founded, replacing original member Yuka Kawashima. Prior to joining Perfume, she was a member of earlier idol groups Happy Baby (ハッピーベイビー, Happī Beibī) and La Ayanota (ラ・アヤノータ, Ra Ayanōta).
While on stage in October 2009, KASHIYUKA mentioned that NOCCHi's hair was similar to Bruno Bucciarati from Vento Aureo.[18]
Relevant discography
#

Cover
Single Name
Artist
Use
Release Date
1
"Fan Service [sweet]"

---

"Chocolate Disco" (

チョコレイト・ディスコ

Chokoreito Disuko)
"Twinkle Snow Powdery Snow"

Perfume
Name of Chocolate Disco
February 14, 2007
"Chocolate Disco"
"Chocolate Disco" (チョコレイト・ディスコ, Chokoreito Disuko) was included as one of the two tracks featured on "Fan Service [sweet]", Perfume's ninth single. It was released on February 14, 2007. The song "Chocolate Disco" was later included as the fifth track on Perfume's debut studio album GAME, released April 16, 2008. Following its release, GAME has been cited as one of the most successful techno-pop albums of all time,[22] with many of the tracks being compared to French duo Daft Punk.[23]
The song "Chocolate Disco" was used as the namesake for the Stand Chocolate Disco in Steel Ball Run,[24] making it the first Stand in the series to be named after a song from a Japanese artist. People at the time speculated that the first Japanese Stand name would either be a song from Shoko Nakagawa or SOUL'd OUT, since both had close ties to Araki and were notable fans of the series.[25][26] The inclusion of "Chocolate Disco" was very unexpected, as Araki is rarely known to listen to Japanese music.[27]
Music producer Yasutaka Nakata, who wrote and composed "Chocolate Disco" for Perfume, said in an interview that his favorite manga was JoJo's Bizarre Adventure and that he was impressed to find out about the appearance of Chocolate Disco in the series.[28] Nakata was very happy to have his song featured as a Stand and would advertise it as such whenever he played it at events.[29]
The names of both D-I-S-C-O and the Stand Chocolate Disco were later changed in SBR Volume 17. The Stand's name was changed to Chokorēto Disuko (チョコレート・ディスコ), making it slightly different from the song's title in Japanese, while the user's name was changed from Disuko (ディスコ) to Di-Su-Ko (ディ・ス・コ).
Extended discography
"OMAJINAI * Perori" (

OMAJINAI★ペロリ

) - March 21, 2002
"Kareshi Boshūchū" (

彼氏募集中

) - November 1, 2002
"Sweet Donuts" (

スウィートドーナッツ

Suīto Dōnattsu) - August 6, 2003
"Monochrome Effect" (

モノクロームエフェクト

Monokurōmu Efekuto) - March 17, 2004
"Vitamin Drop" (

ビタミンドロップ

Bitamin Doroppu) - September 8, 2004
"Akihabalove" (

アキハバラブ

Akihabarabu, as Perfume × DJ momo-i) - August 29, 2005
"Linear Motor Girl" (

リニアモーターガール

Rinia Mōtā Gāru) - September 21, 2005
"Computer City" (

コンピューターシティ

Konpyūtā Shiti) - January 11, 2006
"Electro World" (

エレクトロ・ワールド

Erekutoro Wārudo) - June 28, 2006
Perfume ~Complete Best~ - August 2, 2006
"Fan Service [sweet]" - February 14, 2007
"Polyrhythm" (

ポリリズム

Poririzumu) - September 12, 2007
"Baby cruising Love"/"Macaroni" (

マカロニ

Makaroni) - January 16, 2008
GAME - April 16, 2008
"love the world" - July 9, 2008
"Dream Fighter" - November 19, 2008
"One Room Disco" (

ワンルーム・ディスコ

Wanrūmu Disuko) - March 25, 2009
⊿ - July 8, 2009
"Fushizen na Girl" (

不自然なガール

Fushizen na Gāru)/"Natural ni Koishite" (

ナチュラルに恋して

Nachuraru ni Koishite) - April 14, 2010
"VOICE" - August 11, 2010
"Nee" (

ねぇ

) - November 10, 2010
"Laser Beam" (

レーザービーム

Rēzā Bīmu)/"Kasuka na Kaori" (

微かなカオリ

) - May 18, 2011
"Spice" (

スパイス

Supaisu) - November 2, 2011
JPN - November 30, 2011
"Spring of Life" - April 11, 2012
"Spending all my time" - August 15, 2012
Perfume Global Compilation "LOVE THE WORLD" - September 12, 2012
"Mirai no Museum" (

未来のミュージアム

Mirai no Myūjiamu) - February 27, 2013
"Magic of Love" - May 22, 2013
LEVEL3 - October 2, 2013
"Sweet Refrain" - November 27, 2013
"Cling Cling" - July 16, 2014
LEVEL3 (Bonus Edition) - October 22, 2014
"Relax In The City"/"Pick Me Up" - April 29, 2015
"STAR TRAIN" - October 28, 2015
"FLASH" - March 16, 2016
COSMIC EXPLORER - April 6, 2016
"I Don't Understand You" (as OK Go × Perfume) - July 20, 2016
"TOKYO GIRL" - February 15, 2017
"If you wanna" - August 30, 2017
"Mugen Mirai" (

無限未来

) - March 14, 2018
Future Pop - August 15, 2018
"Nananananairo" (

ナナナナナイロ

) - July 5, 2019
Perfume The Best "P Cubed" - September 18, 2019
"Saisei" (

再生

) - November 28, 2019
"Time Warp" - September 16, 2020
"Polygon Wave" (

ポリゴンウェイヴ

Porigon Weivu) - July 2, 2021
Polygon Wave EP (

ポリゴンウェイヴEP

Porigon Weivu EP) - September 22, 2021
"Flow" - March 9, 2022
PLASMA - July 27, 2022
Gallery
Videos
Trivia
A popular fan comic depicting the members of Perfume with different Stands was created in June 2008. The comic showed Yuka Kashino with the Stand "Chocolate Disco." Interestingly, this was posted two months before Chocolate Disco's reveal in Steel Ball Run.[30]
Notes
↑ The Stand's user D-I-S-C-O also is named after the same Perfume song, but Perfume is not the only Japanese musical act referenced in JoJo's Bizarre Adventure in this regard. They share this distinction with Japanese hip-hop/R&B group SOUL'd OUT.
↑ "While I was out shopping I met a~chan from Perfume. What are the odds? Was it Fate? (maybe not...)" (SBR Chapter 81)
References