Golden Wind - Episode 22
Jump to navigation
Jump to search
The "G" in Guts
(

ガッツの「G」

,

Gattsu no 'Jī'

)
[1]
is the twenty second episode of
Golden Wind
and the one hundred thirty fifth episode of
JoJo's Bizarre Adventure: The Animation
. The episode covers from
Chapter 524
to
Chapter 527
of the original
manga
.
Team Bucciarati has rebelled agains the Boss, as they try to discuss their next course of action and have lunch, Narancia discovers a shark swimming in his soup.
Summary
Still in Venice, Team Bucciarati are navigating in the canals, wary of the elite guard of the Boss who must have been informed of their rebellion and sent after them. Sex Pistols then cry for lunch, causing the team to stop at a restaurant. While Mista, Abbacchio, and Narancia idly chat about vegetarians and their diet, Giorno watches the surroundings, wary of the enemy. A civilian bumps into Narancia and gets some wine splashed on his suit but when the civilian yells at him, Narancia, Abbacchio, and Mista mistake him for an enemy and beat him down. At the same time, Giorno worries about Bucciarati's current state.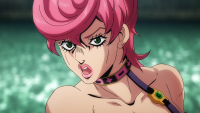 Abbacchio then asks Bucciarati what the team must do next. The leader thus explains that The Boss's Stand can erase time and that makes him invincible. However, if they can identify him, then they will be able to assassinate him. Trish is thus their lead toward the Boss's identity. While Narancia is reluctant to involve Trish, she comes out of her own accord and tells the group that her mother had met the Boss in Sardinia, but that he suddenly left her. Thus Sardinia is where the group can uncover the identity of the Boss before he became a gangster. Trish also affirms her will to go through the whole affair.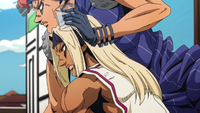 While everyone is distracted, Narancia discovers that his spoon has been destroyed by a small shark inside of his soup. He immediately summons Aerosmith and shoots at it but the shark disappears in the bowl only to reappear inside of the soup in his new spoon and jump to tear off his tongue. Narancia's throat starts to seize up and he cannot inform his team that the shark can teleport between liquids but he is saved from choking when Giorno stabs his trachea with a pen to let him breathe while he creates a new tongue. At the same time, a duo of Passione operative, Squalo and Tizzano, observe the scene from a balcony. Seeing Giorno's resourcefulness, Squalo notes that his Clash will not be enough to kill them all but that he and Tizzano plan to use Narancia to their advantage.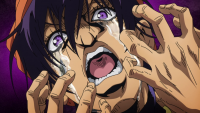 Narancia recovers from the wound but informs Bucciarati that the enemy Stand was a large rocky thing and that they should go through the canals. Insisting on this misinformation, Narancia is internally shocked that he cannot tell the truth and keeps feeding false intel to his companions. The group starts to believe the lies, forcing Narancia to try to stop Giorno from boarding their boat. Bucciarati decides to tackle the enemy and tells Abbacchio to use Moody Blues to track them. However, Narancia realizes that Moody Blues will be in grave danger in the water. When Clash appears in the canal, Narancia points at it, only for his arm to point at the bathrooms. Annoyed at Narancia's antics, Team Bucciarati enters the bathroom where Clash has many water sources to attack from. Crying from despair, Narancia vows to make his enemy pay as is it revealed that Tizzano has set up his Talking Head, a small Stand having attached itself to Narancia's tongue and forcing him to tell lies.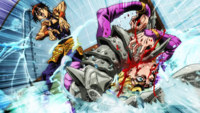 In the restrooms, Abbacchio summons Moody Blues to find the enemy, but Narancia barges in to keep his friends far from any water. Talking Head manipulates his tongue to open a faucet which he dries with paper, and Narancia then disgusts Abbacchio by urinating on the toilet he intended to put Moody Blues in. Exasperated, the group leaves the bathroom but Giorno stays a bit to look for Narancia. Talking Head then uses Narancia's tongue again to grab his knife and cut his wrist, baiting Giorno near the flowing blood. However, Narancia shoots at a pipe with Aerosmith, heating it with his tracer bullets to cauterize his own cut.
Giorno finally understands that Narancia is being forced to lie by an enemy ability to Narancia's relief. However, water starts leaking from the damaged pipe, creating a large puddle from which Clash emerges and tears at Giorno's throat.
Appearances
Credits
Staff
Action Animation Director
(アクションディレクター)
久々宮 ぎん
岩崎 安利
野村 雅史
石山 正修
石川 健太郎
豊島 英太
篠原 佑太
伊東 佳宏
藤井 大輝
荒川 理恵
張 益
金城 優
藤田 麻貴
青柳 栄光
川田 栄三
森中 正春
菊池 一真
木下 裕孝
塚本 篤
齊藤 香織
White Line
Aya Yamamoto
Kyoko Nishimura
Mahora Muraki
Mizuki Miyata
Masami Gohda
PRA
Triple A
Studio Massket
Asahi Production
Vista
山本 彩
西村 香子
村木 麻保良
宮田 瑞生
合田 真さ美
PRA
Triple A
STUDIO MASSKET
旭プロダクション
VISTA
In-between Animation Inspection
(動画チェック)
David Production
Nana Nomiya
Shun Takahashi
野宮 菜那
高橋 俊
In-between Animation Inspection Assistance
In-between Animation
(動画)
Digital In-between AnimationDavid Production
Daiki Ito
Haruka Watanabe
Mito​ Ichikawa​​
Daichi ​Imai
Kazuya Aoki
Rie Takahashi
伊東 大輝
渡邉 はるか
市河 碧都​
今井 大地​
青木 一哉
高橋 梨恵
Powered by CACANi
---
Asahi Production
Vista
Studio Massket
Grain
Seven Seas
Trycell
Triple A
Tap
Big Owl
Revaival
旭プロダクション
VISTA
STUDIO MASSKET
グレーン
セブンシーズ
TRYCELL
Triple A
TAP
Big Owl
Revaival
Design Cooperation
(デザイン協力)
David Production
Mai Nakazono
Natsuki Horimoto
Masaki Kurube
中園 麻衣
堀本 夏生
軽部 匡哉
David Production
---
Komugi Takatsuki
Emon
高槻 こむぎ
絵梦
Eyecatch Illustration
(アイキャッチ原画)
Music
Manga/Anime Differences
An original scene of Team Bucciarati in the canals has been added.
Bucciarati mentioning that their biggest problem now is crossing the sea has been removed.
The price of the suit of the man who bumps into Narancia has been converted from yen to lira (500,000¥ to 4,000,000₤).
Abbacchio sipping wine before kicking the man in the suit has been added.
Bucciarati telling Mista, Narancia, and Abbacchio to stop messing with the man in the suit has been added.
The scene where Giorno notices that Bucciarati is not eating has been omitted.
Narancia reflecting on his choice to follow Bucciarati as he stirs his soup is added.
A line of Tizzano specifying himself and Squalo as part of The Boss's elite guard has been added.
After Narancia can breathe again, Abbacchio asking how they should escape from Venice has been removed.
Most of Narancia's antics and internal monologue while under the influence of Talking Head have been cut.

After Bucciarati asks how the enemy attacked Narancia, Narancia originally says that they should escape through the canals before he describes the enemy.
Originally, Narancia realizes he is saying the opposite of what he means while he is trying to describe the size of the enemy.
Originally, Narancia suspects something happened to his tongue when he was attacked and uses a mirror to inspect it.
In the manga, before Giorno gets on the boat in the canal, Narancia makes more of a physical effort to keep Giorno away, tells more lies, and tries to make Giorno look at his tongue. Instead, Mista notices Narancia has been covering his mouth and takes a look at his tongue but notices nothing suspicious.
Originally, Narancia thinks to himself that if Moody Blues transforms in the water it will get ambushed before anything can be figured out.
Narancia unsuccessfully communicating to the group through writing and the group's reaction have been removed.
Narancia thinking to himself that the enemy is using him to lure the rest of the group towards water is moved later.
A scene in the bathroom of Giorno suspecting there is something wrong with Narancia's mouth and Mista trying to look in his mouth has been shortened and moved to just before Giorno tries to heal him.
Narancia realizing the enemy's strategy is to take out Giorno first so no one can be healed has been removed.

After Narancia points to the bathroom, a scene is added where Tizzano explains Talking Head's ability.
Talking Head's first appearance is moved later into the fight.

In its first appearance, Talking Head appears in its final design instead of its earlier design.
In other languages
Language
Title
Translation
Japanese
ガッツの「G」
The "G" in Guts
English (Sub)
The "G" in Guts
English (Dub)
The "G" in Gozzo
Italian: The "G" in Guts
Spanish
"G" de agallas
"G" From Guts
Portuguese
"G" de Garra
"G" From Guts
French
Le G de Guts
The G in Guts
German
Das "G" in Guts
The "G" in Guts
Hebrew

ה-ב' במילה "בטן"

The G in the Word "Guts"
Arabic
الشّجاعة الحقيقيّة
Real Courage
Italian
La "G" di Guts
The "G" in Guts
Russian
«G» значит «Guts»
"G" in "Guts"
Polish
Puste żołądki
Empty stomachs
Commentary
"
This is the episode where Trish, who barely even knew why she was being led around, finally exclaims, "I want to know whose blood courses through my veins!" Not only was it a turning point for her, it was also a a turning point for me. I also adore Narancia and his sudden switch from being manipulated by Talking Head to his panicking inner self.
"
"
I got shivers watching the second opening on television. It was my first time watching it, so it felt strange knowing that people around the world were experiencing it with me. I really pushed myself recording, and producer Hiroyuki Omori told me that the staff worked on it until right before the broadcast delivery. I guess we were all under pressure!
"
"
1. Venice in the Afternoon
The previous episodes took place around dawn, but by this episode, the sun has risen and the streets of Venice are in full view. Producer Kasama explains the color of the water: "I pictured Venice as a beautiful city on the water, but after actually going there, I saw that the water is really a murky green."
2. Narancia Backed into a Corner
Talking Head forces Narancia to say the opposite of what he means. The manga portrays the whole ordeal more comically, but Kasama decided to reinterpret the mood by shifting it to Narancia's point of view, adding suspense to the scene.
3. The "G" in Guts
The title references a chapter from volume 56 of the manga. The "G" formed by Giorno and the others was memorable, and the staff initially wanted to add it in the anime. "It never made it past the brainstorming phase, but in a different timeline, the first shot of the second opening might have featured that 'G' shape..."
4. Squalo and Tizzano Appear
Bodies pressed against each other, Squalo and Tizzano left quite an impact. "We based it on the manga panels, but with the addition of Maeno and Tsuda's voices and the slow, deliberate animation, it immediately felt suggestive." Kasama recalls that amongst the female staff,
Melone
stands heads above the rest, but this duo was also a staff favorite.
"
—Nobutaka Kasama, Blu-Ray limited edition commentaries
Trivia
Yasuhiro Kimura, co-director of the anime, has revealed that the setting for the battle is based on the surroundings of a Venetian restaurant named Di Raffaele.[2]
References