Ayako Kawasumi
Jump to navigation
Jump to search
Ayako Kawasumi
(

川澄 綾子

Kawasumi Atyako)
is a Japanese voice actress and singer. She is credited for her work as the voice for the character
Erina Pendleton
in
JoJo's Bizarre Adventure: The Animation
.
She is also well known for her roles as Akari Kamigishi in To Heart, Fuu in Samurai Champloo, Saber in Fate/stay night, Leina in Queen's Blade, Melfina in Outlaw Star, Lafiel in Crest of the Stars – Banner of the Stars, Nodame in Nodame Cantabile, Aoi Sakuraba in Ai Yori Aoshi, Mahoro in Mahoromatic and Natsuki Mogi in Initial D.
Biography
Ayako Kawasumi was born on March 30, 1976 in Tokyo. Kawasumi graduated from the Toho Junior College of Music.[3]
In 1996, Kawasumi received the Yoyogi Animation Academy award at that year's Sony Music Entertainment Japan's auditions. In 1997, she played her first voicing role as a policewoman in the animated adaptation of You're Under Arrest.
Since then, Kawasumi has played in a variety of roles.
JoJo's Bizarre Adventure Roles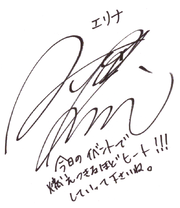 Gallery
Trivia
References