Takehito Koyasu
Jump to navigation
Jump to search
Takehito Koyasu
(

子安 武人

Koyasu Takehito)
is a Japanese voice actor notable for voicing the characters
Dio Brando
,
Diego Brando
,
Diego Brando (Parallel World)
, and
Heaven Ascension DIO
in the
JoJo's Bizarre Adventure
franchise.
He is also well known for his other roles as Bobobo-bo Bo-bobo in Bobobo-bo Bo-bobo, Shinsuke Takasugi in Gintama, Neuro Nogami in Neuro: Supernatural Detective, Aokiji/Kuzan in One Piece, Excalibur in Soul Eater, Ryosuke Takahashi in Initial D, Roswaal L. Mathers in Re:Zero, Kururu in Keroro Gunso, Johann Faust VIII in Shaman King, Zeke Yeager in Attack on Titan, and Gin Dojima in Shokugeki no Soma.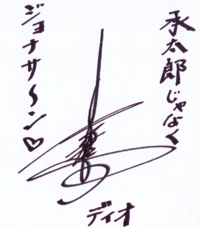 Biography
When he was in junior high school, Koyasu loved movies so much that he would watch them every day without going to school, aspiring to become a film actor himself. A scene in Adieu Galaxy Express 999 sparked his interest in voice acting. He entered a training school after graduating from high school.[2]
He worked at Production Baobab for ten years from 1988 to 1998 before starting his own talent agency named T's☆Factory in 1998. Along with Koyasu, voice actor Michiru Satou, and Takehito Koyasu's son, Koki Koyasu, are the only members of the agency.
In March 2021, Koyasu won the Supporting Actor Award at the 15th Seiyu Awards.[3]
JoJo's Bizarre Adventure
Koyasu knew about JoJo's Bizarre Adventure while it was being serialized though he doesn't recall if he actually knew the plot or only certain maniacal details about it. At the time it was serialized, he didn't think he would become a voice actor, and he also never thought he would be asked to play Dio Brando in a TV anime for it. However, when he heard that they were auditioning for Dio, he thought there would be no one else more suitable than him. He felt like if he had the chance to play the role, then he would risk his life to do so.
When Koyasu first read the manga as a child, he thought it was scary because of the Stone Mask and gore. After reading it as an adult, he had a completely different impression. He started wondering what Araki was thinking, such as whether Araki wanted to draw a manga that even adults could enjoy despite it being a shonen manga. When reading Phantom Blood, Koyasu read it from Dio's point of view instead of Jonathan's. He also mentions that he barely read the script and would read the manga instead.
Koyasu mentioned that recording during Episode 3 felt a bit unusual for him, as he experienced an illusion which he never felt in his 26 years of voicing. He actually felt as if the studio was engulfed in flames and that he had become Dio fighting Kazuyuki Okitsu who had become Jonathan. He felt a rush of adrenaline during these scenes, mentioning that he had a runner's high.[4]
JoJo's Bizarre Adventure Roles
Gallery
References
↑

Anime V Magazine - July 1997 Issue, p. 41

↑ JoJo raDIO Episode 11