Hayato Kawajiri
Jump to navigation
Jump to search
"
You better not hurt me! You got that?! And you'd better not hurt mom, either!
"
Hayato Kawajiri (川尻 早人, Kawajiri Hayato) is a primary ally featured in the fourth part of JoJo's Bizarre Adventure, Diamond is Unbreakable, playing a crucial role in the "My Dad Is Not My Dad" and "Crazy Diamond Is Unbreakable" story arcs.
Hayato is the son of Kosaku and Shinobu Kawajiri and discovers that his father was replaced by Yoshikage Kira. He subsequently tries to put a stop to Kira's threat.
Appearance
Hayato is a young 11-year old child with a rather scrawny build outside his legs and straight dark hair that reaches just past his chin.
He is typically seen wearing a long sleeve shirt under a vest, a pair of shorts, and socks and shoes. The anime depicts two variants of this outfit with differing colors. During the Cat Likes Yoshikage Kira arc, he has a t-shirt on with D & G labeled on it.
He also dons a rain hat during the Bites the Dust arc, which Kira implies is his school uniform.
Color Schemes
The series is known for alternating colors between media, the information presented below may or may not be canon.
Outfit
(Brown vest with green buttons over a long-sleeved jade shirt, khaki shorts.)
Outfit
(Yellow vest with brown buttons over a long-sleeved baby blue shirt, blue shorts, periwinkle socks.)
Shoes
(Black with white tips and laces.)
Outfit
(Yellow coat with green buttons over a long-sleeved, sea-green shirt, gray shorts, blue socks.)
Shoes
(Gray with white laces and tips.)
First Outfit
(Lime vest with blue buttons over a long-sleeved olive shirt, burgundy shorts, icy gray socks.)
Second Outfit
(Light brown vest with dark brown buttons over a long-sleeved light mint shirt, blue shorts and white socks.)
First Sneakers
(Green with cyan laces and white tips and soles.)
Second Sneakers
(Purple with golden laces and white tips and soles.)
Personality
Hayato is described as a "creepy kid" who likes robots[3] and spends most of his time in his bedroom. He rarely speaks to his parents, preferring to spy on them with electronic devices he has planted in their room. According to his mother, he has no close friends.
However, when pressed into a corner, Hayato proves to be exceptionally brave. He was willing to commit suicide if it would prevent Bites the Dust from activating. Even Josuke comments on Hayato's bravery for his age when he volunteers to set off Okuyasu's explosively-charged body at the risk of death.
Despite having a somewhat strained relationship with his mother, he ultimately loves her and his desire to defeat Kira comes from a desire to protect his mother and the town.
Hayato has also been proven to be exceptionally intelligent, managing to trick Kira into revealing his identity out loud while giving Josuke a phone call to wake him up and meet at a certain location without activating Kira's stand. During the fight between Josuke and Kira, Hayato was capable of giving Josuke important tips despite being unable to see Stands, such as figuring out that Kira could only detonate one bomb at a time using his Bomb ability.
History
Background
Hayato was born from Kosaku and Shinobu Kawajiri in the city of Morioh, around 1988. As he lived in an apathetic household, Hayato also inherited some of this apathy for his family. At one point, Hayato developed an interest in video surveillance and began installing cameras in his parents' bedroom.
Diamond is Unbreakable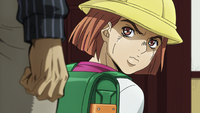 As he spies on his parents with electronic devices, Hayato notices several suspicious new things about his father Kosaku, who is being impersonated by Yoshikage Kira. Watching and listening to his parents, he notices that his mother is becoming more attracted to his father, which is suspicious to him as they never had shown real affection to each other. Hayato then sees Kira practicing Kosaku's signature, which convinces him something is off about his father. Hayato proceeds to observe his "father" closely and notes all the discrepancies between his old and new self, such as him changing shoe sizes or eating things that he didn't like before.
One day, Hayato gets footage of Kira bringing a flower pot and cat food inside of his bedroom. He fakes going out to school in order to investigate the attic In there, he discovers Stray Cat although he mistakes it for a simple plant at first. In order to see better, he opens the window, only to see Stray Cat wake up. He then hears his Kira being back home and hurriedly tries to cover his tracks but when he tries to shut the window, Stray Cat shoots bubbles to immobilize him. Hayato has the presence of mind to use a compass to burst the air bubbles and manages to hide in time and properly cover his tracks by scattering the cat food. As Kira checks the room and figures that Stray Cat must have caused a ruckus on his own, he says that he is relieved because he would have had to kill Hayato if the boy was suspicious about him. Hearing this, Hayato realizes the truth about Kira. He begins following Kira and manages to record footage of him murdering a woman and her boyfriend.
When he is cornered by the murderer, he attempts to blackmail Kira by revealing that he has further evidence that will be found by authorities in the case of his death. However, his threats only anger Kira, who uses Killer Queen to kill him and make it look like he fell by hitting his head. Immediately after, Kira begins to panic and is spontaneously pierced by the Bow and Arrow while Yoshihiro was trying to convince Kira to leave the town. With Kira's new ability, Bites the Dust, he activates a time loop that restores Hayato to life.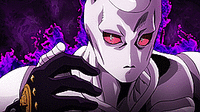 The next morning, Kira gloats to Hayato over his new ability, revealing his true name in the process, as well as the fact that his ability is "invincible." Hayato deduces from this that there are others with similar abilities. Immediately after Kira leaves him, Rohan Kishibe, who has seen Hayato following his father to the train station, uses the power of Heaven's Door on him to learn the identity of his father. Rohan ends up reading events that were supposed to occur in the future and then becomes the first to fall victim to Killer Queen's Bites the Dust ability. Hayato then wakes up in bed again and realizes that he is trapped in a time loop. On this morning he avoids Rohan but is only able to watch him die from a distance as Kira explains the effects of his Stand. He tries to avoid Josuke and company, but is accosted by them and tries to hold Bites the Dust off by killing himself. However, Bites the Dust activates, this time to protect Hayato, killing Josuke and his friends.
Waking up in his bed again, Hayato realizes that he can only rely on himself to unmask Kira. He steals Stray Cat, hoping to use his knowledge of the morning's events to defeat Kira at close range. His attempt nearly succeeds, but Kira is protected from Stray Cat's air bullets by a watch in his pocket. As Kira gloats, Hayato is saved when his secondary plan causes Josuke Higashikata and Okuyasu Nijimura to arrive in time to hear Kira reveal his own name. When Josuke attacks him, Kira is forced to recall Killer Queen to protect him, canceling the effects of the time loop.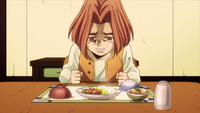 During the battle, Hayato plays a major role in assisting Josuke. When Okuyasu is mortally wounded and Josuke is conflicted over whether to risk being blown up by using Crazy Diamond's ability to save him, Hayato throws himself at Okuyasu and sets off the bomb. This sacrifice does not lead to his death, as Josuke pieces his body back together with Crazy Diamond before he dies. After taking shelter in a nearby house, he assists Josuke by relaying information about Kira's location, but unbeknownst to him, Yoshihiro Kira is hidden in his pocket, doing the same thing for his son.
Hayato is among the group of people to witness Yoshikage Kira's death and is last seen tearfully telling his mother Shinobu Kawajiri that he would wait for his father to come home, even though Hayato knows that his father is already dead.
Chapters / Episodes

Manga Appearances
Chapters in order of appearance

Anime Appearances
Episodes in order of appearance

Novel Appearances
Chapters in order of appearance
JORGE JOESTAR Chapter 14: Desolation Row (37th universe) (Mentioned only)
JORGE JOESTAR Chapter 16: Beyond II (Alternate universe)
Quotes

Quotes
"

He erased them! He's not human...he just took my dad's shape somehow... he must have killed my dad by erasing him too!

"

"

He may look like my dad... but he's not. There's no way he is. Just... who is he?

"

"

An old guy walked by with his fly down. He sneezed and said "Damn it". Some women laughed at him. It rained. At 8:27, lightning struck the top of the Pepsi sign. My dad is not my dad. I saw him make a man and woman explode in an apartment in Jozenji. My dad's name is Yoshikage Kira.

"

"

What just happened wasn't a dream... I... it's the same morning... I... it's repeating... this morning is repeating!

"

"

If I die nobody else will have to die! If the bomb... if I... die, then that will stop them from getting attacked!

"

"

And for the first time in my young life I pray to God from the bottom of my heart..."Please give me the strength to kill."

"

"

I haven't said it. I never said a single thing about you, not from the very beginning. All I did... was make a call.

"

"

All right! I've beaten fate!

"

"

Luck is on your side? You're gonna get some opportunity? That's not worth jack compared to the righteous spirits gathered here!

"
Video Games
Hayato Kawajiri appears in the game as part of "Kosaku Kawajiri" (Kira)'s Great Heat Attack, "Bites the Dust!". Kosaku grabs Hayato and forces him to run away from him in fear, exclaiming "Killer Queen! Third Bomb!". If Hayato bumps into the opponent, the camera zooms into the opponent's eye as Hayato screams, where Killer Queen appears and detonates the time bomb. The round timer rewinds by ten seconds and Kosaku regains health. If the opponent has gone through a transformation (Gold Experience Requiem, Made In Heaven, any Steel Ball Run character with the 3 corpse parts or Kars's Ultimate form), they are reverted back to their original forms. However, if the opponent manages to avoid the attack, Hayato will sprint the other direction.
Hayato also appears as a memo book for the Special Edition of the game (called Gold Experience Edition), where the book contains information such as character profiles and manual guide. The special edition also contains a code to freely unlock the character Yoshikage Kira.
Hayato appears in Diamond Records alongside
Stray Cat
as an assist character in both the
Action Battle
and
Tactical Battle
game modes. He has one 'Unity' type 4 star assist statue. Like all assist characters, when the active assists link together, his assist ability may provide extra effects (
Action Battle
mode only). Hayato also appears in the moveset of Matured
Yoshikage Kira
.

Hayato

I'll Protect Mom ver.
Rarity:

Max Power: 1630
(Lvl 50)
/ 2830
(Lvl 80)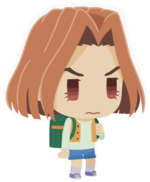 Favorite Gift and Voiced Gift Reactions:

Skill: I'll shoot an air bullet at point-blank range!

Replaces panels in the lower left with Intensified Bubble Partner panels.




































Skill Lv 1
# of Replaced Panels:
6
Cooldown:
90




































Skill Lv 2
# of Replaced Panels:
8
Cooldown:
90




































Skill Lv 3
# of Replaced Panels:
8
Cooldown:
85




































Skill Lv 4
# of Replaced Panels:
10
Cooldown:
85




































Skill Lv 5
# of Replaced Panels:
10
Cooldown:
80
The information below derives from a source not written by Araki. As such, it may or may not be considered canon.
In the light novel JORGE JOESTAR, an incarnation of Hayato appears in the 37th universe. He appears the same and is still a grade school boy who is the son of Kosaku and Shinobu. Hayato is in the soccer team of his elementary school. After detectives get closer to finding Yoshikage Kira's identity, Kira brutally murders Shinobu and Hayato.[4]
Parallel World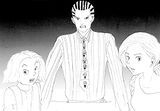 Kars and Jorge Joestar (Universe 37) are teleported to a parallel world version of Morioh within the 37th universe as a result of The Funniest Valentine's Dirty Deeds Done Dirt Cheap. Jorge Joestar and Kars suddenly enter his house one day while Hayato and his family are eating dinner.
Seeing Kars, Kosaku orders Shinobu and Hayato to run away. Hayato then exclaims that he knew his father was hiding something since he's been acting weird. Kosaku once again desperately asks his family to leave causing Shinobu to drag Hayato out of the house's back door.[5]
Gallery
Trivia
References