UOMO
Jump to navigation
Jump to search
UOMO (ウオモ, Wuomo) is a monthly fashion and lifestyle magazine published in Japan by Shueisha since 2005. It is marketed towards older men who wish to continue following the latest fashion trends, but also includes other topics such as beauty, culture, living and current events. The magazine is notable for its multiple collaborations with Hirohiko Araki and the JoJo's Bizarre Adventure franchise.
Summary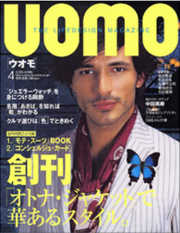 UOMO is a fashion and culture magazine described by the company as being for men "aged 30 to 40". Its aim is to inform its older audience on the latest fashion trends, with an emphasis on fashionable yet casual outfits. The publication also reports on culture-related news and other subjects regarding lifestyle that will typically interest men such as food trends, vehicles, and hygiene.
As of 2021, the magazine has 41,000 copies in circulation. Its website, titled "WEB UOMO", features exclusive web articles and videos producing over 20 million page views per month.[3] WEB UOMO is also apart of Shueisha's "AdNavi" company website, which acts as a hub for any and all publications and advertisements that use Shueisha's intellectual property.[4]
Collaboration
In October 2018, Shueisha released a special issue of the magazine titled, "JOJO's Bizarre UOMO." The cover was exclusively drawn by Hirohiko Araki, featuring Vento Aureo character Bruno Bucciarati, dressed in an outfit from the Balenciaga: Winter 18 runway collection. The issue includes a story and live photoshoot from Dean Fujioka revolving around Diamond is Unbreakable character Yoshikage Kira, an article titled "JoJo's Bizarre Testimony" in which 20 people talking about their connection with the JoJo's Bizarre Adventure series, and an interview with Araki himself.
The cover of the January 2021 issue of UOMO features Issey Takahashi, Rohan Kishibe's actor in the live-action adaptation of the Thus Spoke Kishibe Rohan series. Inside the issue is a photoshoot and interview with Takahashi where he describes his role as Rohan and a drawing by Araki.
Magazines


Videos
See Also
References