JoJo's Bizarre Adventure: The Official App
Jump to navigation
Jump to search
JoJo's Bizarre Adventure: The Official App
(

ジョジョの奇妙な冒険 公式アプリ

JoJo no Kimyō na Bōken Kōshiki Apuri)
 was a free mobile application for Android and iOS. The app was announced on May 19, 2017
[1]
and released on June 29, 2017, in Japan.
The official app allowed access to chapters from the JoJo's Bizarre Adventure series, ranging from Phantom Blood to JoJolion. It also featured JoJo-related news, daily quotes, a collection of maps, and an Iggy pet simulation game.
The app is no longer available as of February 18, 2021.[2]
Manga Reader
The app includes nearly every chapter of the JoJo's Bizarre adventure series, each accessible through in-app virtual coins. Once a chapter is paid for, it is available for a certain amount of time before requiring coins to read again. The amount of coins required for each chapter varies, but the colored version, as well as chapters from Steel Ball Run and JoJolion, typically costs more. Coins are obtained through the app's other features, but can also be purchased with money (One coin is equivalent to one yen) or earned through special offers.
Other Features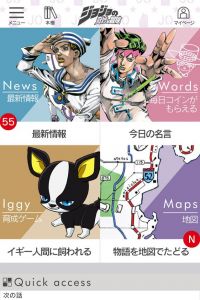 News
The news section of the app offers a real-time newsfeed listing any and all JoJo-related news from the official JoJo website. Each listing on the feed can be selected for further information and includes links that can be accessed via a device's online browser. The feed can be filtered into different categories such as books, anime, fashion, games, etc.
Words
The app also has a "Today's Quote" feature, where users can observe a panel containing a quote or scene from the JoJo's Bizarre Adventure series. Upon viewing the quote, users are given coins which can be used to purchase more chapters. Only one quote can be viewed each day.
Iggy
One of the main features of the app is an Iggy-raising game. In addition to taking care of Iggy's needs, he'll also give you a daily fortune that comes with coffee gum as well. The coffee gum is used to perform various actions within the game.
Maps
The manga reader also comes with a map feature that provides more information on the real-life key areas of the JoJo's Bizarre Adventure story. To unlock a point on the map, a chapter must be purchased whose story takes place on that point of the map. (i.e., purchasing a chapter from the Emperor and Hanged Man story arc will unlock Calcutta on the Part 3 map.)
Gallery
Polls
Scary Part 5 Characters (2018)
Scary Part 5 Characters 2018 Poll
"These characters seem dangerous!!"
Enemies - Impressive Defeats (2019)
Enemies - Impressive Defeats 2019 Poll:
"With my final breath, I want to say this. Characters with the most impressive defeats"
Note: Missing several results. There are 36 characters on this poll in total.
Valentine's Day (2020)
References