Hiroaki "TOMMY" Tominaga
Jump to navigation
Jump to search
Hiroaki Tominaga
(

富永 弘明

)
, known by his stage name,
Hiroaki "TOMMY" Tominaga
(

富永TOMMY弘明

)
or
TOMMY
is a Japanese singer and the lead vocalist of the Japanese rock band
BLUFF
. He made his solo debut performing "
JoJo ~Sono Chi no Sadame~
", the first opening theme song for
JoJo's Bizarre Adventure: The Animation
and has since then become an active member of the JoJo-based vocal unit the
JO☆STARS
.
Biography
Early life
TOMMY formed a soul band while studying at Toyo University and began performing at Tokyo live houses in 1986 when he was 22 years old. In New York he won the Nathan's Hot Dog Eating Contest, which aired on Fuji TV. Three years later after graduating, he formed a funk band. In 1990, the band disbanded and he joined a South Korean band called Be Brothers. He also appeared as a regular reporter in a Japanese TV documentary series called Earth catch me (地球キャッチミー).[1]
Professional Work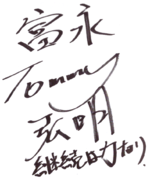 In 1998, TOMMY formed the vocal group BETCHIN' with m.c.A.T and JIN. They performed in many Da Pump tours and released two albums.
In 2006, he formed his own band TOMMY CHILDE and performed at various places in Tokyo.
In 2008, TOMMY formed the brass rock band BLUFF with former members of Spectrum.
Along with performing activities with BLUFF, sessions as TOMMY, commercial singing and narration, he also does vocal teaching.[1]
JO☆STARS
In 2015, TOMMY, Coda and JIN used the pseudonym JO☆STARS to sing JoJo Sono Chi no Kioku ~end of THE WORLD~, the second opening of JoJo's Bizarre Adventure: Stardust Crusaders and the fourth opening of the anime overall.
The first album of the The anthology songs collection features songs sung by TOMMY such as "Fire of Soul", "GO WEST", and "Mirai e no Isan -Jonathan's Ballade-".
The JO☆STARS returned as JO☆UNITED among THE DU, batta, Karen Aoki, and Daisuke Hasegawa to sing Great Days -Units Ver.-, featured in the final episode of Diamond is Unbreakable.
Discography
#

Cover
Album / Single Name
Artist
Use
Release Date
1
JoJo ~Sono Chi no Sadame~
(ジョジョ~その血の運命~)
Hiroaki "TOMMY" Tominaga
Episodes 2-9
November 21, 2012
2
JoJo Sono Chi no Kioku ~end of THE WORLD~
(

ジョジョ その血の記憶~end of THE WORLD~

)
JO☆STARS
~TOMMY, Coda, JIN~
SC Episodes 25-48
January 28, 2015
3
The anthology songs 1
(Fire of Soul, GO WEST, Mirai e no Isan -Jonathan's Ballad-)
Hiroaki "TOMMY" Tominaga
Image songs
April 22, 2015
4
Great Days -Units Ver.-
JO☆UNITED
(Hiroaki "TOMMY" Tominaga, Coda, Jin Hashimoto, Jun Shirota, Taisuke Wada, Jeity, Tatsu Hoshino, Karen Aoki, Daisuke Hasegawa)
DU Episode 39
December 24, 2016
Interviews
Gallery
Trivia
References