Distant Dreamer
Jump to navigation
Jump to search
"Distant Dreamer" is a song by Welsh singer Duffy from her debut studio album Rockferry, released in 2008. It is used as the ending theme for JoJo's Bizarre Adventure: Stone Ocean.
Summary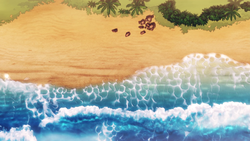 The ending consists of several shots of a 3D-composited seashore. The first shot features a medium close-up of the water flowing over the sand, moving foward across the screen from right-to-left and receding multiple times.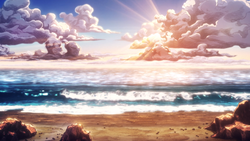 The scene then fades into a bird's-eye view of the beach panning right with the shoreline directly in the middle. Waves roll in from the bottom of the shot, while the top is casually populated with rocks and palm trees over sparse patches of grass closer inland. The view is occasionally disrupted by passing clouds.
The scene eventually fades again into a shot of golden hour with the perspective of one standing on the beach facing towards the ocean. In the foreground, various large rocks are scattered around the shore. Above the animated waves, several 2D-rendered clouds drawn in a style that mimics those seen in the manga slowly move from left to right. The sun is shown obstructed by the clouds, causing it to cast light beams in various directions.
Lyrics
English Lyrics
Although you think I cope
My head is filled with hope
Of some place other than here
Although you think I smile
Inside and all the while
I'm wondering about my destiny

I'm thinking about all the things
I'd like to do in my life
I'm a dreamer, a distant dreamer
Dreaming far away from today

Even when you see me frown
My heart won't let me down
Because I know there's better things to come, whoa yeah
And when life gets tough
And I feel I've had enough
I hold on to a distant star

I'm thinking about all the things
I'd like to do in my life
I'm a dreamer, a distant dreamer
Dreaming far away from today
I'm a dreamer, a distant dreamer
Dreaming far away from today
Yeah, I'm a dreamer
Ooh, ooh, ooh

I'm a dreamer, a distant dreamer
Dreaming far away from today
Yeah, I'm a dreamer
Ooh, ooh, ooh
Ooh, ooh, ooh
I'm a dreamer
Credits
Staff
Background Line Art (美術設定)
Other Credits
Photography
(Compositing)
Gallery
References