Jin Hashimoto
Jump to navigation
Jump to search
Jin Hashimoto
(

橋本 仁

)
is a Japanese singer and vocal trainer. He sings "
STAND PROUD
", the first opening theme song for
JoJo's Bizarre Adventure: Stardust Crusaders
and the 3rd opening overall for
JoJo's Bizarre Adventure: The Animation
. He is also one of the three members of
JO☆STARS
.
Biography
Early life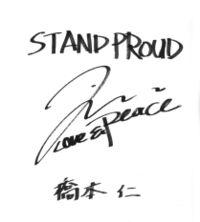 Jin started playing music when he was 11 years old with his father's guitar. He learned classical guitar for about half a year in his town's music school. Around middle school, he started playing folk guitar and participated in band activities. He started doing live shows at places such as a park and an elementary school gym.
His band entered high school, became full-scale, went into various contests and played at live houses. At his school festival he played the guitar with 5 or 6 bands.
He studied guitar at a music vocational school and was aiming to be a professional guitar player. In the repertoire of the band that was active at that time, Jin sang in the chorus for one part of the song. He felt he was pushed by the members of his band to continue singing, and his songs inevitably increased. Eventually, he stopped playing guitar and only held one microphone.[1]
Professional Work
JO☆STARS
In 2015, TOMMY, Coda and JIN used the pseudonym JO☆STARS to sing JoJo Sono Chi no Kioku ~end of THE WORLD~, the second opening of JoJo's Bizarre Adventure: Stardust Crusaders and the fourth opening of the anime overall.
They returned as JO☆UNITED among THE DU, batta, Karen Aoki, and Daisuke Hasegawa to sing Great Days -Units Ver.-, featured in the final episode of Diamond is Unbreakable.
Discography
#

Cover
Album / Single Name
Artist
Use
Release Date
1
STAND PROUD
Jin Hashimoto
SC Episodes 2-24, 39
April 23, 2014
2
JoJo Sono Chi no Kioku ~end of THE WORLD~
(

ジョジョ その血の記憶~end of THE WORLD~

)
JO☆STARS
~TOMMY, Coda, JIN~
SC Episodes 25-48
January 28, 2015
3
The anthology songs 3
Jin Hashimoto
Image songs
May 27, 2015
4
Crazy Noisy Bizarre Town
THE DU
Chorus: Jin Hashimoto & Coda
DU Episodes 2-13
April 27, 2016
5
Great Days UNITS ver.
JO☆UNITED
(Hiroaki "TOMMY" Tominaga, Coda, Jin Hashimoto, Jun Shirota, Taisuke Wada, Jeity, Tatsu Hoshino, Karen Aoki, Daisuke Hasegawa)
DU Episode 39
December 24, 2016
6
¡Hola AniSalsa! Vol.1
JIN y su grupo
N/A
April 27, 2021
Gallery
References