Name Variants
Jump to navigation
Jump to search
A list of English spelling variations and alternatives for many names and terms across various media in the JoJo's Bizarre Adventure series.
For the purposes of this website,
the articles use a naming convention that takes into account the most recent Japanese romanization found in the manga or artbooks, as well as their consistency throughout multiple official sources
.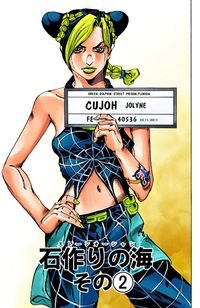 Due to a lack of proper localization early on in the series as well as different translation groups with their own preferences, a common problem for fans of the JJBA series is determining the correct English spelling of names. Multiple scanlation groups, fansubbers, and even professional anime and gaming companies often translate these names based on assumption or other reference material, or to avoid trademark and copyright issues outside of Japan.
As a result of the series's common theme of referencing musical artists, a false etymology has formed among fans regarding some of the names. Many fans believe most of the names are spelled exactly like the artists and bands they reference (with some exceptions such as Zeppeli) due to the belief that Hirohiko Araki does not like copyright changes to his character names.
Araki himself is not known for his consistency, and spelling changes become apparent even in the manga.
JOJOVELLER is the most recent artbook to provide English names for all major characters through April 2014, while some volumes of JoJolion provide English names for newer characters and Stands.
Other Works
Name Variants:
| | |
| --- | --- |
| Mutsu-kabe Hill Specter | Used in the English localized Netflix subtitles. |
| | |
| --- | --- |
| The Monster of Mutsu-kabe | Used in the English localized Netflix dub. |
Name Variants:
| | |
| --- | --- |
| Purple Smoke Distortion | Used in the English localization of All-Star Battle. |
Name Variants:
| | |
| --- | --- |
| DIO, Gone to Heaven | Used in the English localization of Eyes of Heaven in cutscenes. |
| | |
| --- | --- |
| Heavenly DIO | Used in the English localization of Eyes of Heaven during battle. |
References