Aomaru Jump (02/2004)
Jump to navigation
Jump to search
Published February 26, 2004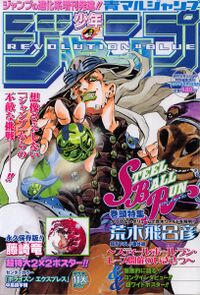 A long interview with Hirohiko Araki discussing Steel Ball Run from the special edition of Aomaru Jump released on February 26, 2004.[1]
Interview
"
- Is the story of "SBR" something you had thought up a while ago?
Araki: That's right. I already have a general outline of each story theme planned up to part 9.
- Huh? Are we allowed to leave this in?
Araki: Even though I say Part 9, it doesn't mean it'll be a continuation of SBR. This isn't a saga like Star Wars. The theme and narrative structure will be completely different.
"
[Translated by
MetallicKaiser
(JoJo's Bizarre Encyclopedia)]
"
Note: Missing full transcript.
――:待望の新連載『SBR(スティール・ボール・ラン)』ですが、これは『ジョジョの奇妙な冒険』第7部ではないんですよね?
荒木:『ジョジョ』第6部を読んでいた人ならわかると思うけど、世界が一周しちゃって次の新しい世界に入って、そこが舞台になってるんです。でも『ジョジョ』のパラレルワールドを描くのがテーマじゃないんですよ。物語の大前提っていうだけで、それはストーリーとは関係がないんです。
――:だから、タイトルから『ジョジョ』を外したんですね?
荒木:そうです。ただし、昔からのファンの人が『SBR』を『ジョジョ』第7部と思ってもらってもいいし、つまり『SBR』は『ジョジョ』の延長線上にある新作っていうことなんです。
――:『SBR』の物語は、かなり以前から考えていたものなんですか?
荒木:そうですね。だいたい『ジョジョ』第9部くらいまではテーマを決めているんですよ。
――:えっ。それは載せちゃって大丈夫なんですか?
荒木:第9部って言っても「続く」と言うことじゃないんで。『スターウォーズ』みたいなサーガではないんですよ。テーマも物語の形態もまるで違うし。[2]
"
References