Abbacchio's Partner
Jump to navigation
Jump to search
"
You've done a fine job. You have the same
will
. Just like you did when you first became an officer. That
will
has returned to your heart,
Abbacchio
.
"
Abbacchio's Partner (アバッキオの同僚の警官, Abakkio no dōryō no keikan, lit. "Abbacchio's Coworker Police Officer")[1] is an unnamed minor character featured in the fifth part of JoJo's Bizarre Adventure, Vento Aureo.
He used to work with Leone Abbacchio as a police officer up until his death, when he sacrificed himself to save his partner from a criminal. His death would become one of Abbacchio's biggest regrets. He later appears to his partner in the afterlife, lecturing him about will and seeking the truth. The officer is there to remind Abbacchio, who thought he died in vain, that he's done a good job to help his team.
Appearance
Abbacchio's partner appears in a policeman uniform. In both the anime and the colored manga, he has icy blue eyes. In the colored manga his hair is black, while in the anime his hair is brown.
Personality
Abbacchio's partner is a brave and selfless crime fighter, non-hesitant on sacrificing his own life to shoot an armed criminal.[2] In the afterlife, he portrays a deductive behavior, as he is seen investigating pieces of broken glass. Even after knowing that it was essentially his own partner Abbacchio who let him get shot all because Abbacchio took a bribe, he still displays a caring attitude to Abbacchio, telling him that he did a fine job.
History
Background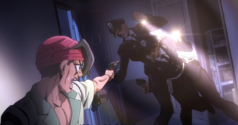 One night, the man and his partner received a report that a robber had broken into an old man's house (in the anime, the report was a shop being robbed).[2][3] The two rushed to the scene; Abbacchio went through the back and found the criminal he had made a deal with earlier. In their confrontation, Abbacchio was too hesitant to do anything and didn't realize the criminal pulling his gun out. At that moment, Abbacchio's partner jumped in and both he and the criminal fired at each other. The criminal was merely shot in the arm, but Abbacchio's partner was fatally shot in the chest and he immediately died.
After the incident, not only had Abbacchio faced charges of being a dirty cop, but he lost his job for letting his partner die. Since then, Abbacchio would be thrown in a great depression, almost never being happy. The fact that his own actions made his partner get killed became a cross on his back that would never be removed.[2]
After his own death, Abbacchio finds himself eating on a table. He finds an officer inspecting shards of glass underneath the table, little did he know that the officer is his former partner. Abbacchio's partner explains that he is inspecting some glass because there was an incident where the victim was hit in the head with a glass bottle and shards of glass were flying everywhere, and he's trying to find fingerprints. When asked what he's going to do when he doesn't find anything, he says that only the results are not what he's looking for. When one looks for just the results, they look for shortcuts, and when they look for shortcuts, they lose sight of the truth. That is what Abbacchio's partner is trying to avoid.
Abbacchio declares his envy for the officer. He says he's also been an officer, but messed up. That is when the officer claims that Abbacchio didn't, mysteriously stating Abbacchio's name as well. Realizing that the officer is his former partner, Abbacchio tries to take the bus to go back to his team, but his partner says that's the bus he took, and that was the last stop. There's no going back.
Crying, Abbacchio tells his partner that he died on patrol because he took the bribe, and that he was the one who made a huge mistake. However, Abbacchio's partner tells him that he should be proud that he's done a fine job. Both Abbacchio and his partner's souls ascend as he passes away.
Chapters / Episodes

Manga Appearances
Chapters in order of appearance

Anime Appearances
Episodes in order of appearance
Quotes

Quotes
"
What are you doing,
Abbacchio
!? He's got a gun!
"
"
Sorry for interrupting your meal... I'm in the middle of an investigation. I'm looking for fingerprints. There was a mugging across the street last night. The victim got hit with a bottle, and the bottle broke... but, not all of the pieces are on the sidewalk.
"
"
Most importantly, the part he was holding is gone. I thought the perp might have come here to throw something away in this recycling bin. I should be able to get fingerprints if I can find the part.
"
"
Hm... The result is not all I desire. When you desire only the result, you start trying to take shortcuts... and when you start taking shortcuts, you might lose sight of the truth. Eventually, you lose your motivation, too.
"
"
I believe that the will to seek out the truth is what's important. As long as you have the will to seek it out, then, even if the perp gets away this time, you'll reach your destination eventually, won't you? That's because you're seeking it out. Don't you agree?
"
"
Did you forget,
Abbacchio
? That's the bus you took here. This is the final stop. There's no going back anymore.
"
"
Abbacchio
, you did a fine job... Yes, you have... I'm proud of what you've done...
"
Gallery
Trivia
References