Alessi
Jump to navigation
Jump to search
Alessi (アレッシー, Aresshī) is a tertiary antagonist featured in the third part of JoJo's Bizarre Adventure, Stardust Crusaders, specifically the "'Sethan' Alessi" story arc.
This cowardly assassin is one of the Egypt 9 Glory Gods and attempts to assassinate Polnareff in Luxor as Mariah battles Joseph and Avdol. His Stand is Sethan, a rejuvenating shadow.
Appearance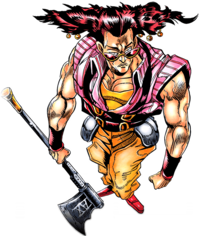 Alessi is a man of short stature and height, depicted as little more than a foot taller than an average child, and dwarfed by Jotaro and Polnareff. His biggest hallmark is his bizarre hairstyle, which resembles a dust mop with decorative beads hung underneath. He wears a loose-fitting dress shirt that conceals his weapon of choice: an over-sized hatchet engraved with the letters "Ax". Over his shirt is a pair of suspenders attached to a belt that holds two pouches.
Alessi also wields a Stechkin APB pistol with a non-standard underbarrel rail and suppressor, which he fires eight times at Polnareff before re-holstering it and never using it again.
Color Schemes
The series is known for alternating colors between media, the information presented below may or may not be canon.
Hair
(Red with golden beads)
Upper outfit
(Lavender dress shirt with velvet stripes and brown straps, yellow undershirt, red arm warmers)
Lower outfit
(Yellow pants with silver pouches, pink shoes)
Hair
(Black with yellow beads)
Outfit
(Blue dress shirt with black straps, white undershirt)
Hair
(Brown with golden beads)
Outfit
(Purple dress shirt with dark purple stripes, dark blue straps, undershirt, arm warmers, pouches, and shoes, orange pants)
Hair
(Brown with silver beads)
Upper outfit
(Lavender dress shirt with purple stripes and dark purple straps, blue undershirt, brown arm warmers)
Lower outfit
(Khaki pants with brown pouches, brown shoes)
Personality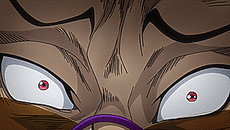 Alessi is a sadistic yet cowardly man who will only fight those who are weaker than him. He takes extreme pleasure in taunting and humiliating his opponents before finishing them off, and will exploit any underhanded method to gain an unfair advantage.
Despite this cowardice, he has an odd sense of pride in his work and will go out of his way to take revenge on those who humiliate him, even if it leaves him vulnerable. Alessi also seems to take immense gratification in attacking defenseless women and children, showing no signs of compassion or remorse in actions. Unsurprisingly, his relationship status remains "single."[2]
The mercenary takes odd leaps of "logic" to rationalize his sadism and creepiness, which he seems to acknowledge and deny at the same time (employing what could be considered doublethink), claiming that "people who always say that they are weird aren't actually weird... So I'm not weird."
His Stand Sethan is named after Set, the Egyptian God of Tornadoes and Storms. The fact that the Ancient Egyptians considered Set the embodiment of evil may have also played a role in the naming of the Stand of such a twisted and malicious personality.
Abilities
Main article: Sethan
Alessi's Stand is Sethan, with which he is able to turn back the age of those who step in his shadow.
Sethan
(
セト神
)


History
Stardust Crusaders (1989)
Alessi is deployed in Egypt by DIO to kill the members of the Joestar Group. He makes his move in Luxor: as Mariah fights Joseph Joestar and Muhammad Avdol, he trails Jotaro Kujo and Jean Pierre Polnareff. In his first appearance, he bumps into a boy whose bucket of mud splashes on his pants. Feigning sympathy, he asks the boy where his parents are to make sure they aren't nearby and when he learns that the boy's alone, he uses the opportunity to beat him up.
Alessi keeps following Jotaro and Polnareff but the Frenchman spots him. Alessi tries to deflect suspicion off him by pretending to have lost a coin but Polnareff isn't fooled and summons Silver Chariot. In turn, Alessi uses Sethan and sends his shadows toward Polnareff, grazing it. Surprisingly, he then runs away. In reality, Alessi is gaining time for Sethan's power to take its full effect. Polnareff, who had isolated himself while running after Alessi, is eventually turned into a little boy. Once Polnareff is turned, Alessi returns and corners him in a back alley. He violently kicks Polnareff in the air, causing the boy to get stuck on the wooden underside of a balcony. Alessi draws a gun but Polnareff summons a child version of Silver Chariot that manages to deflect the bullets. Alessi thus decides to give Sethan an ax and make it swing at Silver Chariot, but the blade breaks and stabs Alessi in the neck, driving him away.
Polnareff is found by a woman named Malèna who mistakes him for a lost boy. Humiliated, Alessi hides from them but vows to take his revenge. He follows Malèna and Polnareff up to her house and sneaks in. As she bathes Polnareff, Alessi turns Malèna into fetus and confronts Polnareff. Alessi uses Sethan to pin Silver Chariot against a wall with the ax and decides to drown Polnareff in the bathtub. However, Polnareff then poops and throws his feces at Alessi, making him back up in disgust.
Polnareff gets out and looks for Malèna but Alessi reveals what he's done to her and sends Sethan again toward Polnareff. Turning younger and younger, Polnareff has no choice but to run and lock himself in a room. Alessi breaks down the door and notices that the room is empty. He quickly realizes that Polnareff must be hiding in the room and sees three potential hiding spot: a teddy bear, a bucket, and a drawer. In a sick game of hide-and-seek, Alessi swings his ax at a fourth potential hiding place, a clock, but comes empty. Then, he destroys each of the other hiding spots but Polnareff is nowhere to be seen. Seeing a fish in an aquarium disappear, Alessi tries to take a closer look but is ambushed by Polnareff, who had been hiding in the aquarium thanks to a mirror and a balloon. Silver Chariot stabs his nose and slashes at his face, driving Alessi away again. Alessi falls down a window and incidentally meets Jotaro.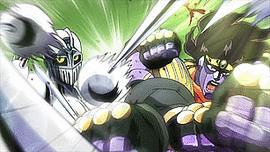 Jotaro is curious but unaware that Alessi is the enemy, allowing the latter to pretend he merely is a window cleaner who slipped. Polnareff appears and distracts Jotaro, allowing Alessi to summon Sethan and turn Jotaro into a young boy. Remembering that Jotaro didn't have a Stand until recently, Alessi gloats and approaches the young Jotaro, thinking he's helpless. Nonetheless, Jotaro proves to be tougher than Alessi, even as a child, and pummels Alessi. Alessi is temporarily knocked out, allowing Polnareff and Jotaro to regain their real age. Polnareff decides that the beating wasn't enough and thus, both Jotaro and Polnareff summons their respective Stands to beat him up so violently he's blown far away and is retired.
Chapters / Episodes

Manga Appearances
Chapters in order of appearance

Anime Appearances
Episodes in order of appearance
Quotes

Quotes
"

Joestar and Avdol are fighting Mariah and I'll handle Jotaro and Polnareff. They're strong, so I'll do whatever it takes. Ha ha ha he he heheheh!

"

"

I love to pick on the weak. I'm such a good boy~

"

"

I can't say this out loud, but I adore picking on weak things. I like it a little too much. Heeheeeheehee... I'm sick in the head, but you know what they say... "If you think you're crazy then you probably aren't"? That must mean I'm okay!

"

"

Can you wash your hair yourself? [...] Oh my... What a good boy... Ukuh kuh kuh kuh kuh. Yes, that's right... You're such a good boy.

"

"

Polnareff, you said the shampoo stings, right? Did it get in your eyes? Then wash it off! Wash it off reaalll goood.

"

"

Don't you have any basic human decency? A main character would never do a thing like that! You're not a good boy! Not a good boy at all!

"

"

She

got what she deserved for helping you. What a fool.

"

"

What do you think you're doing, running around holding a dying fetus? I'll turn you into a fetus too!

"

"

Perororororo peperoro pero~! I'm coming in, Polnareff~! (

ぺロロロロロぺぺロロぺロ~~~ 入るよおお~~~~~~~ん ポルナレフ~~~っ

Perororororo peperoro pero~ Hairu yo~ Porunarefu~

)

"

"

Ugyaaaaa!! Not a good boy! Not a good boy! Bad boy! V-V-Very bad boy!

"

"

I win! Master DIO! I'm gonna kill Jotaro! You better give me a damn good reward! Die, Jotaro!

"

"

Even as a kid...when push comes to shove, Jotaro gets the job done... (

承太郎は……子供のときからやるときはやる……

Jōtarō wa…… kodomo no toki kara yaru toki wa yaru……

)

"
Video Games
Alessi is one of the bosses fought by the heroes during the game. Unlike in the original manga, Alessi works in concert with Oingo and Boingo to ambush the Joestars and their companions. The Oingo Boingo brothers lead the Joestar Group into a library (after taking Iggy and confiscating the group's equipment) in which the group scatters to search the different aisles until Jotaro and Polnareff find themselves alone. Alessi turns Joseph, Avdol and Kakyoin into children offscreen, forcing Jotaro and Polnareff to fight him in a two vs. one boss battle.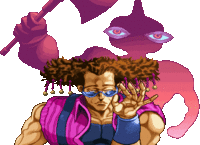 Alessi plays the same role he did in the manga during Story Mode. He is an assassin hired by DIO to destroy Jotaro Kujo and his companions. Very little is offered in terms of his backstory, so his motivations and the potential reward for helping DIO are a mystery.
During his storyline, he manages to defeat the protagonists, and he starts to believe that he is even more powerful than DIO himself. Alessi travels to DIO's mansion and kills Vanilla Ice and his vampire master. Alessi becomes the most powerful Stand Master in the world afterward and contemplates "who to torture next" in his ending.
After certain attacks, Sethan will transform the opponent into a different form and Alessi will use an axe instead of his stand to finish them off. Not everybody who is hit by Sethan becomes younger. Some characters turn into minor characters from the manga.
Alessi has a looped backdash, running away from his opponent as a nod to his cowardice. However he possesses a very short dash towards them. When they're reverted to children, however, the speed of his dash is increased, as they are easier to take on.
Alessi's victory animation has him being slightly de-aged by his own stand. The younger Alessi is a reference to the cover art for the game.
The young Joseph Joestar's story mode is started by Alessi de-aging him and running away after realizing that he did not become a child.
Strategy
Alessi is characterized as a comic-relief character (such as Dan from the Street Fighter series) with his ridiculous animations and over the top attacks, but is, in fact, a powerful character. His active Stand possesses incredible range and can be extended even further by holding the Summon button down while calling it out. Its weakness, however: Alessi will not be able to attack aerially with it active since Sethan is a shadow, and cannot leave the ground.
Alessi has two notable attacks, one of which uses his Stand Sethan to de-age his opponent. This is done by sending a 'wave' through Sethan while it is not Active, and reaching out and 'grabbing' with shadowy hands while Sethan is Active. His other attack allows Alessi to pull out his signature handgun and pelt his opponent with bullets from a distance, although it is aimed with a reticule that must be moved across the screen. Alessi is vulnerable during this time period.
Alessi possesses three super techniques. The first causes him to dash forward a short distance and subject his opponent to a flurry of hits from Sethan, ending in them being de-aged. The second causes Sethan to rise from the ground vertically, (unblockable to opponents in the air) and repeatedly hit the foe until they are turned into the child. The final technique is the 'Tandem' mechanic of the game, which allows certain characters to pay one super gauge to attack and move much faster for a brief period of time. This can be combined with Alessi's other special or super techniques for devastating combos.

Alessi

Shadow-Touching Rejuvenation ver.
Rarity:

Max Power: 1198
(Lvl 50)
/ 2458
(Lvl 80)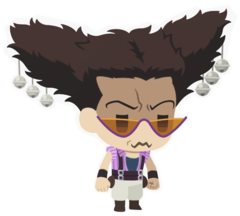 Favorite Gift and Voiced Gift Reactions:

Skill: Sethan


Replaces the bottom right to Alessi panels. By using the skill the Boost Lv is raised, increasing the number of replaced panels




































Skill Lv 1
Maximum Boost:
3
Cooldown:
85




































Skill Lv 2
Maximum Boost:
4
Cooldown:
85




































Skill Lv 3
Maximum Boost:
4
Cooldown:
80




































Skill Lv 4
Maximum Boost:
5
Cooldown:
80




































Skill Lv 5
Maximum Boost:
5
Cooldown:
75




















































































































































































Gallery
Trivia
References
↑ N'Doul's Geb - Vol.6 "Shueisha Jump Remix Stardust Crusaders Edition" p.132 The Secret of JOJO Characters
↑ 2.0 2.1 Chapter 209: "Sethan" Alessi, Part 5