Bug-Eaten
Jump to navigation
Jump to search
"
It lost part of its ear in a fight or something. The thing looks like a bug-eaten leaf. Let's call this one "Bug-Eaten."
"
Bug-Eaten (虫喰い, Mushikui) is a tertiary antagonist featured in the fourth part of JoJo's Bizarre Adventure, Diamond is Unbreakable, specifically in the "Let's Go Hunting!" story arc.
Bug-Eaten is a rat nicknamed by Jotaro. It and its companion were struck with an Arrow by Akira Otoishi, turning them both into Stand users with identical sniping Stands, both named Ratt. Jotaro Kujo and Josuke Higashikata hunt it down before it can procreate and make a swarm of rat Stand users.
Appearance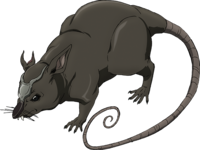 Bug-Eaten is a Brown rat approximately 20 cm (7.9 in)[1] in length. Its features include an abnormally long nose and a damaged right ear, which Jotaro speculates was from a fight.[2] This ear is the source of its nickname and is one of the main characteristics distinguishing it from Not Bug-Eaten.
Both rats also sport a strange, ogival-shaped, protuberance on their foreheads. However, the horns on Bug Eaten's are notably longer than its counterpart's, extending the full length of its head. In the TV anime, this distinction is omitted with the protuberance looking virtually identical for both rats.
Color Schemes
The series is known for alternating colors between media, the information presented below may or may not be canon.
Body
(Brown fur, tan skin, indigo nose, flesh pink protuberance)
Body
(Dark Brown fur, gray skin, black nose, metallic gray protuberance)
Personality
Bug-Eaten is aggressive and cunning, being on the offensive against Jotaro and Josuke. Despite being a rat, acquiring the Stand made it confident enough to take on humans and kill to eat them as a result. It is also intelligent enough to commit basic hunting tricks and use sniping tactics like frequently switching positions or rebound its darts against obstacles to hit from blind angles.
Abilities
Main article: Ratt
Ratt is a rifle like Stand enabling Bug-Eaten to shoot corrosive darts which can melt anything they touch. Even if it's a Stand that touches it, its user's corresponding part will melt.
Ratt
(
ラット
)


History
Background

While Akira Otoishi had Keicho Nijimura's Arrow in his possession, he tested its powers by using it on two rats living in the farmlands surrounding Morioh. The arrow pierced the rats, granting them both the Stand Ratt. Thanks to their power, the pair of rats took dominance among the local rat population, melding their rival rodents together. They also attacked a couple of old farmers, melding their flesh together and stuffing them in the fridge for preservation. They make a nest in a drainage pipe.
Believing that only one rat exists, Jotaro and Josuke go hunting for it for damage control after Jotaro questions the defeated Otoishi.
Diamond is Unbreakable
Josuke and Jotaro separately encounter a rat each inside of the old farmers' house. While Josuke defeats the first rat, the second rat, that Jotaro dubs "Bug-Eaten", shoots Jotaro with Ratt's dart and escape. Jotaro uses Star Platinum to catch the dart but it causes his arm to melt, informing Jotaro as to how Ratt's power works.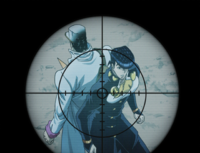 Bug-Eaten crosses the field, while continuous gnawing the plants and relieving itself, which allows Jotaro and Josuke to follow him. The rat passes by the drainage pipe and avoids Jotaro's traps. Taking a trap with it, Bug-Eaten performs a cunning plan. By walking up to the middle of a dale surrounded on both sides by rocky slopes then backtracking, and finally putting a mousetrap inside of a bush, it prepares to bait the duo into an unfavorable position. Soon enough, Jotaro and Josuke walk into the middle of the trap. Josuke inadvertently grabs the mouse traps and it shuts on his hand, allowing Bug-Eaten to shoot a dart. However, Star Platinum stops time and cuts off the infected part.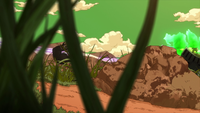 The duo now knows roughly where Bug-Eaten is. Jotaro gives Josuke his rifle bullets and walks up the slope to force Bug-Eaten to shoot. Although he uses Star Platinum to stop time, Bug-Eaten then uses rebounds on a rock to strike Jotaro even if he avoids the first shots. Josuke shoots a first bullet, which catches the attention of Bug-Eaten. The Rat instinctively looks Josuke's way, making itself an easier target. Thus Crazy Diamond is able to shoot a rifle bullet right through Bug-Eaten, killing the rat.
Chapters / Episodes

Manga Appearances
Chapters in order of appearance

Anime Appearances
Episodes in order of appearance
Creation and Development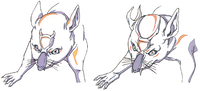 Bug-Eaten and Not Bug-Eaten were written into the story because Hirohiko Araki wanted to draw the suspense of hunting rats.[4]
The two rats' appearances in the anime are almost identical aside from their right ears. However their appearances in chase and I Want You, as well as their respective model sheets more easily distinguish them, akin to how they were drawn in the manga.
Video Games
Main article: JoJo's Pitter-Patter Pop! ★ Bug-Eaten

Bug-Eaten

Poison-Firing Artillery ver.
毒針を発射する砲台 ver.
Rarity:

Max Power: 1080
(Lvl 50)
/ 2280
(Lvl 80)
Release Date: January 1, 2020
Favorite Gift and Voiced Gift Reactions:

Skill:
Ratt

Replaces the panels in the bottom left with Bug-Eaten panels and creates 1 Box panel in the bottom middle




































Skill Lv 1
# of Replaced Panels:
2
Cooldown:
85




































Skill Lv 2
# of Replaced Panels:
6
Cooldown:
85




































Skill Lv 3
# of Replaced Panels:
6
Cooldown:
80




































Skill Lv 4
# of Replaced Panels:
9
Cooldown:
80




































Skill Lv 5
# of Replaced Panels:
9
Cooldown:
75
Gallery
References