Heavy Gauge
Jump to navigation
Jump to search
Heavy Gauge (ヘビーゲイジ, hebīgeiji) is a Japanese

studio and manufacturer of anime-related Garage kit

figures. The company commonly affiliates itself with other manufactures like Ichiban Kuji to have their molds distributed.
Summary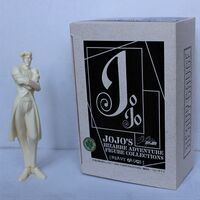 The company was originally founded in 1989 as a workshop for modelers in Osaka

, Japan

. The workshop was eventually moved to Tokyo where it developed into a corporate company and began manufacturing garage kits. The studio also offers courses in the basics of creating figures.
Heavy Gauge is known in particular for being the first company to manufacture and distribute figures for the JoJo's Bizarre Adventure series.[1]

Figures
This section requires expansion.
Series 1
Series 2
Image
Title
Release Date
Size
Prototype Sculptor
Release Price
N'Doul
December 15, 1997
9 cm (3.5 in)
Koji Onishi
¥2,800
Oingo & Boingo
December 1997
13 cm (5.1 in)
Koji Onishi
¥2,800
Kars
December 1997
Approximately 13 cm (5.1 in)
Koji Onishi
¥2,800
Esidisi
December 1997
Approximately 13 cm (5.1 in)
Koji Onishi
¥2,800
Wamuu
December 1997
Approximately 13 cm (5.1 in)
Koji Onishi
¥2,800
Alessi
December 1997
Approximately 12 cm (4.7 in)
Koji Onishi
¥2,500
Mariah
December 1997
Approximately 13 cm (5.1 in)
Koji Onishi
¥2,500
Daniel J. D'Arby
December 1997
Approximately 13 cm (5.1 in)
Koji Onishi
¥2,800
Series 3
Image
Title
Release Date
Size
Prototype Sculptor
Release Price
Giorno Giovanna (Prototype)
Unreleased
Approximately 20 cm (7.9 in)
Koji Onishi
N/A
Bruno Bucciarati (Prototype)
Unreleased
Approximately 20 cm (7.9 in)
Koji Onishi
N/A
Leone Abbacchio (Prototype)
Unreleased
Approximately 20 cm (7.9 in)
Koji Onishi
N/A
Gallery
References