Donovan
Jump to navigation
Jump to search
"
You plan on fighting me, Donovan, Nazi SS Commando, with your bare hands?! I'm slightly offended, but that's beside the point! Let's chalk it up to youthful foolishness!
"
Donovan (ドノヴァン, Donovan) is a tertiary antagonist featured in the second part of the JoJo's Bizarre Adventure series, Battle Tendency.
As an elite member of the Nazis, Donovan is ordered to capture Joseph Joestar in the Mexican desert to retrieve information about Straizo.
Appearance
Donovan is a tall athletic man with a muscular build. He has short dark slicked-back hair, a wide nose, and a long chin. Donovan has facial markings around his eyes, extending up toward the corners of his forehead. There are also several wrinkles around his eyes. In the anime, he has a cleft chin. He wears a sleeveless officer uniform along with arm warmers and gloves.
Color Schemes
The series is known for alternating colors between media, the information presented below may or may not be canon.
Skin
(Tan, red face markings.)
Outfit
(Reddish-pink shroud, army green uniform with golden accessories, black arm warmers and boots, white gloves.)
Skin
(Grayish-tan, reddish-pink face markings.)
Outfit
(Tan shroud, deep red-violet uniform with yellow lining, brown gloves.)
Personality
Donovan is a sadistic and conceited Nazi soldier. He is confident about his abilities and looks down on those younger than him. He specializes in torture, claiming that he would drain Joseph's blood without killing him. After assuming he is victorious, Donovan mocks Joseph, demanding that Joseph says that Donovan was right about their gap in strength.
Although he is prideful about being an elite military man who would never talk under torture, this proves to be a facade, as Joseph quickly makes him talk about the Nazi base just minutes after Joseph inserts a compass into his eye.[1]
Abilities
Donovan is an elite German SS commando and thus has several talents related to trailing people.
Stealth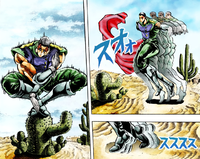 Donovan has remarkable stealth skills. He is able to move lightly enough to avoid leaving footprints in sand and claims that he can sneak up on wild bats. As an elite soldier, he is also agile and flexible. He can balance atop a cactus using the flat edge of a knife and is skilled at battling in mid-air, tending to strike his opponents from above.[1]
Whip-Knife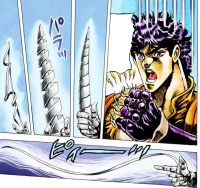 Donovan is equipped with a knife that appears to be wrapped in a special cloth which can unwind and be used much like a whip. He wraps it around Joseph's neck.
Although he uses his knife in the anime, he does not unwrap it to use the whip.

History
Battle Tendency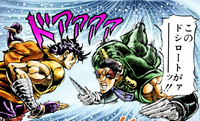 While Joseph travels through the desert in Mexico in his search for information about Speedwagon, he suddenly spots a large cape floating down toward him. Suspecting it to be related to his sense of being followed, he sends it flying and reveals a man with a knife, who immediately attacks. After a short back-and-forth, the man reveals himself to be an SS Nazi officer sent to capture Joseph in order to acquire information on Straizo.
Donovan charges toward Joseph, who throws his cape back at him and then punches it. However, Donovan reveals that Joseph had actually punched a cactus instead, while Donovan was balancing on top of it using his knife. Donovan then unwraps the cloth on his knife and extends it into a whip. He ties the whip around Joseph's neck to pull himself closer before kneeing Joseph in the face. He steps on Joseph and mocks him, but Joseph turns the tables by using the Ripple on a cactus to launch its spines at Donovan. Joseph demands information, but Donovan refuses. Joseph then sticks a magnetic compass in Donovan's eye, and he quickly tells Joseph that Speedwagon is alive.
Donovan tries to make a run for it as Joseph gets ready to leave on his motorbike. However, Joseph easily catches him and ties him to a cactus with a note reading "Hello Adolph!"
Chapters / Episodes

Manga Appearances
Chapters in order of appearance

Anime Appearances
Episodes in order of appearance
Quotes

Quotes
"

You're very intuitive! You've done well to notice me, who can even sneak up on a wild bat,

Joseph Joestar

!

"

"

You plan on fighting me, Donovan, Nazi SS Commando, with your bare hands?! I'm slightly offended, but that's beside the point! Let's chalk it up to youthful foolishness!

"

"

I have no intention of killing you. Just stand still and let me drain your blood... You amateur!!

"

"

You're ten years too young to catch me and talk trash, you booger!

"

"

Say "Oh yes, Mr. Donovan, you're so right!" Or else I'll push your face into the cactus!

"

"

I'm Donovan, the elite military man! Like I'd ever talk!

"

"

M...My eye! The compass... I can't get it out! Take it out! I'll talk! I'll talk!

"
Gallery
Trivia
References