JoJo's Bizarre Words
Jump to navigation
Jump to search
JoJo's Bizarre Words (ジョジョの奇妙な名言集, JoJo no Kimyō na Meigenshū, lit. JoJo's Bizarre Quotes) is a set of books featuring various quotes found in the JoJo's Bizarre Adventure manga.
The set was released as part of the celebration of JoJo's Bizarre Adventure's 25th Anniversary. Volume 1 contains the quotes featured from Parts 1-3, while the second volume has quotes from Parts 4-8.
Summary
The two books contain several colored pages of different manga panels found in different sections of the mangas. These manga panels are chosen based on the dialogue that is said in them.
The last portion of the books features a behind-the-scenes commentary from Hirohiko Araki and others, discussing the origins behind some dialogue and the overall writing process for the series.[1]
Author's Note
"
I write my manga lines with the hope of "conveying" my thoughts. When I first drew a Stand, I found it frustrating because it was hard to convey the concept. But because it was a manga with pictures and dialogues, I was able to convey it in the end. If this had been a movie, animation, or a novel, I think the nuance of the message would have been a little different. I don't try to write good lines from the beginning, because lines are born from the desire to convey something. Therefore, I feel embarrassed when I say to myself, "This is a great line," because I feel like I'm taking advantage of the situation. I think it is the reader's sense of value that determines whether or not a chosen line is a "quote". You can be moved by the lines of JoJo, you can think they are cool, or you can laugh at them. I'll leave that up to you. In celebration of the 25th anniversary of JoJo, it's nice to have my work touched in a different way. So please enjoy the world of JoJo's words and deeds.
"
"
想いを「伝えたい」という願いをこめて、僕はマンガのセリフを書いています。初めて「スタンド」を描いた時はその概念がなかなか伝わらなくて、もどかしく感じました。ても画があって、セリフもあるマンガだから最終的に伝えることができた。これが映画やアニメ、小説だったら、届くニュアンスは少し違った気がします。そういう「伝えたい」という思いからセリフは生まれるものであって、最初からいいセリフを書こうとは考えていません。だから自分から「これが名言だ」と言うのは、図に乗っている感じがして恥ずかしいものです。選んでもらったセリフが「名言」かどうかは、あくまでも読む側の価値観だと思います。『ジョジョ』のセリフに感動してもらってもいいし、カッコいいと思ってくださってもいいし、笑っていただいーも構いません。そこはみなさんにお任せします。『ジョジョ』二五周年の記念として、自分の作品にいつもと違う形で触れてもらうのはありかたいことです。それではどうぞ、『ジョジョ』の言業の世界をお楽しみください。
"
Volumes

April 17, 2012

978-4-08-720636-4
Chapter Titles
Introduction - Hirohiko Araki (

はじめに 荒木飛呂彦

Hajime ni Araki Hirohiko)
Part 1: Phantom Blood (

第1部 ファントムブラッド

Dai 1-bu Fantomu Buraddo)
Column 1: JoJo's Bizarre Onomatopoeia, Part 1 (

コラム ジョジョの奇妙な擬音集1

)
Part 2: Battle Tendency (

第2部 戦闘潮流

Dai 2-bu Sentō Chōryū)
Part 3: Stardust Crusaders (

第3部 スターダストクルセイダース

Dai 3-bu Sutādasuto Kuruseidāsu)
Column 2: JoJo's Bizarre Onomatopoeia, Part 2 (

コラム ジョジョの奇妙な擬音集1

)
The Magnificent Philosphy of JoJo - Shohei Chujo (

『ジョジョ』の壮大な哲学中条省平

"JoJo" no Sōdaina Tetsugaku Chūjō Shōhei)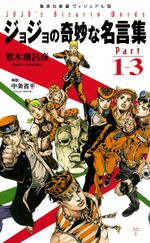 April 17, 2012

978-4-08-720637-1
Chapter Titles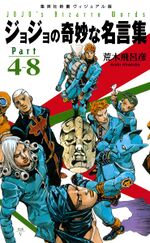 Gallery
References