Hirohiko Araki
Jump to navigation
Jump to search
"
Eu diria que viver com uma perspectiva positiva é o tema de JoJo. É uma celebração da humanidade.
"
Hirohiko Araki (荒木 飛呂彦, Araki Hirohiko, nascido 7 de Julho de 1960 em Sendai, Miyagi[4]) é um mangaká e autor de JoJo's Bizarre Adventure, no qual esse projeto de Wiki é baseado. Ele fez sua primeira aparição no mundo dos mangás sobre o pseudônimo de Toshiyuki Araki (荒木 利之, Araki Toshiyuki) em 1980 com seu one-shot Poker Under Arms, e começou sua carreira profissional com os curtos mangás Cool Shock B.T., Baoh, e Gorgeous Irene.
Seu trabalho em JoJo's Bizarre Adventure é divido em várias partes e continua sendo serializado por mais de 30 anos, com um total de 130 volumes (desde Maio de 2021), circulando mais de 100 cópias (Julho de 2019).[5] Seu estilo foi descrito como "experimental, porém definitivo.[6][7]"
Obras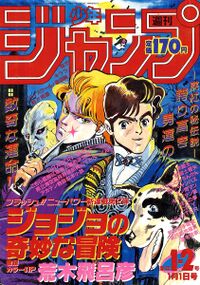 Mangás
Outros
Famicom Jump II: Saikyo no Shichinin (Fevereiro de 1991, design do sétimo chefão monstro)
Kamedas (1993, uma história alternativa de Kochira Katsushika-ku Kameari Kōen-mae Hashutsujo, uma ilustração)
JoJo's Bizarre Adventure (novel) (4 de Novembro de 1993, novel escrita por Mayori Sekijima e Hiroshi Yamaguchi, ilustrada pelo Araki)
JoJo6251 (10 de Dezembro de 1993, arte e guia)
JOJO A-GO!GO! (25 de Fevereiro de 2000, livro de arte)
Music is the Key of Life (13 de Dezembro 2000, álbum por Sugiurumn, ilustração da capa)
GioGio's Bizarre Adventure II: Golden Heart, Golden Ring (28 de Maio de 2001, novel escrita por Gichi Ōtsuka e Tarō Miyashō, supervisionada e ilustrada pelo Araki)
Life Ground Music (27 de Fevereiro 2002, ábul por Sugiurumn, ilustração da capa)
Série Alex Rider (

女王陛下の少年スパイ!アレックス

) (2002-2007, ilustração da capa)
Kochira Katsushika-ku Kameari Kōen-mae Hashutsujo (2006, ilustração especial do 30° aniversário)
Catwalk (26 de Abril de 2006, single pelo grupo SOUL'd OUT, ilustração da capa)
Uniqlo (2006, design de uma camisa)
Fist of the North Star (8 de Janeiro de 2007, ilustração tributo especial para a Weekly Comic Bunch)
Cell (7 de Setembro de 2007, ilustração da capa da frente)
The Book: JoJo's Bizarre Adventure 4th Another Day (26 de Novembro 2007, novel escrita por Otsuichi, supervisionada e ilustrada pelo Araki)
The Dancing Girl of Izu (2008, ilustração d capa)
Breeeeze Girl (24 de Junho 2009, um single por Base Ball Bear, ilustração da capa da edição limitada)
Naruto (2009, ilustração especial do 10° aniversário da obra)
Os Super-Favoritos de Hirohiko Araki! Regras dos Filmes (

荒木飛呂彦の超偏愛! 映画の掟

Araki Hirohiko no Chō Hen'ai! Eiga no Okite, 17 de Maio de 2011)
A Bizarra Análise de Filmes de Terror de Hirohiko Araki (

荒木飛呂彦の奇妙なホラー映画論

Araki Hirohiko no Kimyō na Hora Eiga Ron, 17 de Junho de 2011)
Purple Haze Feedback (16 de Setembro de 2011, novel escrita por Kouhei Kadono, ilustrado pelo Araki)
JoJo's Bizarre Adventure Over Heaven (16 de Dezembro de 2011, novel escrita por Nisio Isin, ilustração da capa)
Lacan for Survival (

生き延びるためのラカン

Ikinobiru Tame no Rakan, 2012, livro de Tamaki Saitō sobre Jacques Lacan, capa da edição de brochura)[8]
JORGE JOESTAR (19 de Setembro de 2012, novel escrita por Ōtarō Maijō, ilustração da capa pelo Araki)
X-Cross (19 de Setembro de 2012, um álbum feito por Sayuri Ishikawa, ilustração da capa)
HIROHIKO ARAKI WORKS 1981-2012 (2012, livro de arte)
JOJOmenon (5 de Outubro de 2012, livro de arte)
JOJOVELLER (19 de Setembro de 2013, coleção de livros de arte)
JoJonium (4 de Dezembro 2013 - 4 de Março 2015, capas dos relançamentos dos formatos largos de JoJo's Bizarre Adventure)
Main Themes (25 de Fevereiro 2015, um álbum por Akira Senju, ilustração da capa)
A Técnica de Mangá de Hirohiko Araki (

荒木飛呂彦の漫画術

Araki Hirohiko no Manga Jutsu, 17 de Abril de 2015)
Vida pessoal
Araki é muitas vezes comentado sobre sua atitude jovial imútavel ao passar dos anos. Ele cita treinos e nados na academia e arroz Hitomebore como métodos para se manter saudável enquanto acima dos 50 anos de idade.[9] Em sua entrevista com o Eureka em 2007, ele é elogiado pelo psciologista e crítico japonês, Tamaki Saito, mas alega que a razão principal para ele ter trocado para uma serialização mensal foi não ser mais capaz de aguentar o cronograma semanal.[10] Araki já revelou que após ele ter tido uma cirurgia de gastroenterite, Araki percebeu que ele não podia mais completamente se dedicar ao seu mangá e buscou aproveitar mais a vida e praticar outras atividades como viajar ou cozinhar.[11]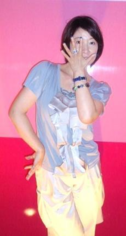 Araki é conhecido por sua posição no assunto de se manter saudável. Ele gosta de caminhar e andar de bicicleta, particularmente à santuários japoneses, e já recomendou tais atividades como seu mecanismo de coping quando exausto de trabalhar. Ele considera exercício um bom jeito de se disciplinar e que carregar muitas coisas pode ser um fardo; Araki tipicamente apenas carrega consigo um casaco, água, e um iPod quando saindo de casa.[12]
Araki perdeu sua casa ancestral em Sendai após o terremoto de Tōhoku. A casa foi destruída pelo tsunami que veio logo após o terremoto, o que chocou Araki.[13]
Família
Casado com Asami Araki (荒木麻美, Araki Asami, apelido Chami), Araki é o pai de duas meninas. Alguns anos após ter começado sua carreira, Araki conheceu Asami em um encontro de amigos, e os dois se casaram depois de três meses.[14]
Biografia
Araki cresceu em Sendai, Japão com seus pais e suas irmãs gêmeas idênticas mais novas. Ele cita o jeito que suas irmãs eram irritantes como a razão pela qual ele passou seu tempo sozinho em seu quarto lendo mangás clássicos dos anos 70, como Ai to Makoto, e a coleção de livros de arte de seu pai, que Araki assume que gerou sua motivação para desenhar mangás.[15] Ele foi particularmente influenciado pelas obras do artista francês Paul Gauguin.[16]
Araki desenhou seus primeiros mangás enquanto ele estava no quarto ano. Ele atendia uma escola preparatória do ensino fundamental II até o ensino médio, que foi onde um amigo elogiou o primeiro mangá que ele desenhou. Desde então, ele começou a desenhar mangás em segredo de seus pais.[15]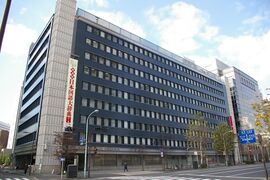 Ele começou a enviar suas obras para publicadoras durante seu primeiro ano na Escola de Ensino Médio Tohoku Gakuin Tsutsujigaoka;[17] entretanto, todos seus envios foram rejeitados.[15] Araki também candidatou suas obras ao Prêmio Tezuka, tendo sido nominado na 14° edição em 1977 por um one-shot chamado "The Bottle" sob o nome Toshi Arakino (荒木之利, Arakino Toshi).[18] Durante o mesmo tempo, outros artistas que tinham sua idade continuaram a fazer grande sucesso com suas estreias (Ex: Yudetamago, Masakazu Katsura). Araki não entendia o porquê dele estar sendo rejeitado, então um dia em 1979, ele decidiu dar uma visita no departamento editorial em Tóquio para receber avaliações sobre sua obra mais recente. Incialmente, ele queria visitar a Shogakukan, que publicava a Weekly Shōnen Sunday, mas foi intimidado pelo tamanho do prédio, e decidiu enviar sua obra para o prédio menor da Shueisha (publicadores da Weekly Shonen Jump que estava por perto. Era meio-dia quando ele visitou o prédio, mas um editor novo chamado Ryosuke Kabashima aconteceu de estar lá. Kabashima, após ler a primeira página, rapidamente gracejou "seu corretivo vazou (você não o arrumou)": ele foi criticado cada vez que o editor virava uma página. Araki, exausto de ter ficado acordado a noite inteira, sentiu como se ele fosse desmaiar, mas no final ele recebeu a ordem de ajeitá-lo para o Prêmio Tezuka.[15][19]
Araki deixou a Universidade Miyagi de Educação antes de se graduar, e fez su estreia em 1980 com o dito one-shot Poker Under Arms. Ele se graduou na Faculdade de Design de Sendai. Sua primeira serialização na Weekly Shonen Jump foi Cool Shock B.T. em 1983,[19] com sua obra Baoh o Visitante (1984) e Gorgeous Irene (1984) logo após. Sua próxima obra se tornaria sua obra-prima, o JoJo's Bizarre Adventure de 1986.
JoJo's Bizarre Adventure
Artigo principal: JoJo's Bizarre Adventure
Publicado na Weekly Shonen Jump entre 1987 e 2004 e de 2004 até o presente na Ultra Jump, JoJo's Bizarre Adventure representa a marca e forma de trabalho principal de Hirohiko Araki.
A obra JoJo's Bizarre Adventure trouxe fama ao Araki quando sua popularidade disparou durante o lançamento de Stardust Crusaders e Araki continuou trabalhando na obra mesmo apóso final da terceira parte, que era o final que ele havia planejado anteriormente.[20]
A sobrecapa de cada volume de JoJo contêm uma nota para o leitor; uma fonte relativamente boa para as opiniões diretas de Araki.
Estilo e Influências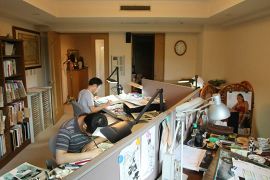 Os desenhos de Araki comumente envolvem figuras idealizadas em poses amplas e expressivas em escalas e ângulos aventurosos; com linhas afiadamente tintadas e separadas, superfícies escurecidas; as dando um efeito escultural. Em ilustrações e páginas coloridas, Araki varia muito as justaposições das cores complementárias.
Em termos de cartunismo, uma comparação pode ser feita entre Phantom Blood, Battle Tendency, e Stardust Crusaders (1987 - '92) e os ideais hiper-masculinos (e grandemente dimorficos) aplicados por Tetsuo Hara em Fist of the North Star, e referenciado por Araki em relação aos heróis de ação dos anos 80.[21] Diamond is Unbreakable ('92 - '96) marca a transição para um modelo mais intersexual; enquanto Steel Ball Run (2004 - '11) recebe mais realismo, junto com ainda mais incorporações dos ideais de beleza consistentes com o modo de design de moda. Quando havia começado JoJolion (2011–presente), Araki expressou um desejo de desenhar em um estilo mais solto e coisas que ele nunca havia desenhado antes. E então, ele diz, que aumentou a quantidade de paineis brancos e incluiu mais elementos brancos em seus desenhos, em contrastea escuridão presente no estilo de suas obras prévias.[22]
Referência à ilustrações de artistas incluindo Antonio Lopez e Tony Viramontes informa o número de ilustrações individuais e poses de personagens nas obras de Araki de 1987 - 1992; decaindo desde então com um aumento no uso de referências fotográficas.[23] Exemplos limitados de roupas emprestadas de design de moda contemporário já foram identificados.
Como um fã de cinema, nos anos 80 Araki notou a popularidade de filmes de ação e os físicos musculosos característicos de suas estrelas (tais como Arnold Schwarzenegger e Sylvester Stallone). Através desse exemplo, Araki viria a se perguntar; "Quem é a pessoa mais forte do mundo?". Tópicos como a imortalidade e justiça viriam a sua mente como coisas que humanos naturalmente valorizam e buscam. Araki também já havia ido à Itália dois anos antes da criação daParte 1: Phantom Blood, onde ele identificou a característica da exaltação da beleza humana em obras renascentistas. A atenção de Araki foi particularmente chamada pela estética da escultura de Apolo e Dafne do escultor italiano Gian Lorenzo Bernini. As figuras e corpos realísticos porém idealizados presos em poses marcantes da escultura barroca inspirou Araki a incorporar poses em sua arte e desenvolver seu próprio estilo.[24] Araki viria a combinar esses exemplos na formulação do estilo visual e enredo básico de Phantom Blood.[21]
Araki já nomeou Paul Gauguin e sua abordagem a teoria de cores como uma influência.[25]
Araki já descreveu seu método de desenho como "clássico".[21] Ele já indicou uma admiração por Leonardo da Vinci no texto do mangá e do contrário: em uma aparição em vídeo no JOJOVELLER, ele é visto fazendo uma referência visual a um livro dos feitos de Michelangelo[26] durante a construção de uma obra. Mangás que Araki já nomeou como admiráveis ou que tiveram uma influência particular nele incluem Ai to Makoto por Ikki Kajiwara e Takumi Nagayasu, o mais significativo de sua juventude;[27] Ore wa Teppei por Tetsuya Chiba, que o inspirou a se juntar ao clube de kendo enquanto no ensino médio;[27] e Babel II por Mitsuteru Yokoyama, particularmente influente pelo conceito de um combate definido por regras ou leis especiais.[21]
Araki já escreveu um livro sobre o assunto de filmes de terror e sua influência em suas obras.
Araki já descreveu seu hábito de nomear personagens e Stands em referências a músicos e suas músicas como "um simples hobby", e indicou uma forte preferência por músicas ocidentais populares.
Listas do Araki
Os Melhores 10 Personagens - Disputa de Popularidade com o Autor (作者人気投票キャラクターベスト10) de Hirohiko Araki de JOJO A-GO!GO! (2000) - Araki Hirohiko, p. 75
"As 20 Ilustrações Favoritas de Hirohiko Araki" de JOJO A-GO!GO! (2000) - Araki Hirohiko, pp. 52–57
Os Top 10 mangás que "fizeram Araki correr até a livraria" (本屋に走ったマンガベスト10) de JOJO A-GO!GO! (2000) - Araki Hirohiko, p. 74
Araki's Most Watched Films - Best 10 (くり返し観た映画ベスト10!) from JOJO A-GO!GO! (2000) - Araki Hirohiko, p. 72
| No. | Film |
| --- | --- |
| 1 | Great Escape |
| 2 | Jaws |
| 3 | Zombie (Dawn of the Dead) |
| 4 | The God Father I,II,III |
| 5 | Dirty Harry |
| 6 | It Happened One Night |
| 7 | Fargo |
| 8 | Back to the Future |
| 9 | Dog Day Afternoon |
| 10 | Misery |
ARAKI'S BEST 20 SUSPENSE FILMS from Hirohiko Araki's Super-Favorites! Rules of Movies (2013)
| No. | Film |
| --- | --- |
| 1 | Heat |
| 2 | The Great Escape |
| 3 | Taken |
| 4 | Mystic River |
| 5 | The Unforgiven |
| 6 | Psycho |
| 7 | Heaven Can Wait |
| 8 | Shrek |
| 9 | Fargo |
| 10 | Dirty Harry |
| 11 | The Bourne Identity |
| 12 | City of God |
| 13 | Duel |
| 14 | Eyes Wide Shut |
| 15 | The Butterfly Effect |
| 16 | Master and Commander: The Far Side of the World |
| 17 | Unfaithful |
| 18 | Frost/Nixon |
| 19 | Pound |
| 20 | Witness |
| 21 | Reservoir Dogs (Runner-Up) |
Araki's top 5 favorite toys from Volume 60 Author's Note
| No. | Toy | Comment |
| --- | --- | --- |
| 1 | Phosphorescent skeleton | (When it shines at night, it feels like I'm in a fairy tale.) |
| 2 | Bouncing ball | (This piece of rubber took me into a science-fiction universe.) |
| 3 | Resident Evil | (PlayStation) (It's so great!) |
| 4 | A Thunderbird II model | (I love the design and I find that the container's conception was very clever! I really had the impression I could go anywhere with this.) |
| 5 | Lego or Mega Bloks | (I spent whole days assembling and disassembling the piece to make new models. I think that Lego is the Western philosophy in its entirety.) |
Hirohiko Araki's Top 10 Movies That Had Him Squirming in His Seat (The ten best movies I wished would stop but I kept watching anyway.) (From the Author's Note in Volume 32)
| No. | Film |
| --- | --- |
| 1 | The Night of the Living Dead |
| 2 | Jaws |
| 3 | Johnny Got His Gun |
| 4 | Mississippi Burning |
| 5 | Platoon |
| 6 | Papillon |
| 7 | Halloween 4 |
| 8 | Lord of the Flies |
| 9 | Silence of the Lambs |
| 10 | Alien |
The "Best 20 Horror movies chosen by Hirohiko Araki" (From Hirohiko Araki's Bizarre Horror Movie Analysis)
| No. | Film |
| --- | --- |
| 1 | Zombie ('78 director's cut) |
| 2 | Jaws |
| 3 | Misery |
| 4 | I Am Legend |
| 5 | Ninth Gate |
| 6 | Alien |
| 7 | Ring (TV version) |
| 8 | The Mist |
| 9 | Final Destination |
| 10 | The Texas Chainsaw Massacre |
| 11 | Dasshutsu |
| 12 | The Blob |
| 13 | 28 Days Later |
| 14 | Basket Case |
| 15 | Sleeping With The Enemy |
| 16 | No Country |
| 17 | The Exorcist |
| 18 | Funny Games ('07 US remake) |
| 19 | Hostel |
| 20 | Kuraimori |
Araki's song choices for the "Back to 80s" Western Music Hits Parade on MTV Japan
| No. | Artist | Song |
| --- | --- | --- |
| 1 | GUNS N' ROSES | Welcome to the jungle |
| 2 | ZZ TOPS | Legs |
| 3 | DIRE STRAITS | Money for nothing |
| 4 | MICHAEL JACKSON | Thriller |
| 5 | UB40 | Red red wine |
| 6 | BRUCE SPRINGSTEEN | Dancing in the dark |
| 7 | U2 | I still haven't found what I'm looking for |
| 8 | DONALD FAGEN | New Frontier |
| 9 | THE STYLE COUNCIL | Shout to the top |
| 10 | SADE | Smooth Operator |
| 11 | PRINCE | When doves cry |
| 12 | DAVID LEE ROTH | California Girls |
The Best 10 Painful Songs (せつない曲ベスト10) from JOJO A-GO!GO! (2000) - Araki Hirohiko
| No. | Artist | Song |
| --- | --- | --- |
| 1 | Chicago | Wishing You Were Here |
| 2 | Eagles | Hotel California |
| 3 | Vladimir Ashkenazy | Mozart's Piano Concerto No. 20 |
| 4 | Carpenters | Superstar |
| 5 | Miles Davis | Blue in Green |
| 6 | Nino Rota | Plein soleil |
| 7 | The Beatles | And I Love Her |
| 8 | Shawn Colvin | Wichita Skyline |
| 9 | Eric Clapton ft. Babyface | Change the World |
| 10 | The Stylistics | Only you |
Araki's Top 10 "Albums that make me cry"
"
These are my top 10 from the 70s, in no particular order. You might love them or hate them but I guarantee if you listen to them you'll cry.
"
| Artist | Album |
| --- | --- |
| Led Zeppelin | Physical Graffiti |
| Chicago | Chicago VII |
| Various | Saturday Night Fever |
| Curtis Mayfield | Superfly |
| Marvin Gaye | What's going on |
| Jackson Brownie | Late for the sky |
| Pink Floyd | Dark Side of the Moon |
| Sex Pistols | Never mind the Bollocks |
| George Benson | Breezin |
| Carpenters | Now & Then |
Hirohiko Araki's All-time Best 10 Clint Eastwood Films (荒木飛呂彦が選ぶイーストウッド作品オールタイムベスト 10) from JOJOmenon. They are not in any specific order.
Films
The Good, the Bad and the Ugly
Play Misty for Me
Dirty Harry
Escape from Alcatraz
Firefox
Unforgiven
Mystic River
Changeling
Gran Torino
J. Edgar
Araki's Top 10 Heroes (ヒーロー) from JOJO A-GO!GO! (2000) - Araki Hirohiko
Described as Araki's inspirations; those with the courage to innovate when it came to design or fashion. They are not in any specific order.
Heroes
Leonardo da Vinci
Velázquez
Christian Dior
Giotto
Paul Gauguin
Auguste Rodin
Antonio Lopez
Gianni Versace
Bob Peak
Pablo Picasso
Galeria
Curiosidades
O livro favorito de Araki quando criança era As Aventuras de Sherlock Holmes.[3]
Em outubro de 2011, Araki foi considerado uma das 100 mais influentes do Japão pela revista de negócios "Nikkei Business", na categoria "criador".[28]
Em 2012, Araki celebrou seu 30° ano como um artista de mangá e o 25° aniversário de JoJo's Bizarre Adventure. Uma exibição especial foi realizada em Sendai, Japão, que incluiu o anúncio do anime e do jogo All Star Battle.
Em 30 de Novembro de 2016, Araki ganhou o 45° Prêmio Anual de Melhor Guarda-Roupas em Tóquio na categoria "Artes Acadêmicas e Culturais". Quando perguntado sobre sua aparência jovial, Araki disse que ele limpa seu rosto toda manhã com a água de torneira de Tóquio.[29]
Araki foi dado um prêmio de arte em 2018 pela Agência de Assuntos Culturais por sua exibição Ripples of Adventure.[30]
Referências