JOJO A-GO!GO!
Jump to navigation
Jump to search
JOJO A-GO!GO!
(

ジョジョ ア ゴー ゴー

,

Jojo A Gō Gō

)
é um livro de arte escrito e ilustrado por
Hirohiko Araki
e
Lucky Land Communications
.
Um memorial a publicação completa de Vento Aureo, o artbook apresenta ilustrações da série de JoJo's Bizarre Adventure, particularmente de Stardust Crusaders, Diamond is Unbreakable e Vento Aureo.
Sumário
A caixa apresenta um roda que pode ser girada para mudar as faces da imagem retratada na frente. Incluído no pacote está o artbook, tal como uma enciclopédia de Stands e um livro detalhado sobre o autor.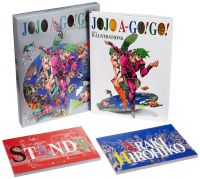 DISC.1 Ilustrações
O livro contém ilustrações coloridas das capas de capítulos e volumes do mangá apresentados em Stardust Crusaders, Diamond is Unbreakable e Vento Aureo. Outras ilustrações feitas por Araki, promovidas em outras mídias como vídeo games, tributos ou mercadoria, também estão incluídas.
A porção da frente do livro apresenta uma festa de dança ilustrada, retratando vários personagens e Stands dançando entre si. A parte de trás do livro tem uma linha do tempo listando todas as artes, onde eles foram apresentados originalmente, e a data em que foram criados, tal como uma única ilustração de Jolyne Cujoh de Stone Ocean.
DISC.2 Stands
Ilustrações e dados de Stands até Vento Aureo. Cada Stand recebe estatísticas, uma explicação de habilidades e papel na história, e uma curta descrição do usuário. O livro também inclui rankings de Stands separados em categorias como: Stands que mais aparecem, Stands que infligiram o maior dano ou Stands que mataram mais pessoas. Os favoritos pessoais de Araki também estão incluídos, julgados por função e design. A parte de trás do livro contém uma parte chamada "Standology" (lit. Standologia), que explica Stands com mais detalhe.
Disc.3 Araki Hirohiko
Contém informação sobre as inspirações e influências de Hirohiko Araki, tal como suas experiências ao redor do mundo. O conteúdo do livro inclui uma tese escrita por Araki na Itália, várias listas incluindo os personagens e ilustrações favoritos de Araki, e uma crônica listando os trabalhos de Araki de 1960 a 1999.
Galeria
Curiosidades
O bordão "Let's Dance!", presente no começo do artbook, é uma possível referência ao nome do ensaio de moda:[2] Let's Rock! , de onde a maioria das poses de dança dos personagens foram tiradas.
Links externos
Referencias