Atum
Jump to navigation
Jump to search
"
Meu Stand pode ver as almas das pessoas. Não importa quem elas são, suas almas não mentem.
"
Atum (アトゥム神, Atumu-shin) é o Stand de Telence T. D'Arby, apresentado na terceira parte da série de JoJo's Bizarre Adventure, Stardust Crusaders.
Ele é um Stand humanoide com algumas características mecânicas, dotado com duas habilidades: roubar as almas de pessoas que perderam em um jogo contra D'Arby, e observar a alma da pessoa para parcialmente deduzir suas intenções.
Aparência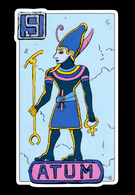 Atum lembra um robô humanoide com o porte atlético de Telence e, de um jeito parecido com The World e Cream, é decorado com um tema de corações. No seu rosto estão as iniciais de Telence, junto com o que parece um aparelho de respiração. O aparato tem dois bocais que constantemente liberam fumaça.
Esse Stand representa o deus Egípcio Atum.
Paletas de Cores
A obra é conhecida por sua mudança de cores entre as mídias, a informação apresentada abaixo pode ou não ser cânon.
Body
(Baby Blue and light pink)
Features
(Dark indigo joints, steel blue tubes, hot pink hearts)
Features
(Pink joints, gold tubes, gray hearts)
Features
(Dark Purple joints, dark gray tubes, pink hearts)
Habilidades
Atum é, tal como Osiris, um Stand ameaçador de se enfrentar graças a sua habilidade de roubar armas e ler mentes. Contudo, ele é retido pela dependência de Telence em seu poder: Assim, seu usuário foi facilmente derrotado por Joseph e Jotaro
Roubo de Almas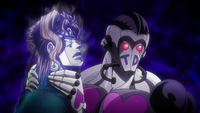 Muito parecido com o Stand de seu irmão, Osiris, a habilidade primária de Atum permite que Telence roube almas de alguém que reconheceu derrota[1] em um jogo, que Telence normalmente usa em vídeo-games.
Como Osiris, as vítimas devem apostar suas almas primeiro, mas Atum é sutil o suficiente para parcialmente pegar a alma de alguém surpreendido. Um vez, ele foi capaz de pegar a alma de Jotaro sem poder roubá-la quando Telence adivinhou um soco corretamente.[1] Na teoria, Atum está livre para atacar a parte do corpo associada, mas nunca foi mostrado executando isso.[1]
Almas roubadas são colocadas dentro de bonecos especialmente fabricados por Telence, e ele tembém está livre para apostar e liberar as almas sob seu comando.[2]
Leitura Binária de Almas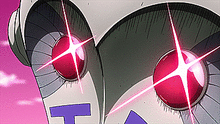 A habilidade secundária de Atum permite que ele leia almas.[3]
Para executá-la, ele psíquicamente pergunta a alguém próximo uma pergunta de sim ou não, cuja a alma é obrigada a responder, sem que a pessoa que está sendo lida saiba, permitindo que Telence adivinhe as intenções de alguém.[4]
Atum visualiza a pessoa como se estivesse vendo-a através de um detector infravermelho enquanto lê as almas, e se a pessoa mente, a cor de sua aura muda, permitindo que ele possa saber que eles estão mentindo.[4] Quando Atum detecta um "Sim", a alma da pessoa se incendeia; quando detecta um "Não", a alma da pessoa aponta verticalmente.[5][6] Telence também pode examinar várias pessoas de uma vez só,[2] mas ele pode esquecer sobre elas.
Capítulos / Episódios

Aparições no Mangá
Capítulos em ordem de aparição

Aparições no Anime
Episódios em ordem de aparição
Galeria
Referências