Lucky Land Communications
Jump to navigation
Jump to search
Lucky Land Communications (ラッキーランドコミュニケーションズ, Rakkī Rando Komyunikēshonzu) se refere ao estúdio e companhia pessoal de Hirohiko Araki no qual ele e seus assistentes trabalham em JoJo's Bizarre Adventure. Baseada em Tóquio, Japão, o estúdio é normalmente listado como o titular dos direitos autorais de qualquer obra, mídia e merchandise relacionado a obra.
Sumário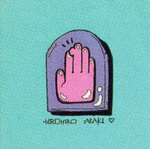 Como criadores do material original, Hirohiko Araki & LUCKY LAND COMMUNICATIONS possuem os direitos autorais da obra e vão muitas vezes negociar com outras companhias, como a Shueisha para publicamente distribuir o mangá e produzi-lo em massa, assim como vários outros tipos de merchandise. Outras companhias e organizações vão muitas vezes colaborar com a Shueisha ou diretamente com a equipe de Araki para produzir uma grande variedade de bens indo de linhas de roupa, video games, e materiais impressos, incluindo suas versões localizadas em outros países.
Estúdio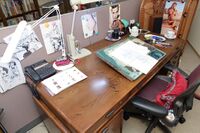 O estúdio de mangá de Araki está localizado no andar superior de um luxuoso complexo de apartamentos de cinco andares em Tóquio, que foi construído pela primeira vez em 1990. Araki mudou-se para o estúdio em algum momento durante Steel Ball Run, com sua primeira aparição em uma entrevista de agosto de 2007 intitulada "I Quer receber as melhores lições bizarras de JoJo do mundo" com Shoko Nakagawa.
Ao entrar no apartamento, há um pequeno corredor que leva diretamente ao espaço de trabalho principal, à área da cozinha e ao corredor. No lado direito do corredor estão os prêmios e troféus de mangá que Araki ganhou ao longo das décadas por sua série, bem como itens que foram trazidos de suas viagens a bordo. Do corredor ao espaço de trabalho principal, há uma ampla e espaçosa área de estar que leva a uma varanda. No centro da sala estão quatro grandes mesas de desenho para Araki e seus assistentes, para que possam trabalhar juntos em estreita proximidade.
Nos cantos da área de trabalho estão várias prateleiras e gavetas cheias de todas as ferramentas e equipamentos essenciais que Araki precisa para desenhar, incluindo canetas-tinteiro, lápis, tintas, papel manuscrito em branco e uma grande coleção de telas. No lado direito da área de trabalho há uma grande estante cheia de enciclopédias, livros de arte, modelos de carros e catálogos de moda que são usados como referência ao desenhar. Araki também mantém várias séries de mangá de outros autores em sua estante de referência, incluindo Monster, Vagabond, Gunnm, Fist of the North Star, Fullmetal Alchemist, KochiKame, Dragon Ball, I Am a Hero, AKIRA, Hitomi no Catoblepas e Yushun no Mon.[2]
Separada da área de trabalho principal, há uma sala adicional usada principalmente por dois assistentes de Araki, que inclui computadores pessoais, tablets de desenho e uma copiadora de fotos.
Estúdio
Fundador
Editores
Antigos/Atuais Editores

GENI A LÒIDE

GENI A LÒIDE
Assistentes
Galeria
Veja também
Curiosidades
O nome "Lucky Land Communications" e seu emblema possuem muitas aparições aleatórias na obra em forma de easter eggs.
Referências