MTV BACK TO 80's (March 2017)
Jump to navigation
Jump to search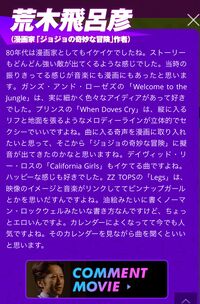 Commentary from Hirohiko Araki on his choices for the 80's Western Music Hits Parade on MTV Japan. It aired on March 18, 2017.[1]
Interview
GUNS N' ROSES --- Welcome to the jungle
ZZ TOPS --- Legs
DIRE STRAITS --- Money for nothing
MICHAEL JACKSON --- Thriller
UB40 --- Red red wine
BRUCE SPRINGSTEEN --- Dancing in the dark
U2 --- I still haven't found what I'm looking for
DONALD FAGEN --- New Frontier
THE STYLE COUNCIL --- Shout to the top
SADE --- Smooth Operator
PRINCE ---When doves cry
DAVID LEE ROTH ---California Girls
The 80s were an exciting period for a manga artist too. The stories that were coming out were gradually becoming stronger and deeper. This feeling that was floating around at that time could be perceived in both manga and music I think. From "Welcome to the Jungle" by Guns N' Roses, I really liked that while it's an overly long song it contains a lot of different ideas.
How the riff vertically enters the song "When Doves Cry" by Prince and how the melody feels like rain sticking to the ground gives me a really nice effect of 'solid' and sexy. I think the sound effects in 'JoJo's Bizarre Adventure' came from my desire to incorporate the strange voice that comes out from this song in a manga. For David Lee Roth's "California Girls," I adored the excitement and happy feeling it gave me. If you link the music and images it reflects, ZZ TOPS' "Legs" reminded me of something like the Pinup Girl style.
I consider these songs similar to an oil painting; I especially consider the way Norman Rockwell used to draw them to be quite erotic. His art used to appear in calendars, but it's popular now too. I think it would be nice to listen to these songs while watching those calendars.
---
[Translated by macchalion][2]
References