The JOJOLands
Jump to navigation
Jump to search
"
Esta é a história de um
garoto
que um dia ficará podre de rico em ilhas subtropicais. Não pareço humilde? Pois é... Mas eu
vou
conseguir! (
あねったい「これは亜熱帯のしまじましょうねん島々でひとりの少年が大富豪になっていくものがたり「物語」だいふごうまだんきょ謙虚さが足りないだろうか...?...いや......かならオレが必ず手にするね
A nettai `kore wa anettai no shimajimashou nen shimajima de hitori no shōnen ga daifūgō ni natte iku monogatari `monogatari'da ifu go umada nki ~yo kenkyo-sa ga tarinaidarou ka...?...Iya...... Kanara ore ga kanarazu te ni suru ne
)
"
The JOJOLands (ザ・ジョジョランズ, Za JoJoranzu) é a nona parte da série JoJo's Bizarre Adventure. Foi anunciada na edição de setembro da Ultra Jump, em 19 de agosto de 2021. Sua seriação começou no dia 17 de fevereiro de 2023, na edição de março da revista.[1]
The JOJOLands é a terceira parte do segundo universo da série, tornando-a continuidade direta de Steel Ball Run e JoJolion.
Sumário
A história se passa no Havaí, Estados Unidos. O próprio Jodio Joestar faz a introdução contando que se tornará rico naquelas ilhas. Na mesma página, podemos vê-lo em um barco na direção de um vulcão em erupção.
Tudo começa em uma estrada em Oahu. Dois policiais param uma picape a fim de interrogar o motorista. O carona e o motorista são dois jovens aparentemente normais: uma bela mulher e um garoto, Jodio. Um dos policiais ordena que a mulher saia do carro, supostamente para revistá-la, e a molesta. Para a surpresa dele, durante a revista, ele descobre que a mulher na verdade é um homem, mas isso o deixa ainda mais interessado. Enfurecido, porém não aparente, o jovem sai do carro de repente para defender seu "irmão mais velho". Nas cenas seguintes, os irmãos usam seus stands para acabar com os policiais e queimam a viatura para se livrar das evidências. Após isso, ambos seguem viagem até um local e finalizam uma venda de drogas para uma quadrilha.
O rapaz, Jodio, apresenta a si mesmo e sua família, incluindo seu irmão, Dragona Joestar, que se parece com uma mulher e age igualmente. Ele também comenta sobre seus laços sanguíneos com a família Joestar e seus ideais sobre a vida. Jodio fala sobre a escola e o vemos no ônibus. Ao descer, ele disfarça uma venda de drogas para um de seus veteranos. Jodio, então, continua sua narração sobre seu sonho de enriquecer e exemplifica um conceito de "mecanismos", algo que ele leva para a vida. No mesmo dia, Jodio, Dragona e o parceiro deles, Paco Laburantes, encontram-se com Meryl Mei Qi, a chefe do grupo. Meryl informa a eles que um rico turista japonês chegou sozinho ao Havaí em posse de um diamante valiosíssimo e os manda para uma missão de arrombamento: roubar esse diamante. Para a surpresa dos três, Meryl acrescenta ao grupo o veterano de Jodio, a quem ele e Paco haviam vendido drogas mais cedo.[2]
Personagens e Stands
Personagens de The JOJOLands
Lutas
Galeria
Curiosidades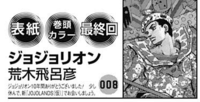 No primeiro anúncio, a parte nove chegou a ser chamada de "JOJOLANDS" (

ジョジョランズ

JoJoranzu), porém isso foi alterado quando ela foi apresentada na Ultra Jump e na JOJO magazine em 19 de dezembro de 2022.[3][4]
O Araki mencionou anteriormente em uma entrevista no início de Steel Ball Run que ele já havia planejado os alicerces até a Parte 9.[5] Quando perguntado sobre quais países ele teria interesse em retratar no futuro, Araki citou a Europa Setentrional e as Terras Altas da Escócia.[6] Ele também comentou que queria retratar novamente Morioh, dessa vez na Parte 9.[7]
Veja também
Referências