Sticky Fingers
Jump to navigation
Jump to search
"
A única coisa com qual
você
deveria se preocupar... é com o que irá acontecer quando você for rasgado e deixado no chão pelos meus zíperes.
"
Sticky Fingers (スティッキィ・フィンガーズ, Sutikkyi Fingāzu) é o Stand de Bruno Bucciarati, apresentado na quinta parte da série de JoJo's Bizarre Adventure, Vento Aureo. Sticky Fingers é um Stand Humanóide de Curto Alcance que pode criar zípers em qualquer superfície.
Aparência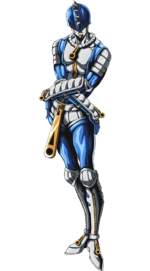 Sticky Fingers é um Stand humanóide com uma altura e modelo similar à de Bucciarati. Seu rosto é, a não ser pela boca, escondido por uma cobertura parecida por um capacete adornado por uma linha de espinhos similar a um moicano. Seu corpo é coberto em uma roupa escura, com o peito e estômago expostos, e com pedaços de armadura acolchoada sobre os ombros, braços e pulsos, joelhos e pés.
Zíperes de tamanhos variados estão pendurados da base de seu pescoço e abdômen, as costas de suas mãos, e o topo de seus pés.
Esquemas de Cores
A obra é conhecida por sua mudança de cores entre as mídias, a informação apresentada abaixo pode ou não ser cânon.
Corpo
(Branco e azul-escuro)
Corpo
(Branco com tintura azul e azul)
Corpo
(Cinza-claro e azul)
Acessórios
(Zíperes dourados e espinhos dourado-claros)
Personality
Sticky Fingers é um dos Stands usados em conjunção com seu Grito de Batalha. A marca registrada de Bucciarati começa por ligar "ARI, ARI, ARI, ARI" junto de seus rápidos socos; seguido por "Arrivederci!" ("Adeus" em italiano) em seu último ataque.
Habilidades
Sticky Fingers é um Stand de curto alcance cujo força e velocidade excelentes fazem dele adequado para combate direto. Em adição à isso, ele possui uma habilidade muito versátil na forma de seus zíperes.
Zíperes
A habilidade primária de Sticky Fingers é a de criar zíperes em qualquer superfície que toca com seus punhos, que ele pode remotamente abrir ou fechar quando quiser. Por exemplo, Sticky Fingers pode bater em uma parede, abrir o zíper para criar uma abertura e passar por ela, e então fechar o zíper:[3] A idéia de um stand baseado em zíperes vem da capa do álbum Sticky Fingers.[4]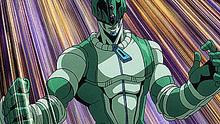 Bucciarati ainda pode criar zíperes que cortam atravessam objetos por inteiro, permitindo que ele os desmonte. Com essa habilidade, ele pode separar inimigos em múltiplas peças[5] e até mesmo realizar um ataque cortante por meio de destacar alguma coisa e então cancelar o zíper. Bucciarati tem controle controle sobre se seccionamento por seus zíperes causa dano de verdade ou não. Exemplos que não causam dano incluem quando Bucciarati separou sua cabeça em duas metades para desviar de um ataquea,[6] e quando ele destacou a cabeça de Mario Zucchero, mas Mario ainda sobreviveu.[7] Exemplos que causam dano incluem quando Bucciarati dividiu seu coração no meio para parar seu batimento,[8] e quando ele seccionou Pesci em múltiplas peças, o que foi instantaneamente fatal.[5]  
Inversalmente, Bucciarati está livre para anexar deiversas coisas com seus zíperes. Isso perimitiu que ele bloqueasse o braço de King Crimson quando ele impalou seu peito.[9] ou até grudar outro braço à seu corpo.[10] Isso também perimitiu que Abbachio curasse sua mão cortada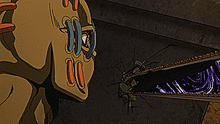 Já que os zíperes são abertos e fechados remotamente, Bucciarati pode tomar vantagem do ato de fechar por si mesmo. Ele pode criar zíperes longos sobre superfícies e controlar o abrir e fechar deles para rapidamente se reposicionar se ele segura a alça do zíper, por exemplo, para se mover para baixo de um poço de elevação usando o zíper para desacelerar sua descida.[11] Ainda por cima, quase cortando um objeto em dois e depois rapidamente fechando o zíper de uma distância cria uma pinça improvisada.[12]
Se Bucciarati abre um zíperes dentro de um objeto volumoso, ele, na verdade, não mostra o interior do objeto, mas sim um espaço escuro no qual Bucciarati pode pôr objetos como itens preciosos para guardá-los com segurança[13] ou entrar ele mesmo para se esconder.[3]
Capítulos / Episódios

Aparições no Mangá
Capítulos em ordem de aparição

Aparições no Anime
Episódios em ordem de aparição
Galeria
Iggy, Killer Queen, The Fool, Hierophant Green, Kira, Harvest, Weather Report, Weather, D4C, & Sticky Fingers - Ripples of Adventure
Curiosidades
Sua habilidade é inspirada pela capa do álbum Sticky Fingers, que continha um zíper funcionar na versão de disco.[1][4]
O site do anime soletra o nome do Stand como Sutikkī Fingāzu (スティッキー・フィンガーズ).[14]
Os parâmetros do Sticky Fingers recebem um leve bônus em JOJOVELLER, com seu alcance de E sendo atualizado para um C. Essa mudança também é refletida no anime.
Veja também
Referências
↑ JOJOVELLER: STANDS, p.144
↑ 3.0 3.1 Chapter 446: Bucciarati Is Coming, Part 4
↑ 5.0 5.1 Chapter 499: The Grateful Dead, Part 12
↑ Chapter 493: The Grateful Dead, Part 6
↑ Chapter 461: Moody Blues Strikes Back, Part 2
↑ Chapter 497: The Grateful Dead, Part 10
↑ Chapter 520: The Mystery of King Crimson, Part 3
↑ Chapter 447: Bucciarati Is Coming, Part 5
↑ Chapter 518: The Mystery of King Crimson, Part 1
↑ Chapter 563: "Green Day" and "Oasis", Part 10
↑ Chapter 468: The Hidden Six-Hundred Million Yen Stash