Killer Queen
Jump to navigation
Jump to search
"
O Killer Queen pode
te
apagar a qualquer minuto. Veja, o Killer Queen pode transformar tudo que ele toca em uma
bomba
.
"
Killer Queen (キラークイーン, Kirā Kuīn) é o Stand de Yoshikage Kira, aparecendo na quarta parte de JoJo's Bizarre Adventure, Diamond is Unbreakable.
Killer Queen é um Stand humanoide musculoso com características de gato. Suas habilidades todas giram em torno de bombas, cujas explosões são capazes de desintegrar pessoas.
Aparência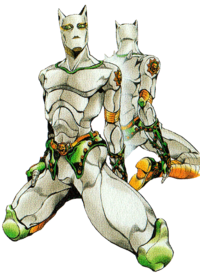 Killer Queen é um Stand humanoide visivelmente musculoso com cerca da mesma altura de Kira, tendo sobre tudo uma cor clara. Ele é retratado como rosa-claro na maioria das mídias.
O topo de sua cabeça é reta, com dois formatos afiados e triangulares que lembram olhares de gato nos dois lados de sua cabeça. Seus olhos são compostos de pupilas verticais semelhantes às de gatos na frente de sua esclera geralmente de colorida com cores claras. Ele não tem nariz, e sua boca com labios finos se encontra sempre fechada. Ele veste luvas escuras e cravejadas, aparentemente de couro, cujo estilo é imitado por sua cinta em sua cintura e seus sapatos de altura até os tornozelos. Seus dedões possuem listras. Qutro curtos espinhos saem do topo de suas costas. Seus ombros, atrás de suas mãos, cinto, e uma placa em frente de sua virilha, ambos lados de seus tornozelos e o topo de seus pés todos possuem o emblema de uma caveira com orelhas lembrando as suas próprias, de tamanhos que variam e decoração externa.[2] No anime, depois de receber a terceira bomba, os olhos do Killer Queen adotam um brilho profundo.
Mais tarde, o espaço atrás de seu estômago é revelado ser vazio e capaz de guardar objetos.[3]
Esquemas de Cores
A obra é conhecida por sua mudança de cores entre as mídias, a informação apresentada abaixo pode ou não ser cânon.
Olhos
(Esclera branca e pupilas rosas)
Roupas
(Luvas, sapatos e cinto azul-marinho, espinhos cinzas e placas laranjas)
Olhos
(Esclera banca e pupilas castanho-claras)
Roupas
(Luvas, sapatos e cinto roxo-escuro, espinhos e placas douradas)
Olhos
(Rosa-fracos com pupilas brancas)
Roupas
(Luvas, sapatos e cinto roxo-escuros, espinhos prateados e placas douradas)
Personalidade
Killer Queen é incomum entre Stands humanoides com rostos completos no fato de que suas expressões faciais nunca refletem as de seu usuário, e é em vez disso quase permanentemente preso em uma posição neutra com olhos arregalados. Exceções desse comportamento do contrário estóico incluem um olhar zangado para Jotaro quando Kira percebeu ele havia sobrevivido a explosão do Sheer Heart Attack,[4] e congelando em horror, com sua boca aberta, quando ele é despedaçado pelas mãos do Beco da Garota Fantasma.[5] Kira é capaz de falar através do Killer Queen, o que ele faz com Rohan Kishibe enquanto usando o Bites the Dust.[6]
Habilidades
Killer Queen é um Stand humanoide de curto-alcance de velocidade e poder médio a acima da média.[7] Embora ele seja inegavelmente fisicamente poderoso, ele é ofuscado por outros Stands de curto-alcance como o Crazy Diamond ou o Star Platinum, e então Kira depende mais de evitar seus inimigos ou usar os poderes de Killer Queen para prevalecer.
Os poderes do Killer Queen giram em torno de criar diferentes tipos de bombas que podem aniquilar os inimigos de Kira em uma só explosão, o tornando um Stand muito perigoso de se encarar. Suas bomas não só são poderosas, como Kira também é capaz de usar duas inicialmente, e eventualmente três tipos de bombas com forças diferentes, dando ao assassino-em-série um grande arsenal de opções quando lidando com seus oponentes.
Transmutação de Bomba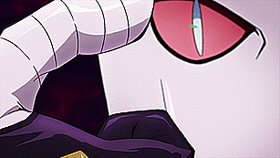 Killer Queen pode pôr uma bomba em qualquer objeto, animado ou não, ao simplesmente tocá-lo.
Assim que um alvo tocou em um objeto, Killer Queen pode detonar o alvo ao apertar seu dedão direito na falange do meio do dedo indicador, como se engatilhando um detonador portátil; a bomba imediatamente viaja pelo corpo do alvo antes de explodir.[8] Adicionalmente, o Killer Queen pode explodir o próprio alvo com a bomba, demonstrado com as balas de ar do Stray Cat durante a batalha final com Josuke Higashikata;[9] entretanto, se outra pessoa toca no alvo com a bomba antes de Kira detoná-lo, ele será automaticamente explodidos no lugar, consumindo a bomba.[10] Isso também pode ser feito através de contato direto com o Killer Queen ou o próprio Kira, pulando o processo de implantação da bomba.[11]
Combinando com o desejo de Kira de manter sua vida de assassinatos um segredo, qualquer um detonado pelo Killer Queen é completamente incinerado junto de seu corpo, suas roupas e quaisquer outros pertences que eles estejam carregando consigo sendo completamente vaporizados a um nível atômico, não deixando nem um traço;[12][13] entretanto, é possível para a vítima sobreviver uma explosão se ela vem de um objeto próximo em vez de seu corpo, embora isso seja um acontecimento raro.[14] Uma vez, Kira é visto sendo capaz de vaporizar uma mão lentamente em vez de explodi-la imediatamente.[15] Kira também pode controlar o tamanho e força das explosões do Killer Queen[16][17][18] assim como que partes do corpo da vítima são vaporizados, normalmente resultando em Kira destruindo o corpo de sua vítima exceto por sua mão direita.[19] Os efeitos das explosões de Kira em sua circunvizinhaça variam; eles geralmente não causam dano a paredes e pisos próximos,[12] mas durante a batalha de Kira com Josuke, ele podia potencialmente afetar objetos próximos e o próprio Kira, embora isso possa ser devido ao próprio poder de Stand do Stray Cat sendo combinado com o de Kira.[20]
Há várias limitações para essa habilidade. Primeiro, se Kira ou o Killer Queen não conseguem apertar seu dedão contra a falange do meio de seu dedo indicador para ativar a detonação da bomba, o alvo não pode ser explodido.[21] Em adição, já que esse poder é similar a bombas incendiárias; ele também não pode induzir explosões se não há ar, como demonstrado pelo Stray Cat quando ele desativa uma bomba ao criar um vácuo em volta dela.[22] Finalmente, o Killer Queen só pode pôr uma bomba em um objeto de cada vez.[23]
É desconhecido se não-usuários de Stand podem ver ou sentir as explosões, mas eles podem ver a vítima de uma explosão morrer.[11] Adicionalmente, a explosão não parece gerar muito som a qualquer um que não seja a vítima, como Josuke e Okuyasu ouviram Shigechi gritar por Josuke fora de sua classe, mas nenhum deles perceberam a explosão. Adicionalmente, haviam pelo menos dois outros estudantes no mesmo corredor que Shigechi quando ele foi morto, mas nenhum deles pareciam estar ciente do fim de Shigechi já que suas costas estavam viradas para ele quando ele foi morto e toda a evidência da explosão se dissipou em menos de um segundo.[12]
Transmutação em Bomba de Ar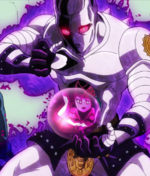 Durante a batalha final, Kira põem Stray Cat (ストレイ・キャット, Sutorei Kyatto) no abdômen vazio de Killer Queen.[3] Usando a bomba primária do Killer Queen nas bombas de ar condensado do Stray Cat, Kira é capaz de criar bombas de ar (空気弾, Kūki-dan) quase invisíveis para uso em combate.[24] Essas bombas podem ser detonadas automaticamente através de contato[25] ou manualmente através do gatilho do Killer Queen.[26] Elas também não podem ser desinfladas, já que a habilidade do Killer Queen as estabiliza.[27] Apesar de ser incapaz de ver as bombas de ar, Kira é habilidoso em determinar seu trajeto usando habilidades matemáticas básicas;[28] adicionalmente, Yoshihiro Kira pode verbalmente ajudá-lo em dirigir sua mira ao voar pelo campo de batalha em sua forma fotográfica.[29]
Capítulos / Episódios

Aparições no Mangá
Capítulos em ordem de aparição

Aparições no Anime
Episódios em ordem de aparição
Galeria
Iggy, Killer Queen, The Fool, Hierophant Green, Kira, Harvest, Weather Report, Weather, D4C, & Sticky Fingers - Ripples of Adventure
Curiosidades
As habilidades desse Stand parecem ser inspiradas pela música Killer Queen – "She's a killer queen / Gunpowder, gelatine / Dynamite with a laser beam / Guaranteed to blow your mind / Anytime" ("Ela é uma rainha assassina / pólvora, gelatina / Dinamite com um raio laser / Garantido explodir sua mente / Qualquer hora"). Adicionalmente, sua aparência e eventual uso do Stray Cat podem ser outra referência lírica, especificamente – "Playful as a pussy cat" ("Brincalhona como uma gata").
Araki inclue o design inteiro do Killer Queen como uma de suas coisas favoritas de se desenhar.[30]

Dos Stands até a Parte 5, ele considera o Killer Queen o seu 2° favorito em termos de design, abaixo do Gold Experience e acima do Echoes. O Stand foi feito para incorporar tanto a escuridão que cerca Kira e a estranheza que um gato possui.[31]
No festival Lucca Comics 2019, Araki disse que o Killer Queen era seu Stand favorito em termos de design.

Seu grito de Stand "SHIBOBOBO!" pode ser traduzido como "morte".
Referências
↑ Harvest - Vol.17 "Shueisha Jump Remix Stardust Crusaders Edition" P190 The origin of STANDS! Part.6
↑ Chapter 345: Yoshikage Kira Just Wants to Live Quietly, Part 4, p.10
↑ 3.0 3.1 Chapter 427: Another One Bites the Dust, Part 10, p.19
↑ Diamond is Unbreakable Episode 24: Sheer Heart Attack, Part 2
↑ Chapter 420: Another One Bites the Dust, Part 3, p. 13
↑ Chapter 345: Yoshikage Kira Just Wants to Live Quietly, Part 4, p. 16
↑ Chapter 346: Yoshikage Kira Just Wants to Live Quietly, Part 5, p. 15-17
↑ Chapter 428: Crazy Diamond Is Unbreakable, Part 1, p. 6
↑ Chapter 429: Crazy Diamond Is Unbreakable, Part 2, p. 9-11
↑ 11.0 11.1 Chapter 410: My Dad Is Not My Dad, Part 1, p. 10-11
↑ 12.0 12.1 12.2 Chapter 346: Yoshikage Kira Just Wants to Live Quietly, Part 5, p. 17-18
↑ Chapter 364: Sheer Heart Attack, Part 11, p. 14
↑ Chapter 346: Yoshikage Kira Just Wants to Live Quietly, Part 5, p. 2-3
↑ Chapter 411: My Dad Is Not My Dad, Part 2, p. 4-5
↑ Chapter 345: Yoshikage Kira Just Wants to Live Quietly, Part 4, p. 17-19
↑ Chapter 370: Yoshikage Kira's New Situation, Part 1, p. 16
↑ Chapter 395: Cats Love Yoshikage Kira, Part 4, p. 17
↑ Chapter 410: My Dad Is Not My Dad, Part 1, p. 16-17
↑ Chapter 428: Crazy Diamond Is Unbreakable, Part 1, p. 18
↑ Chapter 438: Town Guardian Spirits, p. 3
↑ Chapter 394: Cats Love Yoshikage Kira, Part 3, p. 13-14, 17
↑ Chapter 429: Crazy Diamond Is Unbreakable, Part 2, p. 8
↑ Chapter 428: Crazy Diamond Is Unbreakable, Part 1, p. 6-8
↑ Chapter 428: Crazy Diamond Is Unbreakable, Part 1, p. 9
↑ Chapter 428: Crazy Diamond Is Unbreakable, Part 1, p. 14
↑ Chapter 428: Crazy Diamond Is Unbreakable, Part 1, p. 12
↑ Chapter 430: Crazy Diamond Is Unbreakable, Part 3, p. 3
↑ Chapter 433: Crazy Diamond Is Unbreakable, Part 6, p. 10-14
↑ JOJO A-GO!GO!: STANDS, p. 34