Bites the Dust
Jump to navigation
Jump to search
"
O
Bites the Dust
foi criado do meu desejo absoluto de não encontrar
vocês
... Venham pra cima!
"

Killer Queen Bites the Dust (キラー・クイーン バイツァ・ダスト, Kirā Kuīn Baitsa Dasuto), ou mais simplesmente conhecido como "Bites the Dust" (BITE THE DUST (負けて死ね), Baitsa Dasuto, kanji lit. "Perder e Morrer"), é a terceira bomba do Killer Queen, apresentado pela primeira vez no arco "Another One Bites the Dust".
Ele é um Killer Queen em miniatura que é implantado no hospedeiro e então é ativado quando a identidade do Kira é revelada, explodindo todo mundo na sua proximidade que ouça seu segredo. Bites the Dust então cria um loop temporal, voltando no tempo por mais ou menos uma hora.
Aparência
Killer Queen Bites the Dust toma a forma de um Killer Queen miniaturizado. O Bites the Dust sai da mão direita de Kira, parecido com como o Sheer Heart Attack sai da mão esquerda de Kira.
Habilidades
Yoshikage Kira é dado essa habilidade quando a Flecha criadora de Stands de Yoshihiro Kira o perfura uma segunda vez.[1] Ela é nascida do desejo de Kira evitar que outras pessoas saibam de sua identidade verdadeira, assim como seu desespero em seguida do assassinato de Hayato Kawajiri.[2]
Quando ativada, Killer Queen se separa de Kira e é implantado em um hospedeiro; ele age independentemente da vontade de Kira, se manifestando apenas quando a bomba é engatilhada. Quando implantada em Hayato, ela ativa quando a identidade de Kira é revelada por som ou escrita,[3] assim como quando outros usuários de Stand veem o Killer Queen em miniatura.[4] Quando isso ocorre, um Killer Queen em miniatura entra no olho da pessoa e causa uma explosão, o matando.[5] A bomba pode detonar várias pessoas simultaneamente.[6]
Reversão de Tempo
Depois de matar alguém com seu poder, o Bites the Dust cria um loop temporal, voltando no tempo em aproximadamente uma hora antes da detonação.[7][8] Pelo fato do Bites the Dust ser completamente independente e autonomo, Kira não é ciente de quem é morto por ele,[9] nem é diretamente ciente de que um loop temporal ocorreu.[10] De fato, a única pessoa que retêm a memória de cada loop temporal é Hayato Kawajiri, o hospeideiro do Bites the Dust.[11][12] Todas ações realizadas no loop temporal passado tornam-se o destino, significando que elas estão destinados a ocorrer como se nada houvesse acontecido.[13] Pequenas diferenças podem surgir,[14] mas qualquer pessoa morta pelo Bites the Dust em um loop temporal passado está destinada a explodir no exato mesmo momento em que eles foram previamente mortos, mesmo se eles não houvessem reativado o Bites the Dust na linha do tempo atual.[15]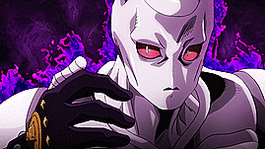 Pela necessidade da pessoa em que a bomba foi implantada estar viva para ativar o gatilho, o Bites the Dust nunca ferirá a pessoa com suas explosões nem deixará que ela seja ferida por outras forças, demonstrado quando o Killer Queen em miniatura evitou que Hayato cortasse sua própria garganta com uma faca para evitar que outras pessoas morressem.[16] Ironicamente, o Bites the Dust também previne que seu próprio usuário fira o carregador da bomba, com o Killer Queen em miniatura interceptando o punho de Kira quando ele tenta esmurrar Hayato.[17] Ele também parece ser capaz de reviver aquela pessoa dos mortos quando ele é ativado, já que Hayato estava vivo novamente quando Kira a implantou nele após impulsivamente tê-lo morto, sugerindo que o tempo foi revertido para evitar que Hayato morresse novamente da mesma forma.[18]
A única maneira de parar os efeitos do Bites the Dust são diretamente matar Kira ou do contrário forçá-lo a desativar a habilidade; caso isso corra, todas linhas do tempo criadas usando o Bites the Dust são apagadas.[19] Adicionalmente, usar o Bites the Dust previne que Kira invoque o Killer Queen à força pois o hospedeiro do Bites the Dust o possui; logo, ele deve desativar o Bites the Dust e recuperar o Killer Queen para que ele possa se defender.[20] Hayato também deduz que o Bites the Dust apenas funciona em pessoas sem Stand, já que Kira pode apenas contar seus segredos a uma pessoa sem Stand para ativar essa habilidade.[21]
A informação abaixo é derivada de uma fonte que não foi escrita pelo Araki. Como tal, ela pode ou não ser considerada cânon.
Na light novel JORGE JOESTAR, o Yoshikage Kira do 37° universo também possui o Bites the Dust. Ele tem uma nova habilidade que o permite explodir qualquer um que mencione o nome de Kira se o efeito estiver ativo neles.[22]
Capítulos / Episódios

Aparições no Mangá
Capítulos em ordem de aparição

Aparições no Anime
Episódios em ordem de aparição
Galeria
Curiosidades
Araki afirma que quando criando o Killer Queen Bites the Dust ele não queria que ele se tornasse o "Stand supremo" que poderia fazer de tudo. Então para dá-lo uma limitação, ele fez do Bites the Dust uma habilidade separada que era difícil para Kira abusar.[23]
Em All-Star Battle, a habilidade do Killer Queen's Bites the Dust reverterá muitos efeitos. Por exemplo; O Made in Heaven de Pucci pode ser revertido de volta para Whitesnake, e também revertendo o tempo de volta para sua velocidade normal, o fundo da fase para o normal, e limpando quaisquer palavras já ditas para o Bebê Verde; a forma suprema de Kars e o Gold Experience Requiem de Giorno serão revertidos à suas formas originais; o Tusk de Johnny será revertido de volta para o ACT1 se estiver transformado nos ACTs posteriores; e se Jonathan Joestar ou Funny Valentine desativam seus medidores de HH de usarem sua cura especial ou golpes com sucesso, o Bites the Dust restaurará seus medidores de HH.
Referências