ichigo
Jump to navigation
Jump to search
ichigo is a Japanese singer and the lead vocalist of the rock band Kisida Kyodan & The Akebosi Rockets. She sings "STONE OCEAN", the opening theme song for JoJo's Bizarre Adventure: Stone Ocean and the tenth opening overall for JoJo's Bizarre Adventure: The Animation. For this song, she is credited as "ichigo from Kisida Kyodan & The Akebosi Rockets" (ichigo from 岸田教団&THE明星ロケッツ, ichigo Furomu Kishida Kyōdan Ando Ji Akeboshi Rokettsu).
As part of Kisida Kyodan & The Akebosi Rockets, she sang on covers and original songs from the Touhou Project video game series before the band made their major debut performing the theme song of the Highschool of the Dead anime. She is also a jewelry designer.
Biography
ichigo was born on June 1, 1982 in Fukuoka Prefecture. Since she was in high school, she decided that she would be a singer or songwriter.[5] In 2007, guitarist and bassist Kisida recruited some of his acquaintances to form a band after he was invited to perform in Flowering Night, a yearly Touhou live concert event. ichigo joined the band at that time, which they named Kisida Kyodan & The Akebosi Rockets. Although they initially planned to disband after the concert, the band has continued to perform together since.[6] Despite the band lasting for so long, ichigo has claimed that she doesn't actually get along with the other band members.[5]
Their major label debut came in 2010 with the single "HIGHSCHOOL OF THE DEAD", used as the opening theme song of the anime Highschool of the Dead. Other anime followed, including the theme songs for Strike the Blood, the Gate series, Alderamin on the Sky, Hakata Tonkotsu Ramens, Sirius the Jaeger, and A Certain Scientific Railgun T.
On April 1, 2016, ichigo announced on Twitter that she got married to an office worker.[7] She gave birth to her first child in early 2021.[8]
On January 1, 2020, ichigo launched her jewelry brand Geminy.[9] She partnered with Tetsu, a designer at Sensaphonics Japan who makes custom in-ear monitors for Japanese musicians. As one of Tetsu's clients, ichigo wanted her in-ear monitor to be both functional and stylish and the two worked together to make the first jeweled in-ear monitor before they branched out into other forms of jewelry.[10]
JoJo's Bizarre Adventure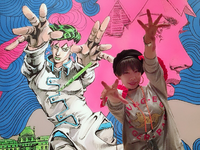 ichigo is a longtime fan of JoJo's Bizarre Adventure, with her Twitter account full of her adoration of the series. Some examples of her love of the manga include the following:
On November 28, 2021, she officially announced that she would be singing JoJo's Bizarre Adventure: Stone Ocean's opening theme "STONE OCEAN", after its reveal in the online pre-distribution event stream.[19][20][21]
JoJo discography
| # | Cover | Album / Single Name | Artist | Use | Release Date |
| --- | --- | --- | --- | --- | --- |
| 1 | | STONE OCEAN | ichigo from Kisida Kyodan & The Akebosi Rockets | Stone Ocean | December 1, 2021 |
Gallery
References