NHK Special (May 1981)
Jump to navigation
Jump to search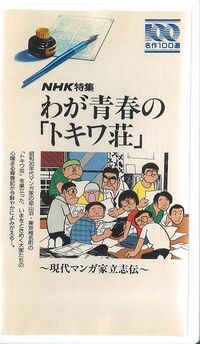 Hirohiko Araki's first public appearance on the 1981 documentary titled NHK Special Program "Our Tokiwa-so Youth" ~ Modern Manga Artist Success Story ~ (NHK特集「わが青春のトキワ荘」~現代マンガ家立志伝~).
Summary
Araki's work, Poker Under Arms, is chosen as a "Selected Work" runner-up at the 20th Tezuka Awards.[1]
The video below shows a twenty-year-old Araki being congratulated by Osamu Tezuka.
Interview
"
Tezuka:
Thank you for your hard work and congratulations.
Tezuka: This is incredibly interesting. It's something you don't see nowadays... I love it.
Tezuka: There just aren't many manga artists from the Tohoku region.
Araki: Shotaro Ishimori-sensei....
Tezuka: I mean, that's about it though, right?
Araki: From Miyagi prefecture.
Tezuka: So, as his successor...
Araki: I'll do my best.
Tezuka: Please do.
Tezuka: And show me one more of your works. Just one more, please.
"
"
手塚「ご苦労様、おめでとうございます」
手塚「これ凄く面白いんだ これはね、ちょっと近代にない 僕は大好きだ」
手塚「あんまり東北の人からね、その…出る人って少ないんですよ」
荒木「石森章太郎先生…」
手塚「まぁ ああいう程度のもんでね」
荒木「宮城県…」
手塚「だから ちょっと…その後継ぐ人としてさ」
荒木「がんばります」
手塚「お願いします」
手塚「あと1作見せてね、是非ね、一つお願いします」
"
Video
References