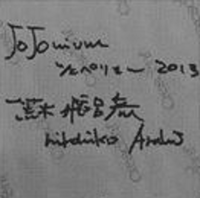 Mr. Zeppeli[a] was named after the rock band "Led Zeppelin." They are top-tier musicians to me, so I felt I had to reference their name with this character, albeit it's really a shame I used it so early—kind of like playing the Joker right at the beginning of a card game. Therefore, I had to resolve myself to that when I debuted Mr. Zeppeli. It's also important how the name sounds; there are a lot of "J" names in the series like JoJo, Jonathan and Joestar that are similar, so I wanted to balance out the names with a "Z" like Zeppeli. I made sure to do the same thing with Speedwagon.
Mr. Zeppeli teaches the Ripple to Jonathan and leads him on his quest to destroy the stone mask. I like teachers who are silly and make you wonder whether or not they're missing a screw up there. Like in Jackie Chan movies, the master's always a drunkard—so how can he be so strong? Same thing in The Karate Kid. Their outside appearance may be a little off, but it's what's underneath that is deserving of respect. These characters have charm because of the gap between their exterior and interior, and because you can't judge them by their covers. Mr. Zeppeli may look weak at first glance, but he's actually strong, even though I dressed him like a magician and gave him the mustache of a snake oil salesman. His mustache was actually inspired by those worn by the painter Salvador Dali and Osomatsu-kun's Iyami.
However, the mustache requires a lot of courage to pull off in a shonen magazine. Mainly because it makes the character look older and untrustworthy, no matter the type of mustache. As for Mr. Zeppeli—while he serves as JoJo's master, it's not like he's an old man far older than JoJo. He's also the lead supporting character. I might have turned readers off with him, so it took courage. He's a type of character that I haven't really used in any of my other work, but one that I wanted to use for the reasons I mentioned above. Thinking about it now, it may have been a "gamble" or "adventure" on my part. Back then I probably figured, "Eh, it's JoJo, it'll work out." It is a Bizarre Adventure, after all.
Lastly, to my credit, JoJo's Bizarre Adventure (JoJo no Kimyou na Bouken) came out before the Japanese TV drama series Bizarre Stories in This World (Yonimo Kimyou na Monogatari). Let's get this straight.
Q. Could the sphere on his cane be…?
A. It's a steel ball from
Steel Ball Run
. Zeppeli is known for his silken top hat. It's a cool shape and if you curve the diamond design, it looks three-dimensional.
---